I started cooking before the age of 10, experimenting with the first cakes (quatre quart, in French). Being married to a wonderful food blogger, she also helped me become a better cook, and with our two teenage boys our family loves to eat homemade meals every day.
The recipes I cook focus on plant-based nutrition and oil-free methods. However I am not, to this day, 100% vegan or cooking 100% oil-free even if I believe these to be a great forms of nutrition. Why?
I make a few exceptions for myself, for friends and family. Cooking oil-free does not mean cooking fat-free since most whole foods contain some amount of fats, and sometimes I even allow pairing vegetables with a vegan aioli, which has lots of oil. This philosophy stems from not taking hard lines, from discussing the subject with fit elders and centenarians, and just limiting ingredients our body is not made to process well.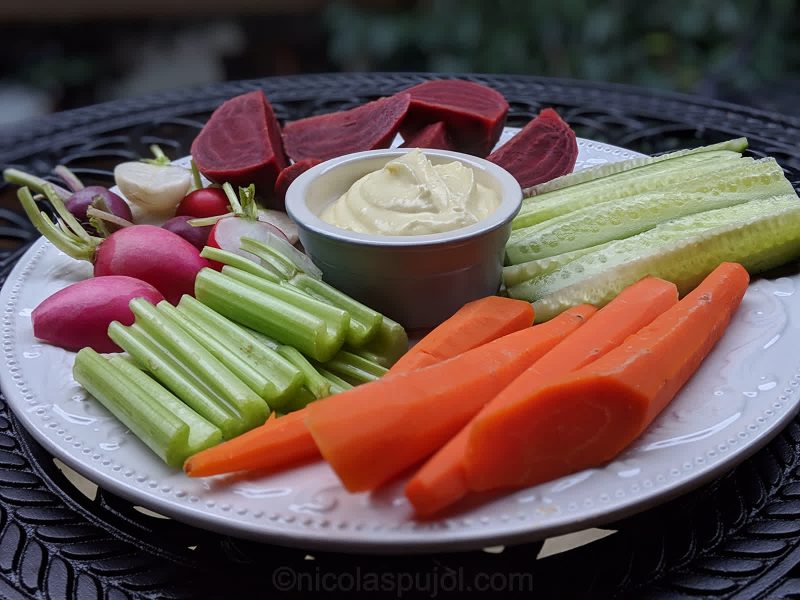 Here are principles you'll find in my recipes:
Cooking whole foods at home does not have be long and complicated
My wife and I grew up from families where people cook at home while having a job, raising kids, and not having a lot of time. Our parents did it and we learned that sometimes it makes sense to spend many hours on a dish, while other times you only have a half hour, start to finish, and this has to include time to eat too.
As a result, many of my recipes take the simplest form possible to taste good and be finished in the quickest time. I face these time constraints when I make them. I am sharing what worked for my parents and what works for me.
Too many families eat out too often by feeling overwhelmed at the time and effort to cook at home. It doesn't have to be that way.
Modern societies consume too much salt while cutting back is easy
You will also notice that my recipes tend to be on the lower side of sodium. The average modern diet contains more than our body needs, and the more we add, the more risks for hypertension rise​1​, which is no fun.
Former surgeon and centenarian Ellsworth Wareham, in this interview​2​, explains how we can get rid of the need for salt by cutting it gradually.
Find the happy medium between nutrition goals and pleasure
At the end of the day, nothing we do is going to make us immortal, and even then, would you really want this? We're not here for a long time, we're here for a good time. My experience is that we can achieve this by being thoughtful about what we eat and how we eat, while sometimes allowing ourselves to indulge a little. As Marchand puts it, "use everything, abuse nothing".
Eating is a physical and spiritual experience, either on our own or when sharing a meal with others. It is one of the simple pleasures of life.