Today marks the final day for a week during which I decided to eat less, after the holidays. This cucumber and tomato salad provided a full plate of fresh vegetables, olive oil with spicy flavors of black pepper, parsley, red onions, lemon and hot sauce.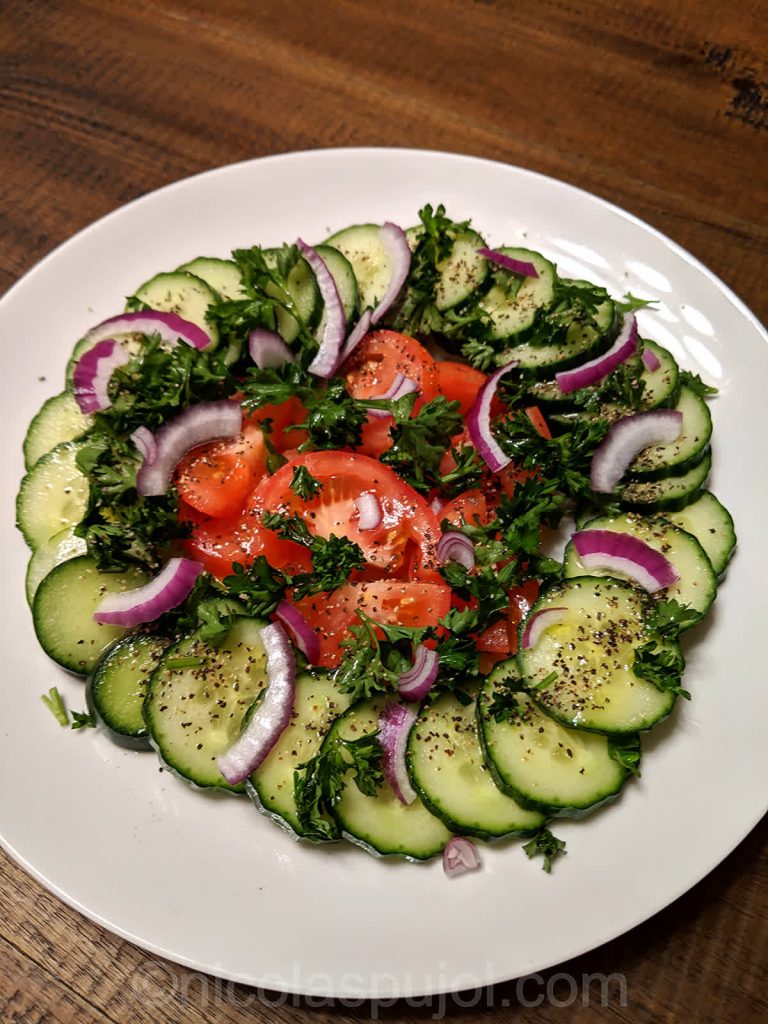 Most of the time I never count my calories. Part of it has to do with the fact that no matter if I eat more or less, my weight tends to remain stable. With a BMI of about 21, I actually have a harder time gaining weight than losing it. But I am like everyone else, in that overeating still leaves a feeling of being stuffed. So this week I focused on eating plant-based, and followed a program from Dr Valter Longo who came up with the fasting-mimicking diet.
I find that two things help when eating a little less than before, especially when trying to find satisfaction out of a salad.
Chewing thoroughly: by reducing the speed of eating and chewing your food, you will eat more slowly, and also pre-digest them. Saliva contains digestive enzymes, so when we eat too fast and don't chew enough, we eat more in total, and have more undigested food sent to the intestines.
Use ingredients with a high crunch to calorie ratio. Take for example, a guacamole. You can take a spoon and eat the guacamole by itself pretty fast. Low crunch to calorie ratio: you might eat lots of calories doing this. The opposite example is a cucumber. Before you can chew 200 calories worth of cucumber, it's very likely going to take longer than gulping 200 calories of guacamole. High crunch to calorie ratio is similar to low caloric density: these foods tend to make people more full and satisfied for the same energy intake.
Add spices: finally, making a salad spicy by adding your favorite hot sauce can make the dish taste better, and provide the sensory experience we usually find in higher calorie foods. Just watch out for salt, as some hot sauces contain lots of salt.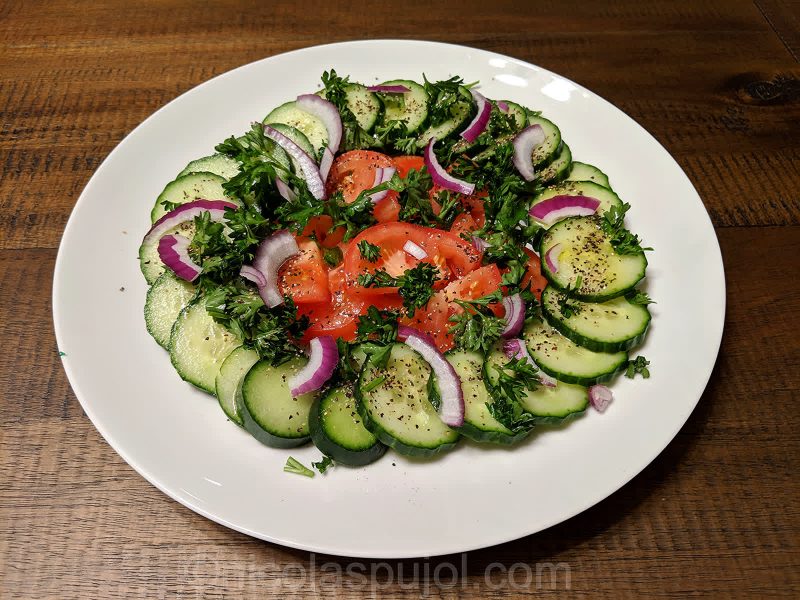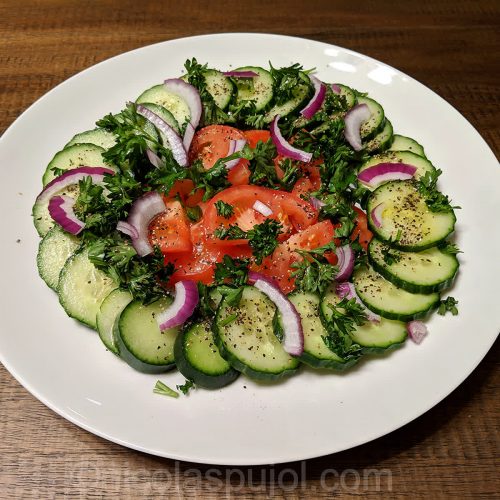 Cucumber and tomato salad
This cucumber and tomato salad provides a full plate of fresh vegetables, olive oil with spicy flavors of black pepper, red onions, lemon and hot sauce.
Print
Pin
Leave a comment
Ingredients
0.5

cucumber

(organic, rinsed, with skin on)

1

tomato

1

tbsp

olive oil

0.5

lemon

parsley

to taste

red onion

to taste

black pepper

to taste
Instructions
Rinse and slice the cucumber. Leave the skin on if you prefer more vitamins and if you bought it organic, or peel the skin.

Rinse and cut the tomato, placing it at the center of the plate.

Place the cucumber around it, slice a bit of red onion, parsley, add the lemon juice, olive oil, black pepper and finally the hot sauce.
Nutrition
Calories:
179
kcal
|
Carbohydrates:
13
g
|
Protein:
2
g
|
Fat:
14
g
|
Saturated Fat:
2
g
|
Sodium:
10
mg
|
Potassium:
570
mg
|
Fiber:
4
g
|
Sugar:
6
g
|
Vitamin A:
1130
IU
|
Vitamin C:
50.2
mg
|
Calcium:
47
mg
|
Iron:
1
mg