After a long and dry summer and Seattle breaking all records of sunny days and the longest stretch of temperatures above 70 F degrees, this week marks the return to clouds. As I went out for a 7-mile run, it felt good to renew with something I missed: the occasional rain. Given the amounts of water that fell over the past 24 hours, joggers, runners, walkers and cyclists all adapted their clothing to the new conditions. Roads were slippery, and so were trails. In this post we discuss some of the essential notions for a successful and pain-free run in wet conditions.
Don't let the rain stop you, in most cases
Before going into the main discussion, we have to consider cases when it's best to stay home, unless you truly want or need to train. There is a difference between a storm that brings lots of water, and a hurricane. There is also a difference between strong rain and a complete downpour, such that visibility drops to almost zero. This is especially the case in winter season when days are shorter and it can get pitch dark by 5 or 6pm. Darkness combined with heavy rain makes it hard to see. We can't really tell what we put our feet on, where we're going. The same goes for near freezing temperatures, where we have more chances of catching a cold, or worse, slipping on ice. It's just not worth it.
How about replacing that run in rain with something at home? Core training, planks, push-ups, static bike, or if you have one, running on a treadmill: there are many options. If you did a lot of mileage for the week already, what about a day off? Sometimes, taking too much risk or pain just isn't worth it.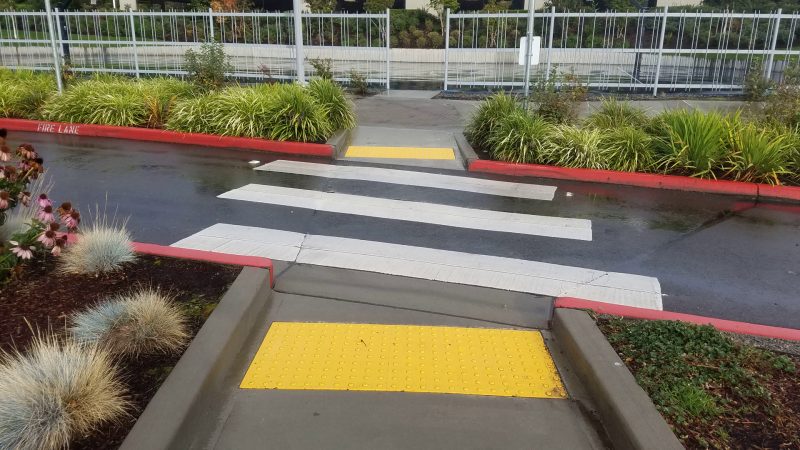 Now, other than these situations, it can be perfectly fine to run in rain or in the mud. We're creatures that thrive with some level of variability, and if some take warm baths putting a clay mask on their face, we can do the same thing, and even better, by exercising in wet dirt. Don't let the rain stop you.
Benefits of running in wet weather
To run in rain brings, to a large extent, the same benefit as doing so in dry weather. Some downsides exist, but consider some extra benefits:
Lower risk of dehydration: you still need to drink every now and then, but the humidity levels make it easier on the side of hydration. During humid mornings and mild winter temperatures I sometimes run for over an hour without drinking anything, and feel fine. Compare this to hot summer days, where running in full sun and hot weather makes us crave for a drink within about 20 minutes.
Variability: we need a change every now and then, for motivation purposes and physiologically it feels good to experience mild, cold or rainy weather.
Good for your skin tone: the combination of sweating plus the water on you makes for a good hydration
How to dress for a rainy or muddy run
Gear and the proper equipment go a long way in making it a pleasant experience. You don't want to feel too cold, water to get in your eyes constantly, or those pesky blisters. So here are some basic guidelines in terms of what to wear:
Running hat, or cap
Generally we wear hats to protect from the sun, which makes sense. But hats also play a central role when it comes to protecting our eyes from rain drops. By wearing one, you'll find it easier to see, and much less annoying to run in rain. The water will stick to the hat, fall around it, just like an umbrella. A little bit may still get into your eyes, but much less, and it will feel similar to how sweat does, in a non obtrusive way.
Light, thin clothing
There are two things you don't want in terms of clothing. The first is something too light and aerated, which will make you feel cold. If you can't stay warm while running, it means your clothes are not protective enough, or that it's just too cold out there. You should feel in the ideal range: not to cold, not too hot. Once you ran a few times and understand the temperatures, you will be able to find the right clothes. The second type of protection you don't want is something too thick, especially if it absorbs and retains water. Your body weight will increase, and more cold water will stick around your body, making it more challenging to move and to stay warm.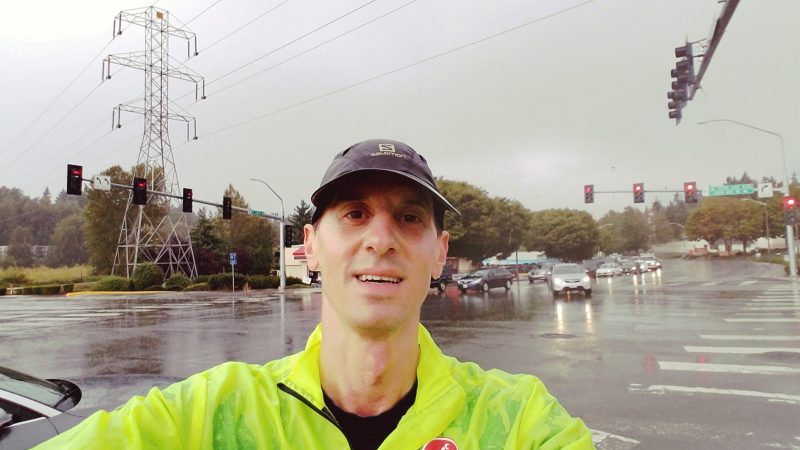 Winter running shoes
Some shoes nowadays are designed for certain seasons. Summer running shoes are meant for dry weather and maximum breathability. As such, they often have air openings underneath the outer soles. Guess what happens when running in rain with these shoes? Water immediately gets in through these openings. On the other hand, shoes designed for winter runs will have a more grippy sole, which have no such opening. The outer sole is fully sealed. I usually run with 2 pairs of shoes, one for dry weather, one for anything wet. But even the wet weather shoes I use are somewhat light, so they don't feel like boots.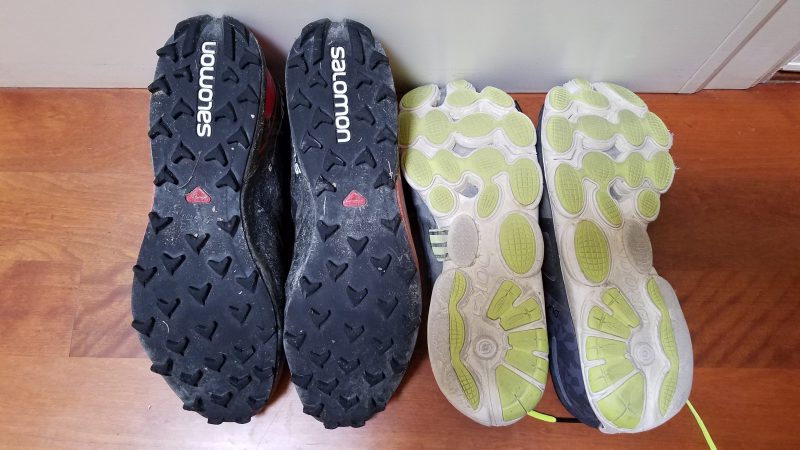 Rain or shine
Aside from taking a day off or exercising indoors, running in rain or mud can become part of the routine, such that for the most part, weather doesn't get in the way. Remember to watch out for slippery paths, leaves, wet dust and anything shiny.