Natto is one of the most polarizing foods I've come across. Some people love it, others hate it. I discovered Natto while living in Japan. It is often one of the key ingredients of a breakfast or lunch plate. People serve it mostly with rice. Natto is a preparation of small Japanese soybeans, fermented with a bacteria called Bacillus Subtilis. The fermentation gives the beans a relatively strong flavor and a smell, that unlike the bacteria's name, some find it not subtle at all. Like many foods, the first time you eat them, they may taste uneasy. Then, as you eat more and more, you discover an appreciation for its flavors. Many end up loving natto and I am one of these people. It is also highly nutritious and vegan – although if you add the customary egg, the plate no longer is.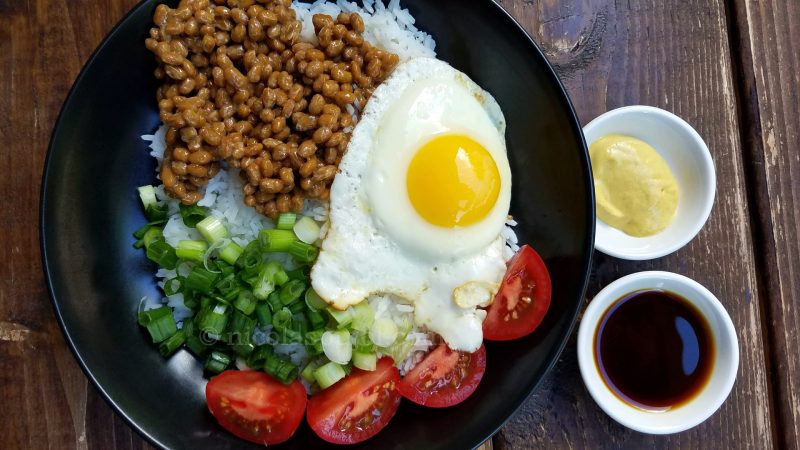 Japanese French natto fusion concept
Speaking of adding the egg: the Japanese custom is for the egg yolk to be raw. If your eggs are super fresh and you like raw eggs, this is a great option. Personally I like a liquid yolk, but prefer to cook it by simply frying the egg, white and yolk, in a little bit of melted butter, French style. As I made this natto dish, I used more and more French ingredients. I replaced the Japanese mustard with French Dijon mustard. I added the customary green onion to the natto and rice, but also added a tomato. Finally, I sprinkle the final plate with olive oil, Provence style. So here we have it: a Japanese French natto fusion.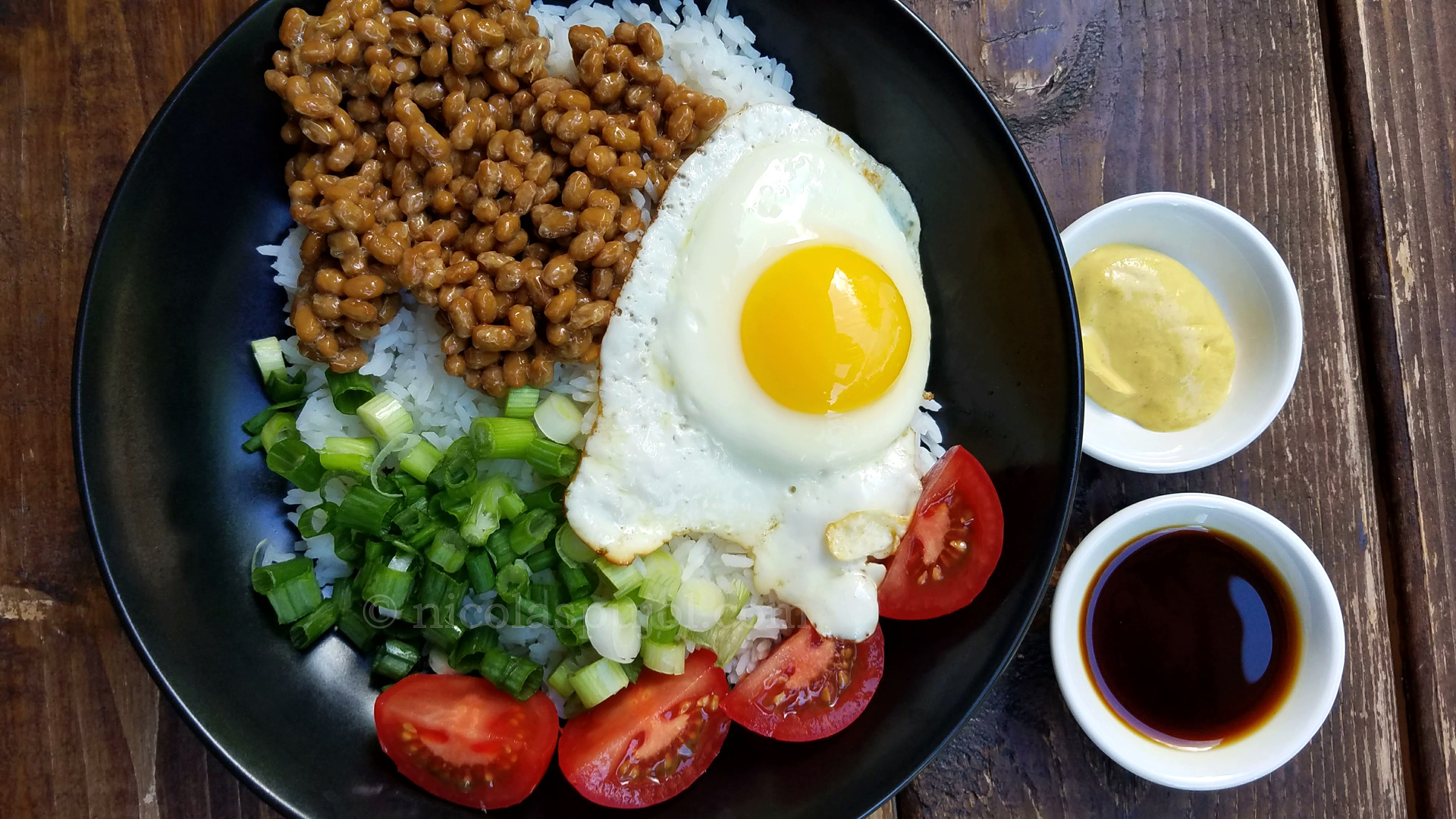 Japanese French natto fusion dish
The Japanese French natto fusion dish combines traditional natto, green onions, rice, and uses French mustard, tomato, a fried egg in butter, and olive oil.
Print
Pin
Leave a comment
Ingredients
3

ounces

Natto

In the US, one pack of Natto is 3 ounces

1

green onion

1

egg

1

small tomato

1

cup

cooked white rice

1

tbsp

French mustard

1

tbsp

Soy sauce

We use low sodium soy sauce

2

tbsp

olive oil
Instructions
Cut the green onion in small slices and the tomato in 4.

Put a small piece of butter in a skillet, let it melt without burning, and fry the egg on medium heat.

Place the cooked white rice in a plate or large bowl, add the fried egg, green onions, tomato and natto.

Add on top the soy sauce, mustard and optionally, the olive oil.
Nutrition
Calories:
707
kcal
|
Carbohydrates:
61
g
|
Protein:
26
g
|
Fat:
41
g
|
Saturated Fat:
6
g
|
Cholesterol:
163
mg
|
Sodium:
977
mg
|
Potassium:
845
mg
|
Fiber:
8
g
|
Sugar:
6
g
|
Vitamin A:
1380
IU
|
Vitamin C:
20.5
mg
|
Calcium:
139
mg
|
Iron:
6.3
mg