This recipe changes from the common addition of milk, even plant milk, to oatmeal recipes by using lemon juice instead.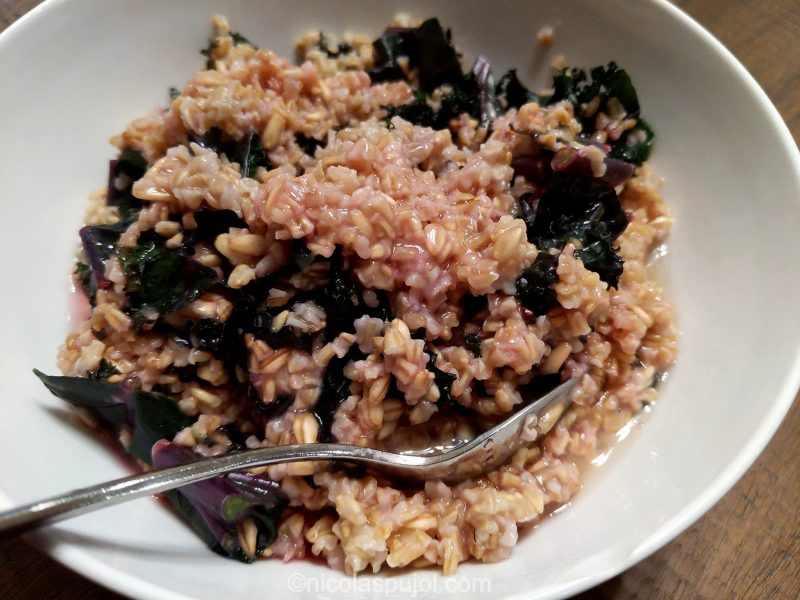 Some times I like to take easy and enjoy life a bit. As I looked at the nutrition of a 90% chocolate bar I brought back from France on my last trip, the fat line item says: 4.3 g of lipids, of which, 2.7 g of saturated fats per square. A square is not a lot, and still, almost 3 g of saturated fat feels like a lot. But, at least I looked at the nutrition label and stopped myself from overeating this delicious and addictive chocolate thing!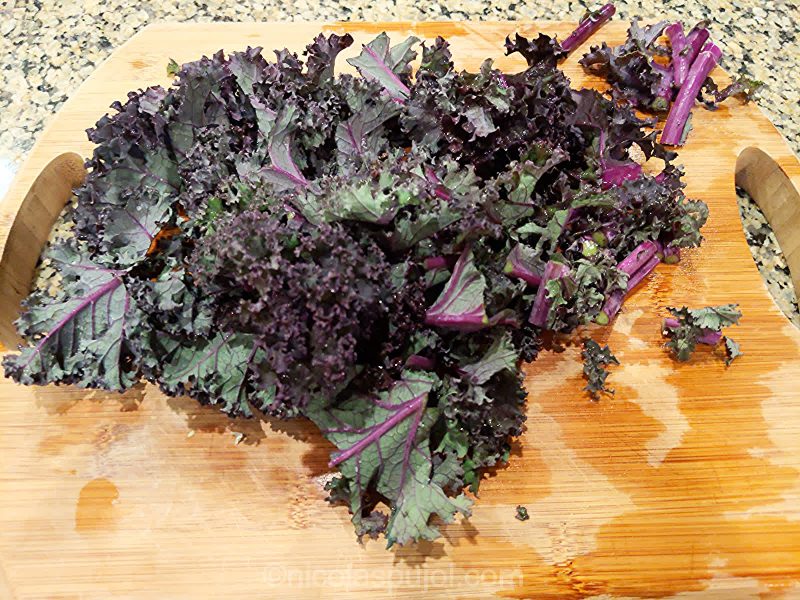 Some other times l try to minimize fats a bit more. In the case of oatmeal, whether it's soy, almond, rice or (the highest fat choice) coconut milk, they all contain some non trivial amounts of fat. So how about replacing it pure lemon juice? Using steel cut oats, which are the least refined, fresh kale, very lightly cooked, together with the lemon juice, sounded like a plan.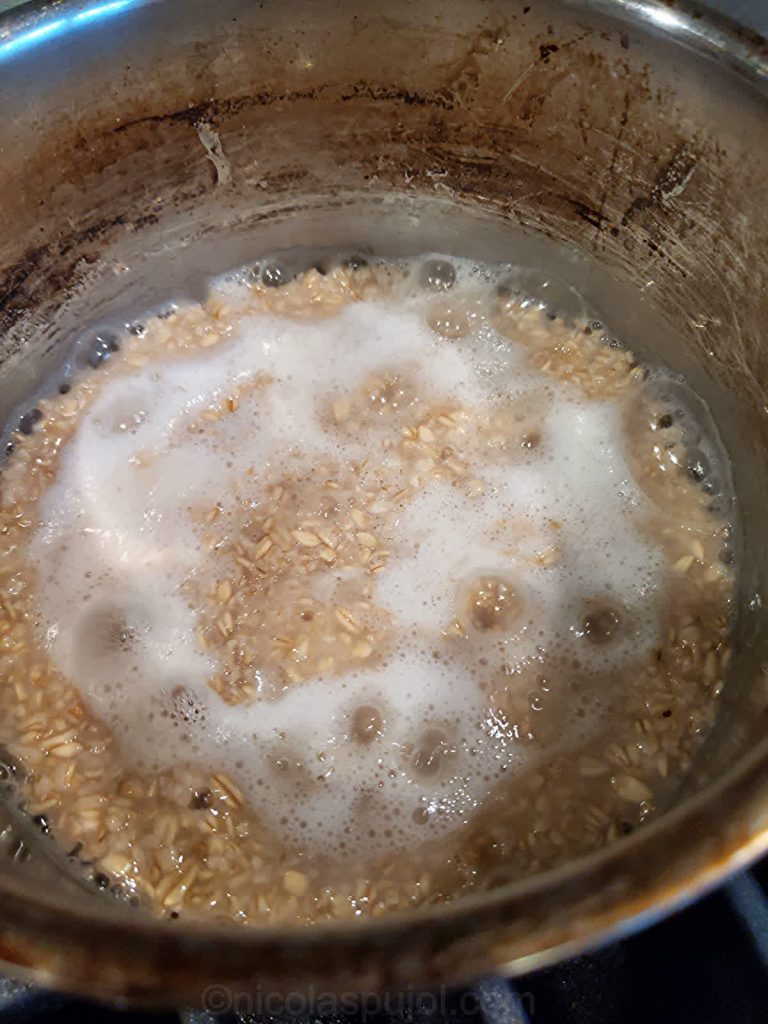 This breakfast bowl is very simple to do, and uses only one pan. You can boil the oatmeal first, then chop the kale and add it in the last 3-4 minutes of cooking for it to just get more tender and digestible. The lemon juice comes at the end, which helps preserve the vitamin C, which is fragile and does not resist heat very much. You get a pack of nutrients on this low fat, vegan oatmeal and kale bowl. It is so easy and quick to make, that I've been doing variations of it and will keep redoing it as is in this recipe.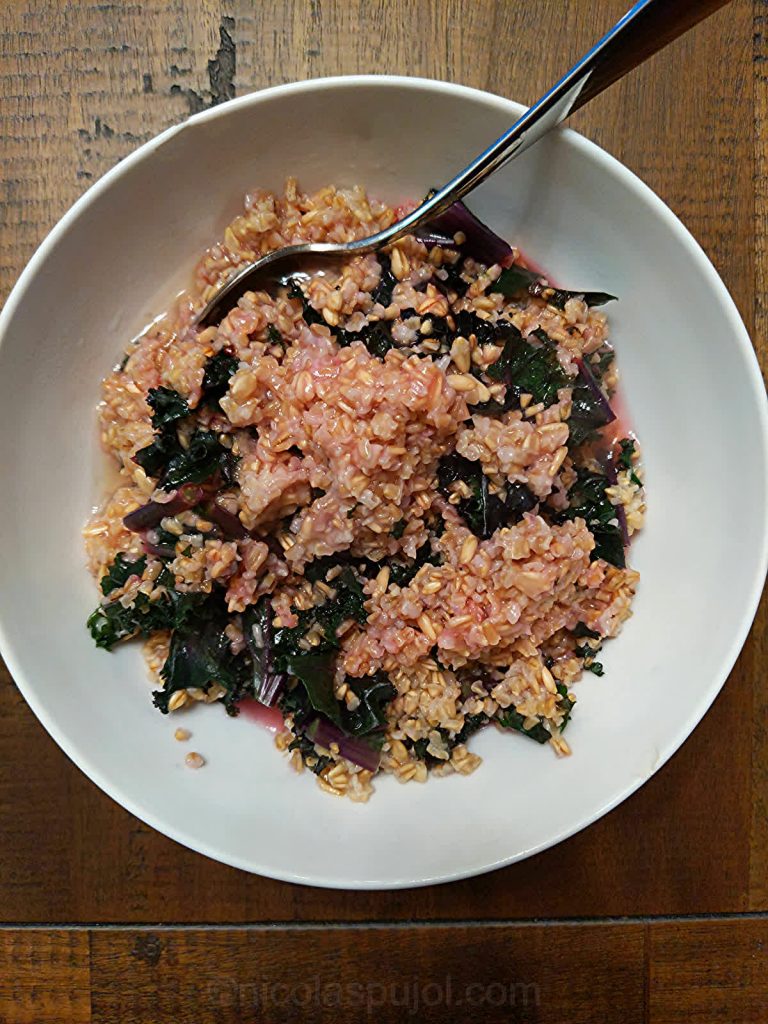 I hope you like it!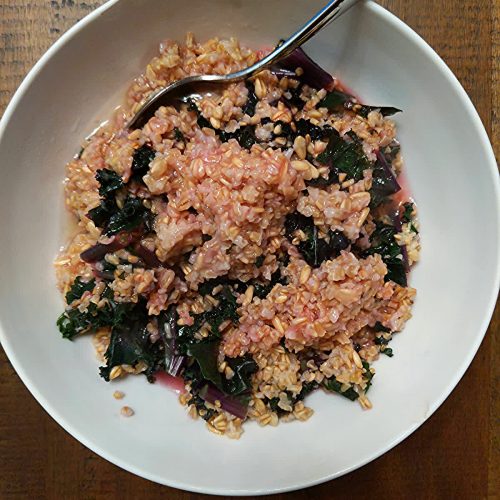 Kale and oatmeal with lemon dressing
This kale and oatmeal with lemon dressing recipe replaces milk with the delightful taste of citrus, further reducing fat for this vegan breakfast.
Print
Pin
Leave a comment
Ingredients
1

cup

oatmeal

2

cups

water

2

oz

kale

1

lemon
Instructions
Bring oatmeal with water to a boil in a pan and cook it on medium heat for 5 minutes.

In the meantime, rinse and chop the kale. Especially chop the stem parts very small so you can easily pick them with a spoon and chew them once cooked.

Add the kale in slowly and mix it in with the hot oatmeal. There should be enough water left for the kale to go in and reduce. If water is missing, add a little bit, but not too much that it becomes liquid.

After 3-4 minutes, the kale will be reduced in volume and tender enough to be eaten.

Place the contents in a bowl, add the lemon juice, and that's it.
Nutrition
Calories:
225
kcal
|
Carbohydrates:
43
g
|
Protein:
9
g
|
Fat:
4
g
|
Sodium:
58
mg
|
Potassium:
591
mg
|
Fiber:
7
g
|
Sugar:
3
g
|
Vitamin A:
5665
IU
|
Vitamin C:
125.2
mg
|
Calcium:
149
mg
|
Iron:
3.6
mg