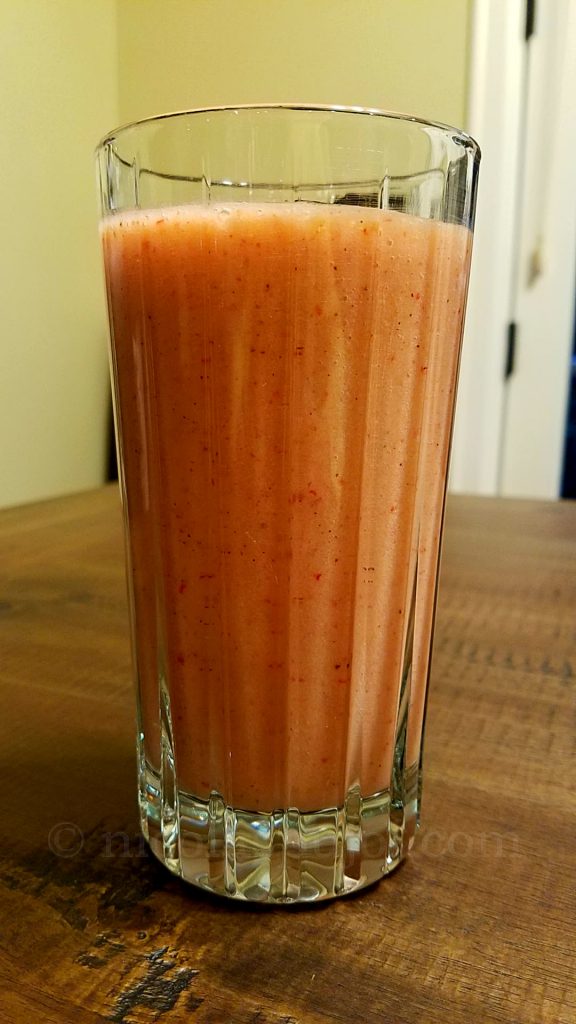 This week we made this lemon, kiwi, strawberry and banana smoothie. Our family is a big fan of fruit salads. They are easy to make, take almost no time, have lots of nutrients, and you can vary the fruit permutations almost to the infinite. Sometimes I sprinkle a few drops of lemon juice on top of our fruits salads, to make them taste more citrusy. But often times, we don't use lemon juice and just eat the fruits.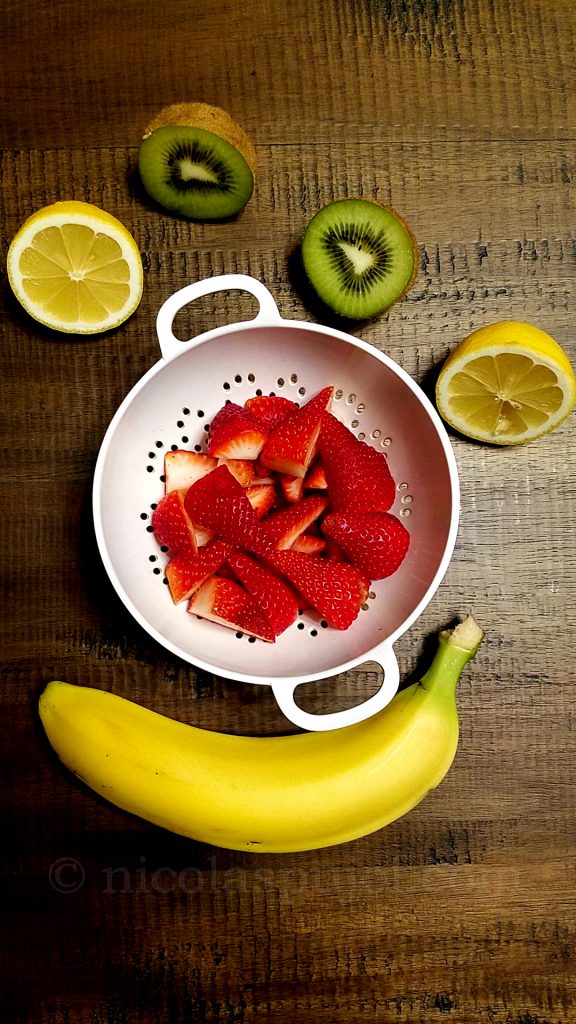 Smoothies are just like fruit salad in terms of the ingredients, and the best part is: the pulp does not get removed. That's one of the problems with commercial juices: the fiber and the pulp are mostly removed, which reduces the nutritional quality, especially as fruits contain sugar, and fiber helps slow the absorption of sugar into the bloodstream. Smoothies also make it easier and tastier to add lemon juice to the mix.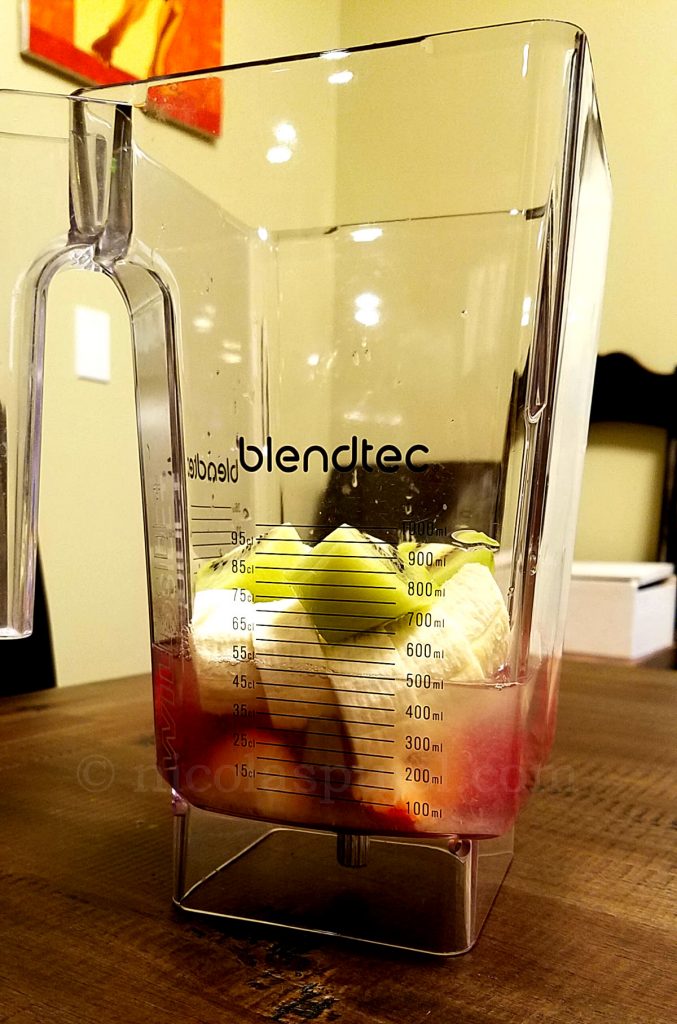 Once blended, the acidity from the lemon disappears and enhances the flavor of other fruits.
Lemon also helps protect the smoothies against some of the oxidation, so you can serve it an hour later without problem when you've added lemon juice. In this case, you can place the extra glass in the fridge, ideally with a plastic film to seal the air flow and prevent other flavors from the fridge from mixing in.
For this lemon, kiwi, strawberry and banana smoothie we are packing lots of vitamin C with some of the caloric density from the banana. This blend of fruit goes well together and can be found in almost any grocery store. As I was uploading photos for this recipe, I played with effects and thought this filter added some inspiration to the smoothie. Cheers.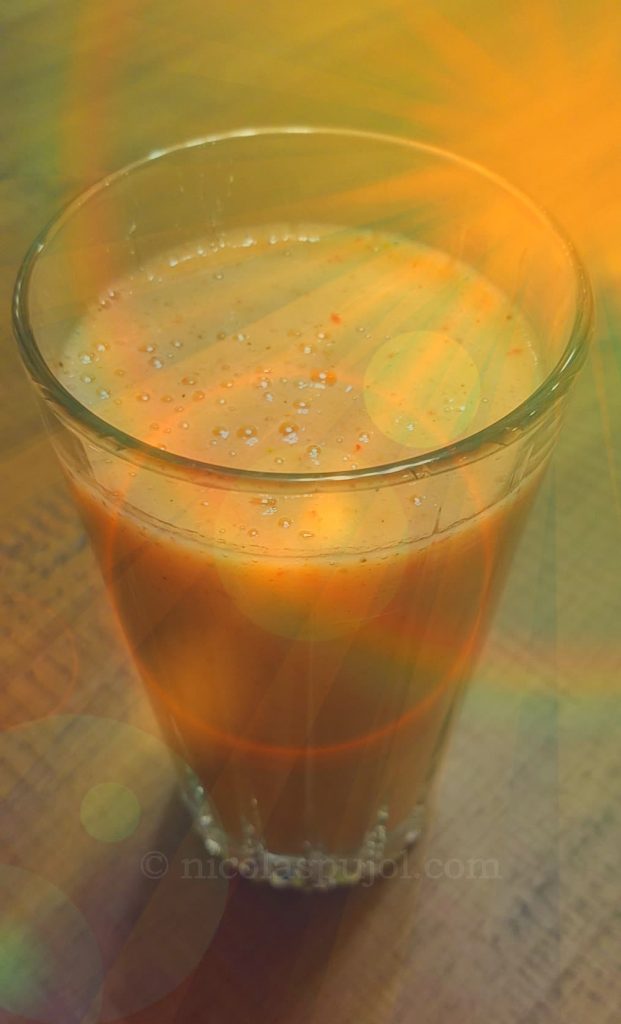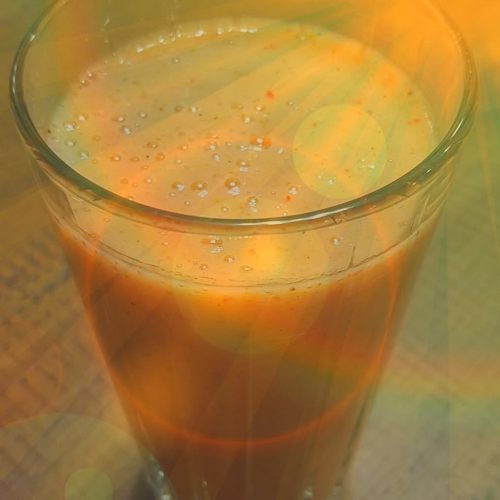 Lemon, kiwi, strawberry and banana smoothie
The lemon, kiwi, strawberry and banana smoothie packs fruity flavors and a daily dose of vitamin C. This vegan drink is easy to make, kid-friendly and can be a substitute for fruit salads and snacks for mornings or afternoons.
Print
Pin
Leave a comment
Ingredients
1

kiwi

7

strawberries

1

lemon

juice only

1

banana

0.5

cup

water
Instructions
Squeeze the lemon to extract the juice.

Cut strawberries, banana, and kiwi into pieces and place them in a blender.

Add the lemon juice and water, and blend about 30 seconds.
Notes
You may add ice cubes instead of water, or in combination with water if your blender supports ice crushing.
Nutrition
Calories:
109
kcal
|
Carbohydrates:
28
g
|
Protein:
2
g
|
Sodium:
6
mg
|
Potassium:
491
mg
|
Fiber:
5
g
|
Sugar:
14
g
|
Vitamin A:
75
IU
|
Vitamin C:
100.7
mg
|
Calcium:
36
mg
|
Iron:
0.8
mg