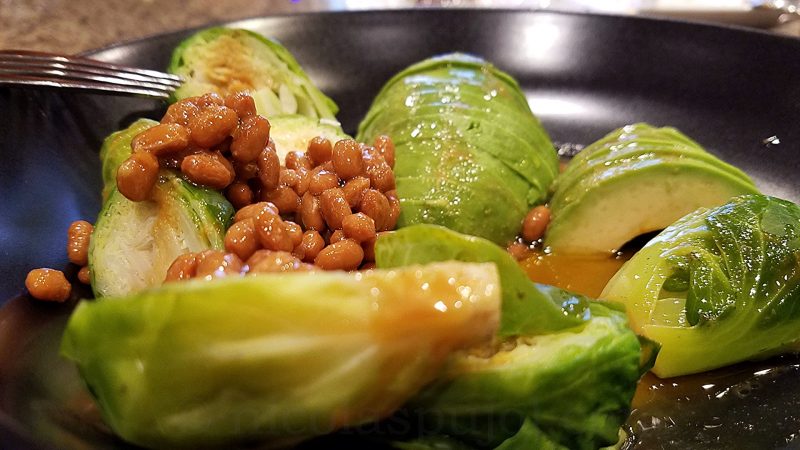 I bought a few packs natto last week and was waiting for an occasion to make use of them. Today provided an opportunity with an open lunch: Layla and Alex were out to take some new passport photos and ate on the way back at a restaurant. Marc was also out, eating with his friends. This is the Thursday of the 2018 Winter Break, so kids are off school.
With everyone out, I went to the fridge and as usual, looked for something tasty, nutritious, to prepare and eat in the shortest amount of time so the homemade meal has no time cost on the day. It is so simple to eat that way: cook something in 20 minutes, eat it in 10 or 15, then 5 minutes to place ingredients back in the fridge and do basic cleanup. In just over a half hour, you cooked, ate a homemade meal, and cleaned without rushing.
This natto, avocado and Brussels sprouts dish makes use of the spicy wasabi sauce that my Japanese friend Motoko showed me while she visited Lyon in 1998. I started the dish with this Asian influence in mind, obviously the natto also had something to do with it. Then I added olive oil to round up the taste, soften the spiciness from wasabi, which gave a French touch that I think really balances things out. The olive oil and the avocado provide some of the finest fats (vegetarian, mostly unsaturated, and packed with micronutriments) while helping you feel full after this meal that contains no starch food.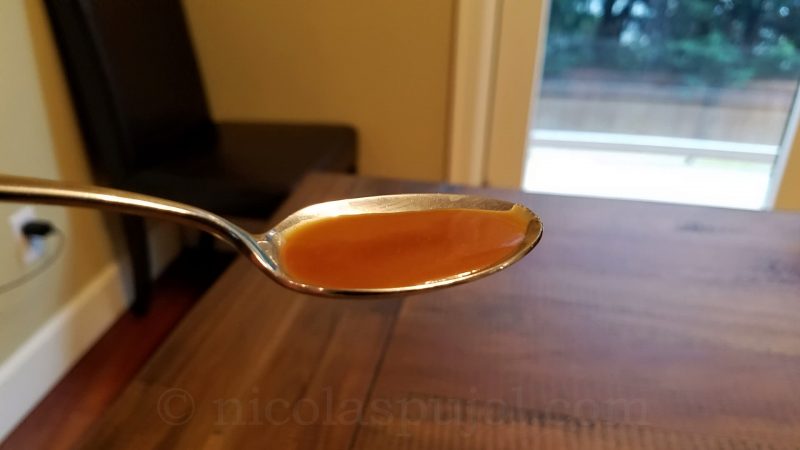 The Japanese-French fusion recipe calls for only half a pack of natto, one of the top natural probiotics, but for natto lovers you can use the full pack for one person if you prefer. I think this is one of the dishes with ingredients that makes natto taste quite good. Of course, this is fermeted soybeans, so expectations are set.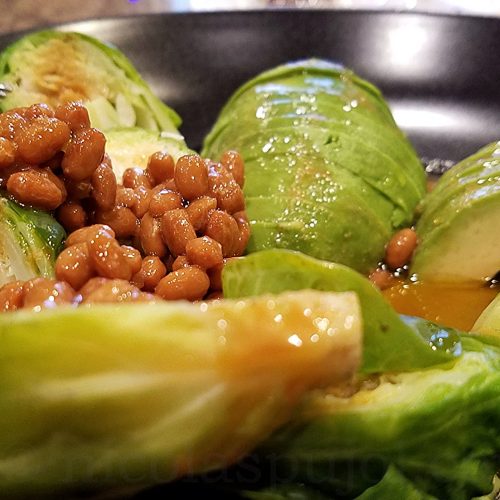 Natto, avocado and Brussels sprouts in spicy wasabi sauce
This recipe combines Asian and French flavors and is made with natto, avocado, Brussels sprouts in a spicy wasabi sauce using soy sauce and olive oil.
Print
Pin
Leave a comment
Ingredients
1

avocado

8

Brussels sprouts

50

grams

natto

About half a pack

3

tbsp

olive oil

0.5

tbsp

wasabi

0.5

tbsp

low-sodium soy sauce
Instructions
Cut off and discard the dry tips of Brussels sprouts, then slice them in two and put them in a pan to boil for 5 minutes

Strain the Brussels sprouts and run cold water on top of the strainer to cool them down slightly.

Cut the avocado in two, remove the seed and peel each half. Place the half's on the side of the plate and cut them into thin slices.

Add the Brussels sprouts to the plate carefully, using your hand, one by one.

Place the natto on top of the Brussels sprouts then sprinkle the spicy wasabi sauce on top of all ingredients.

Finish by adding olive oil to taste on top as well.
Nutrition
Calories:
852
kcal
|
Carbohydrates:
37
g
|
Protein:
18
g
|
Fat:
76
g
|
Saturated Fat:
10
g
|
Sodium:
438
mg
|
Potassium:
1823
mg
|
Fiber:
22
g
|
Sugar:
6
g
|
Vitamin A:
1440
IU
|
Vitamin C:
151.4
mg
|
Calcium:
139
mg
|
Iron:
6
mg