With fall season coming, it is becoming more appealing to start the day with a warm breakfast. Oatmeal is a nutritious cereal with a reasonable glycemic index of 55, similar to that of quinoa. It also contains fiber. Paired with fruits, a little bit of milk and optionally honey, you can get a complete breakfast in little time, especially if you use a microwave. My friend Giovanni from Ecuador, who lived in the city of Austin when we met, used oatmeal before workouts. This was his easy-to-digest breakfast to get energy before we went mountain biking in the Texas hills. It feels like yesterday, and it was 15 years back. I kept using oatmeal since then, mostly for breakfasts.
Make the oatmeal berry banana breakfast using stove or microwave
You can cook it on the stove or in the microwave, which I do. Using a microwave you get fewer things dirty, since you put the oatmeal and water directly into your breakfast bowl, which you heat. Keep in mind that as it starts to boil and cook in the oven, the level will rise and could overflow. Use a larger enough bowl that is tall enough to keep the contents in as the level rises.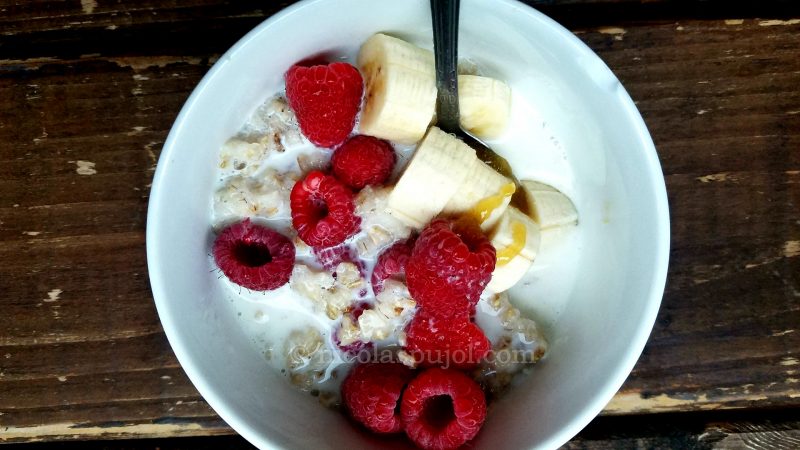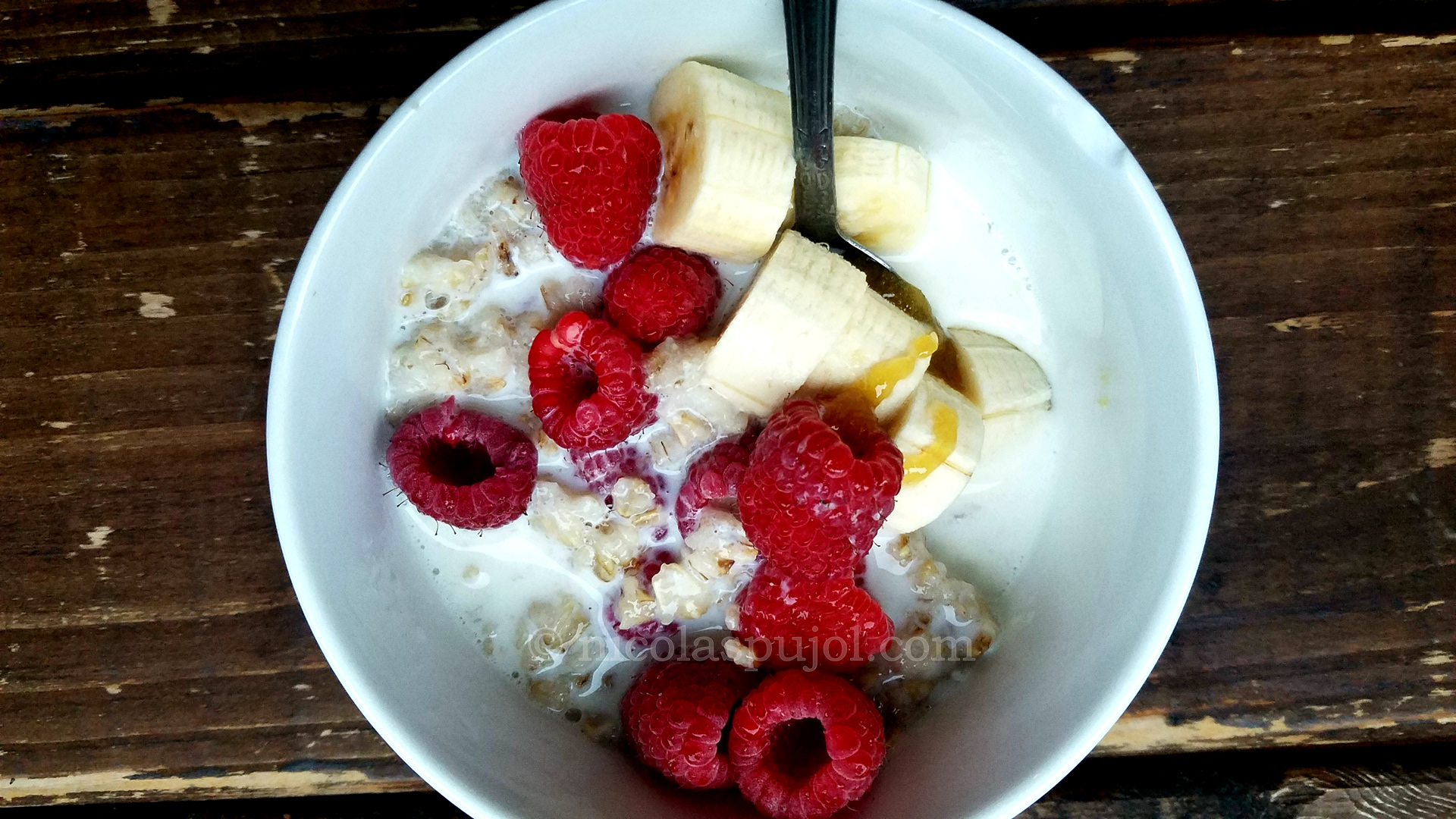 Oatmeal berry banana breakfast recipe
This oatmeal berry banana breakfast provides a warm and complete meal to start the day, takes less than 10 minutes, and can be made with or without dairy.
Print
Pin
Leave a comment
Ingredients
1/3

cup

plain oatmeal

1/2

cup

water

1/2

banana

10

raspberries

use any berry you like, blueberry or strawberry, or blackberry

3

tbsp

whole milk

for a dairy free option, use soy milk or equivalent
Instructions
Place the oatmeal and water in a bowl. Microwave for 1 minute and 30 seconds to 2 minutes to let it boil, rise, and cook.

Remove from microwave, slice the banana and add it, as well as the berries.

Add the milk and stir gently
Notes
Add a bit of honey if you feel like it or if your kids want something slightly more sweet.
Nutrition
Calories:
145
kcal
|
Carbohydrates:
27
g
|
Protein:
4
g
|
Fat:
2
g
|
Saturated Fat:
1
g
|
Cholesterol:
4
mg
|
Sodium:
29
mg
|
Potassium:
325
mg
|
Fiber:
4
g
|
Sugar:
10
g
|
Vitamin A:
1.5
%
|
Vitamin C:
12.6
%
|
Calcium:
5.1
%
|
Iron:
3.9
%