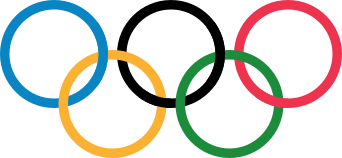 It is getting harder to beat athletic all-time records and longevity. Jeanne Calment set the longest lifespan in 1997, not one individual has done better since then. But these record values are so high that there is a wide gap of progression for us all to pursue. What can we learn from Olympian athletes and elders?
One must be a top athlete to make it to the Olympics, even more so than participating in world championships. Olympians were born with genetic gifts, at the very least with genes good enough not to handicap them in the discipline they compete in. Genetics in sports abilities is like preselection, one factor we cannot do much about. To win a competitive event, one has to have good genes, and this is a starting point. Strong genetics are necessary and not sufficient. The rigorous training and lifestyle required to become a world class athlete develops many physiological and mental abilities: strength, top speed, balance, cardiac throughput, oxygen intake, and focus. How does elite fitness translate into life expectancy? One would need to compare Olympians to the general population on a large enough sample, and also compare the champions of athletics with the champions of longevity.
Humanity is peaking in athletic performance and in longevity
A team of physicians, researchers and former athletes did just that. They studied the historical data for the past century, measuring athletic performance and lifespan[1]. They first looked at physiological factors that influence performance in humans, and the fact that all traits have an upper bound: maximum oxygen intake, maximum heart rate, muscle mass, reaction time, stride length and frequency. These traits come from biological evolution, which occurred through hundreds of millions of years. Oxygen intake at peak is not changing, nor does maximum heart rate, pegged at 220 beats per minute. Find someone whose heart rate can beat much faster than this: I would like to meet this person. At the scale of one hundred years, the changes we can see in human DNA are very small. The significant gains in height which occurred in the twentieth century come from changes in nutrition that favor growth, such as the rise in meat and animal protein consumption. But our genes remain largely the same, as a species, over the short time period of a century.
Athletic records set since the 1980s provide values for the upper limits of human performance, when not using artificial methods to enhance it. Scientists may invent gene alteration techniques that will turn men into creatures capable out of outrunning a cheetah someday – this would be out of topic. The genes we have now, our potential, can be plotted on the chart from Olympic records. The flattening of the curve means no major improvement is coming or in sight at the moment. One view of this data set can invite a dull conclusion: we've reached stasis; we peaked as a species. The research team behind the study points out that most athletic records are dependent on favorable external temperatures. As the globe continues its atmospheric warming, this could push athletic records into a downtrend, unless events start being held indoors or in the places left on the planet that accommodate optimal temperatures. But of course, even if this was the case, the general population would still carry a negative impact, as not everyone can be in the said location. The optimistic view on the chart shows that performances have improved very significantly until the 1980s thanks to scientific progress, and these methods are available for everyone to improve. In other words, anyone willing to become better with fitness can take steps to improve their endurance, strength, flexibility, reflexes, weight, and ability to focus. You can take yourself much higher up from where you are today. It is possible. Even if most of us won't reach Olympic performance, we can shoot for the stars and land on the moon.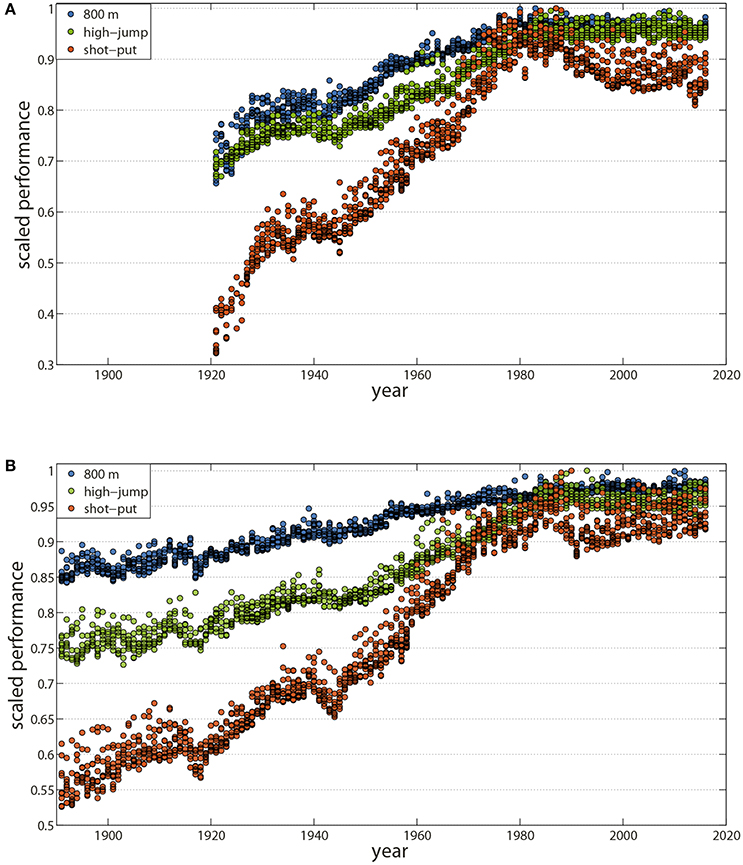 So, what can we learn from Olympian athletes? The subsequent data set from the study shows a very similar pattern: just like physical performance has peaked when using the body's natural abilities, human longevity has also reached a top, a plateau. Throughout the twentieth century, 110 years of age became the approximate threshold for human lifespan to extend. The record holder, Jeanne Calment of France, was established in 1997, over 20 years ago. Since then, not one individual has been able to beat her record, and when someone does it will likely be a minor increment until some major scientific breakthrough occurs to delay the process of aging other than through normal lifestyle. Like in sports, the upper bound provides an optimistic view: one can live with the full intensity of sports practice, the contact with nature, the expression of physical pleasure, pain, I mean the genuine experience of existing, and not destroy themselves. In fact, the opposite: other chapters in this book highlight specifically how endurance training, strength training and physical conditioning play a role in slowing the phenomenon of aging. The Olympic spirit grows us in two dimensions: providing more time to live, and living better.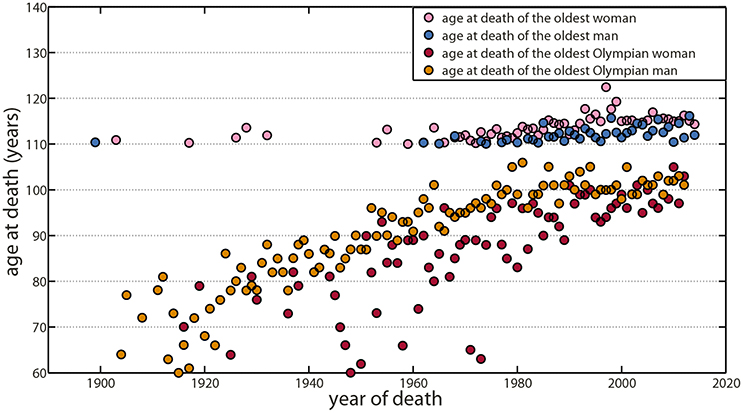 Large improvements in performance and longevity remain accessible to most of us
If you place less emphasis on the absolute record – unless of course you are part of the small minority of world class athletes and sports pros, you shift your focus to becoming a better self, a better you: stronger, leaner, tuned in. With this, you have more energy to fight for the missions you set for yourself, to overcome obstacles, and to create.
As Pierre de Coubertin, the ambassador of the Olympic spirit was once quoted[2]:
L'important dans la vie ce n'est point le triomphe, mais le combat, l'essentiel ce n'est pas d'avoir vaincu mais de s'être bien battu.
The important thing in life is not the triumph but the struggle, the essential thing is not to have conquered but to have fought well.
[1] AUTHOR=Marck Adrien, Antero Juliana, Berthelot Geoffroy, Saulière Guillaume, Jancovici Jean-Marc, Masson-Delmotte Valérie, Boeuf Gilles, Spedding Michael, Le Bourg Éric, Toussaint Jean-François ; TITLE=Are We Reaching the Limits of Homo sapiens?  JOURNAL=Frontiers in Physiology;  VOLUME=8;  YEAR=2017; PAGES=812 ;
URL=https://www.frontiersin.org/article/10.3389/fphys.2017.00812 ; DOI=10.3389/fphys.2017.00812; ISSN=1664-042X
[2] Hill, Christopher R. (1996). Olympic Politics. Manchester University Press ND. ISBN 0-7190-4451-0., pages 7-8