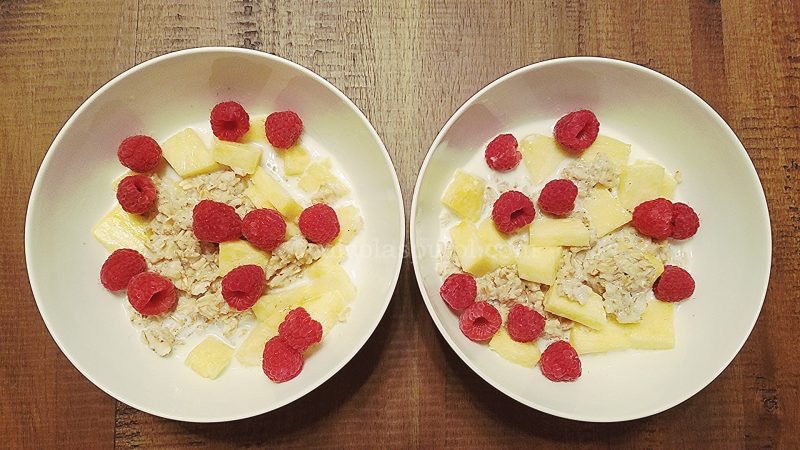 Our kids get up early. Very early. Our oldest son, Alex, takes his school bus at 6:45am each weekday. This means Layla or I get up at 5:30am every other day with Alex, and we drive him to the bus stop. He takes a nap when he gets home, to catch up a bit on sleep. Marc, on the other hand, leaves at more normal hours. So, today I asked him what he wanted for breakfast. We had some fresh pineapple that we pre-cut and stored in a container in the fridge. It turns out that Marc loves pineapple. So he was excited about having some pineapple for breakfast. We combined it with oatmeal the way we typically do it, in the microwave oven. This gave us this tasty pineapple and berry oatmeal. 
Nutrition of pineapple and berry oatmeal
Pineapple is rich in vitamin C, manganese, copper, vitamin B6, vitamin B1, fiber, folate, pantothenic acid. On the other hand oats contain manganese, molybdenum, phosphorus, copper, biotin, fiber and many other nutrients. We add a few berries and a bit of whole milk. This is a sodium-free recipe, which is notable since modern diets tend to be high in sodium: we consume more of it than our body needs. So, an opportunity to reduce the daily intake is welcome.
Robert Marchand's philosophy of diversifying food sources
We don't eat pineapple as frequently as other fruits. Enjoying it with this breakfast recipe allows us to get nutrients we may not have access to on other days and meals. This reminds me of Robert Marchand's notion of changing ingredients and foods over time. He never eats too much of anything, and by eating one thing one week, another thing the next, he limits excess intake of certain nutrients while avoiding deficiencies in others. "You've got to vary, all the time, what you buy (at the supermarket)", he says.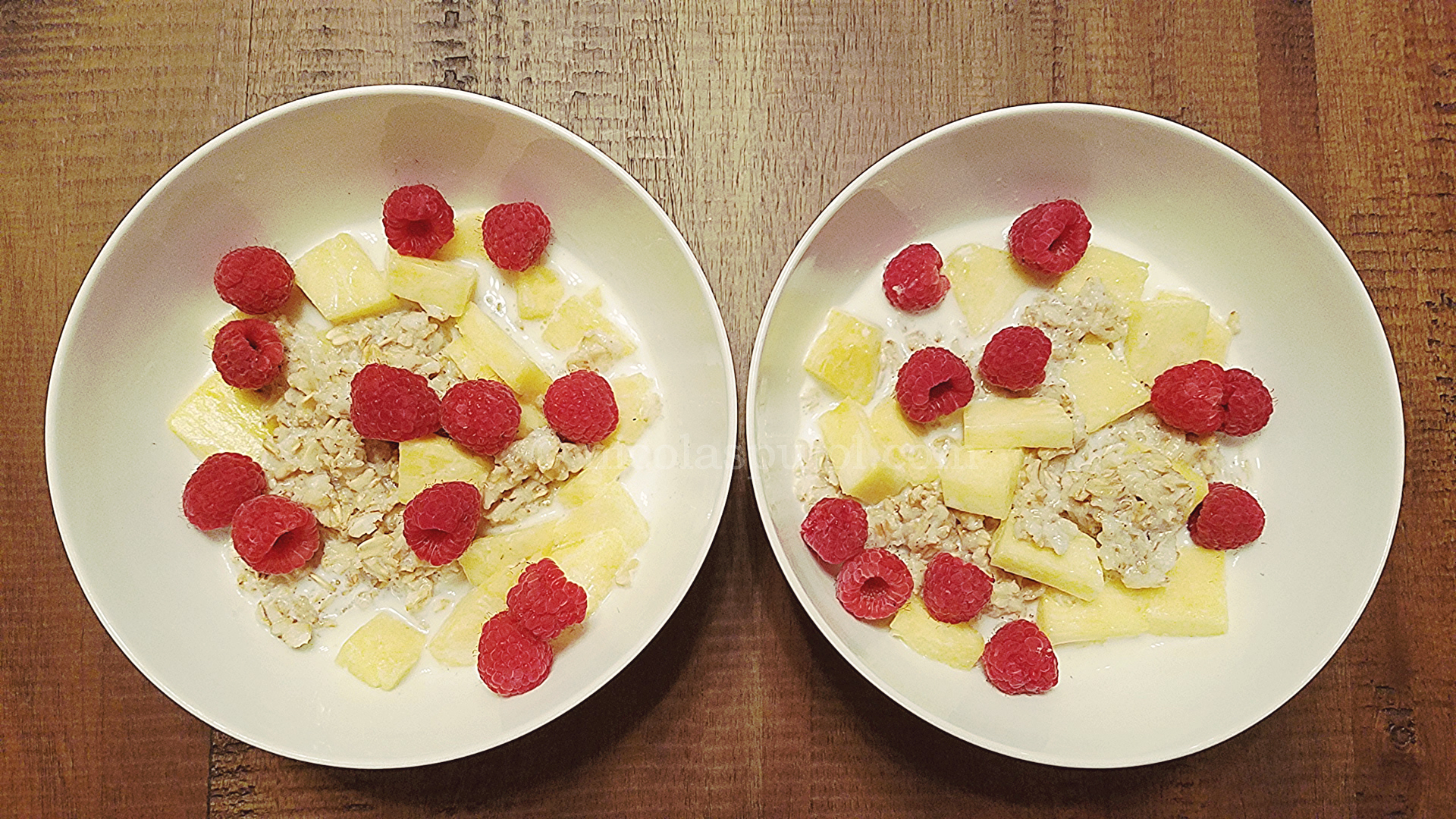 Pineapple and berry oatmeal
This pineapple and berry oatmeal provides a nutritious and warm breakfast to start the day. It takes 5 minutes to make, and is ideal for adults and kids.
Print
Pin
Leave a comment
Ingredients
1

cup

fresh pineapple, cut in small chunks

0.5

cup

plain, unflavored dry oats

0.75

cup

water

5

raspberries

or any other berries you have.

0.25

cup

whole milk

(use plain yogurt as an alternative)
Instructions
Put the oats in a large bowl and add the water. Microwave for 2:30 mins for one bowl, at maximum level.

Add the pineapple chunks, berries and milk. Mix gently.
Nutrition
Calories:
207
kcal
|
Carbohydrates:
39
g
|
Protein:
5
g
|
Fat:
4
g
|
Saturated Fat:
1
g
|
Cholesterol:
6
mg
|
Sodium:
42
mg
|
Potassium:
342
mg
|
Fiber:
4
g
|
Sugar:
20
g
|
Vitamin A:
195
IU
|
Vitamin C:
81.5
mg
|
Calcium:
101
mg
|
Iron:
1.5
mg