"Keep varying your ingredients". As Robert Marchand, the oldest athlete in the world today (107 as I write these lines), explained to a TV crew while he took them to his nearby supermarket, walking briskly, he went through the aisles of the store. He showed that one week, he will put certain foods in his basket, then the next week he will change. The idea, which I developed in Robustness, is dual: to avoid deficiency by diversifying sources of nutrients, and to avoid things that may be toxic in a certain food type (e.g. mercury in fish). I haven't consumed carrots and leeks in a while, so they felt like good candidates. This steamed leek and carrot salad with avocado made my lunch today, and I happy to share it with you.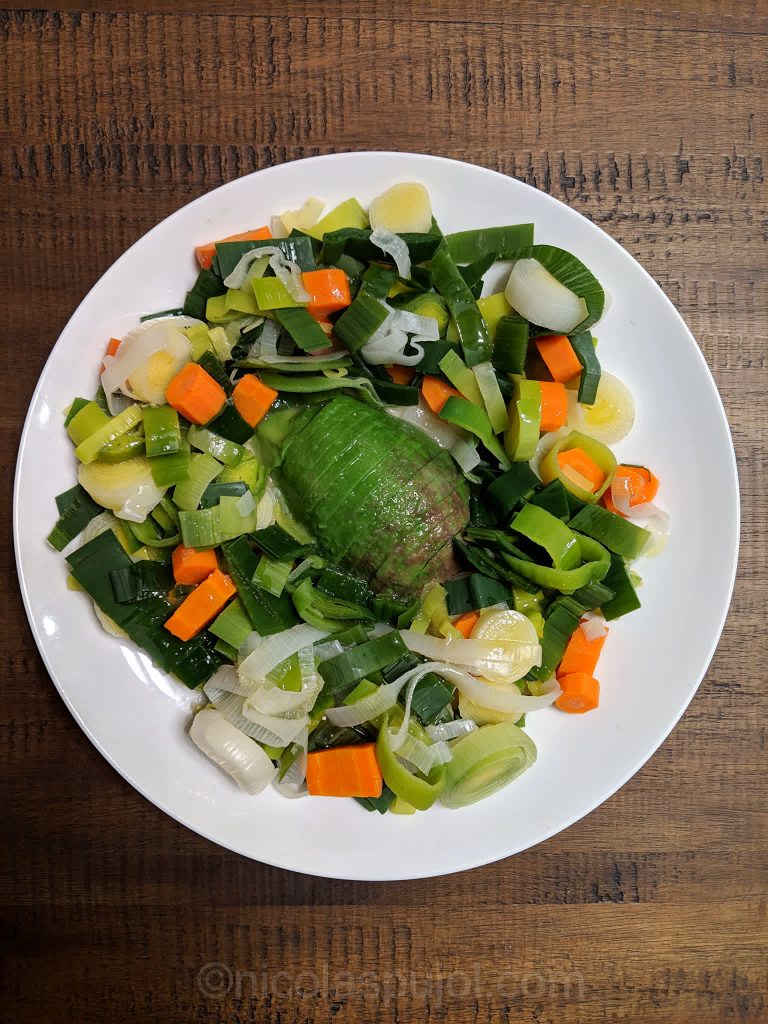 If I had infinite time, and if I didn't care to discard an otherwise perfectly delicious and good avocado, I would have made this dish picture perfect by using a completely, uniformly green avocado. As I peeled it, there was a very thin dark layer on one side, which did not impact the taste or the integrity of the fruit. So I kept it as is. There are two sides to food blogging. On one hand, picture perfect dishes draw lots of visitors, eyeballs, attention, whatever we want to call it. At the same time, when you're going through your day in the real world, it's very likely that you would not throw in the trash perfectly fine ingredients only because their look isn't perfect. I hate wasting, and if you do too, this is the little story for the thin and slightly dark layer on the avocado.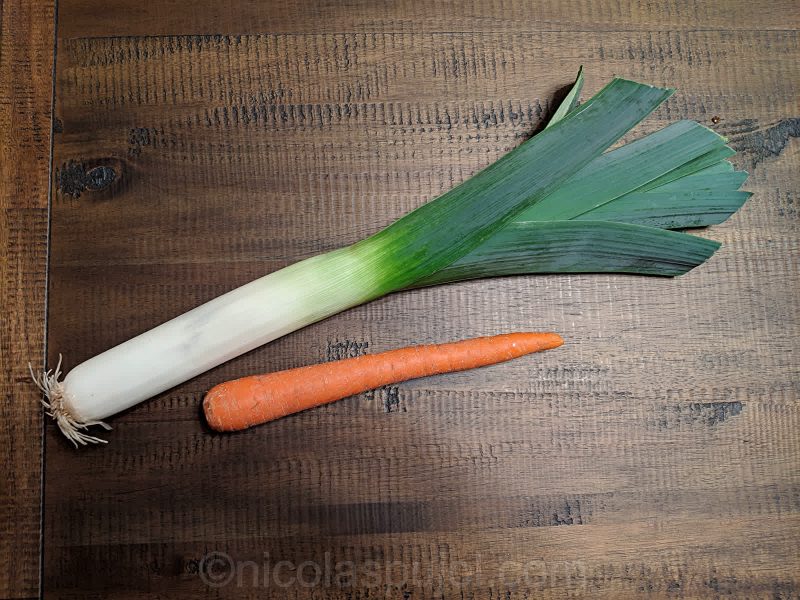 A few words on leek nutrition
From a nutrition standpoint, leeks below to the same family of vegetables as garlic and green onions, the allium plant family, and as a result they contain some of the same nutrients. Leeks in high in vitamin K, which you can also find in natto. Carrots provide vitamin A, and to complement the dish with some good fats, the avocado and a touch of olive oil and lemon juice made the dressing for this cooked vegetable salad.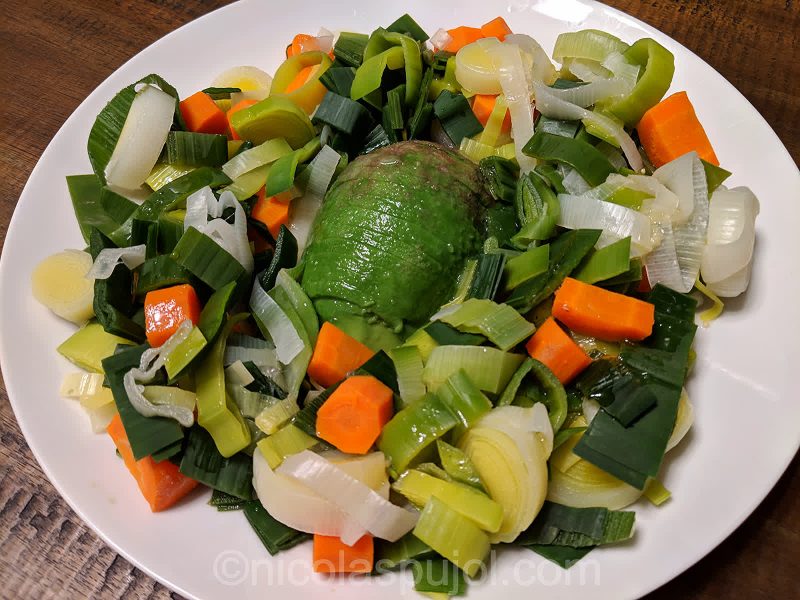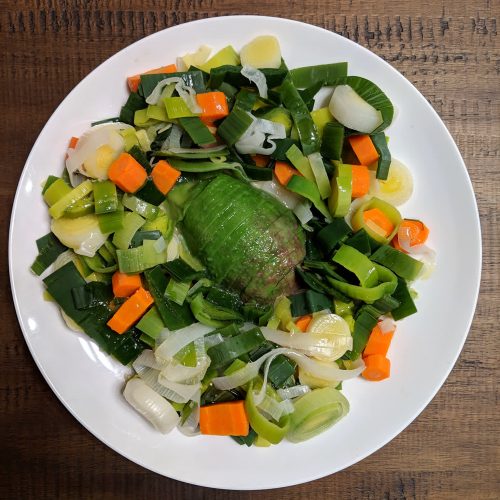 Steamed leek and carrot salad with avocado
This steamed leek and carrot salad with avocado includes an olive oil and lemon dressing. It will nourish you with vitamins, antioxidants and low proteins.
Print
Pin
Leave a comment
Ingredients
1

Leek

1

carrot

1

lemon

1

tbsp

olive oil

0.5

avocado

salt

optional
Instructions
Put water to boil in a medium pan.

Rinse the leek a first time, then chop it. As you do so you may find extra dirt at junctures of stems. Rinse a second time. Peel the carrot and chop it as well.

Add the vegetables to the boiling water. There should be just enough water to cover them. Too much water may dilute nutrients. Cook for 10 to 15 minutes with a lid on.

Cut the avocado in half, then peel the skin. Place it in the center of the plate, slice it thinly.

Drain the vegetables, add them to the plate around the avocado. Finish by juicing a lemon and pouring it on top, along with olive oil. Salt optional.
Nutrition
Calories:
395
kcal
|
Carbohydrates:
37
g
|
Protein:
5
g
|
Fat:
29
g
|
Saturated Fat:
4
g
|
Sodium:
69
mg
|
Potassium:
991
mg
|
Fiber:
13
g
|
Sugar:
9
g
|
Vitamin A:
11820
IU
|
Vitamin C:
81.6
mg
|
Calcium:
113
mg
|
Iron:
3.3
mg
I did this recipe as part of a fasting-mimicking cycle (FMD), which felt like a good meal choice. It contains a balance of complex carbohydrates, unsaturated fats, and plenty of vitamins from fresh vegetables and fruit (since avocado is a fruit). Bon appétit!