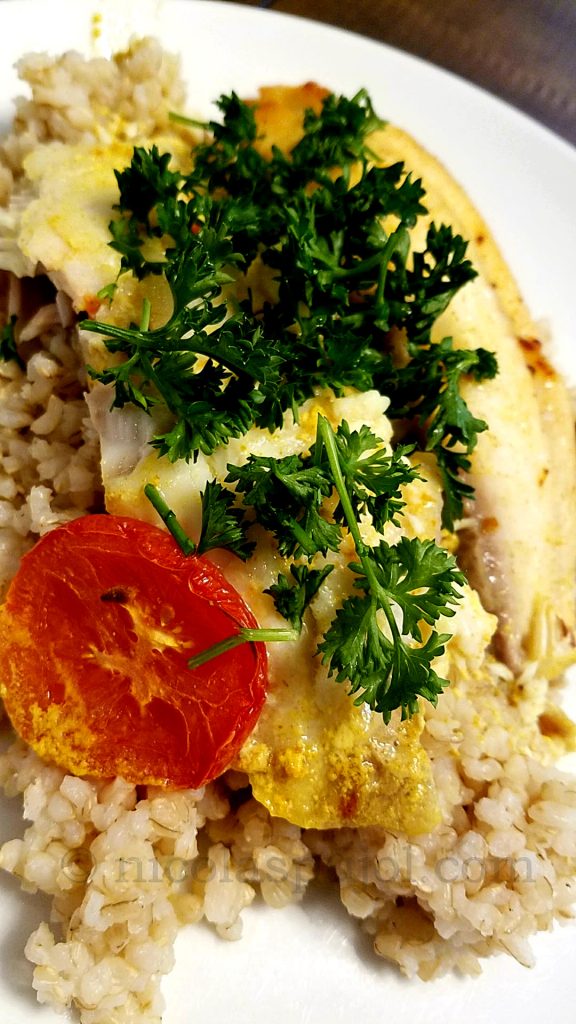 It can be hard to make fish that kids like. Can an oven baked tilapia do wonders? Sometimes it is the type of fish that they are not used to. Other times it is the sauce they are being picky with. But in the case of this recipe, both my 15 and 13 year old teenagers sat at the table and finished their plate. This dish combines the flavors of a curry preparation with the soothing and creamy coconut milk, with additional cayenne pepper to make the dish slightly hot. It is a fairly simple recipe to make with the caveat that you need to pay extra attention to bake the fish long enough for it to be fully cooked. Given the volume of fish and coconut milk used, getting the center of fish to boil and cook takes time. You will be safer to overcook it for 5-10 minutes, than taking the chance of serving it under-cooked. Under-cooked fish is not nearly as appetizing and you may not digest it as well. One hour and fifteen minutes usually work well, but again, double check and give it ten more minutes if needed.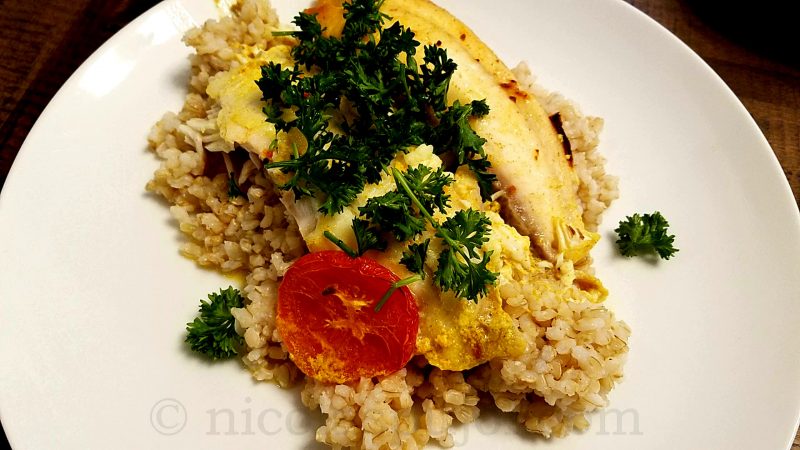 As a fish, tilapia has a neutral taste and is very tender to eat once cooked. Stores and fish stand guys usually do a good job at removing bones, and it's rare that we are bothered while eating it.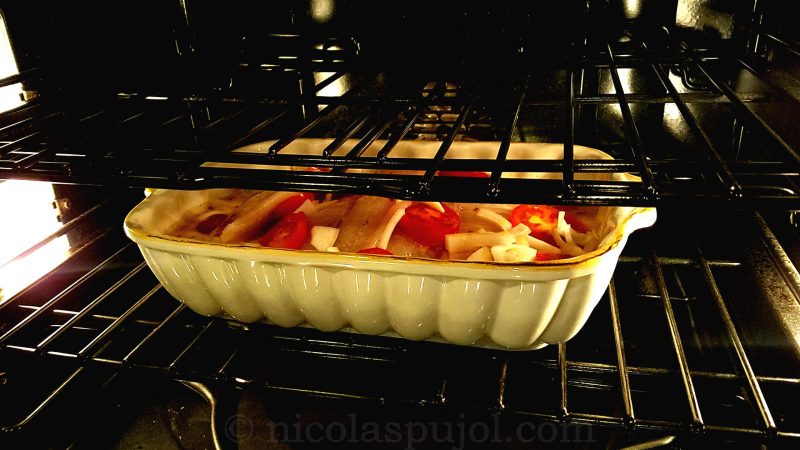 You can serve the oven baked tilapia as it is and with sides. Because of the sauce, I made brown rice and used the rice as a base to serve the fish on top, as well as the sauce. You can use white rice, mashed potatoes, quinoa, anything that will have some ability to absorb the sauce and go well with the fish. Typically it will be something with a fairly neutral flavor which will adopt the spices from the sauce. Once done, you can keep it in the fridge for up to a couple of days. It goes as well cooked right out of the oven or reheated the next day. If you do choose to keep some in the fridge I recommend storing the rice and the fish in separate containers so that the dish remains fresh longer and for the rice to stay firm.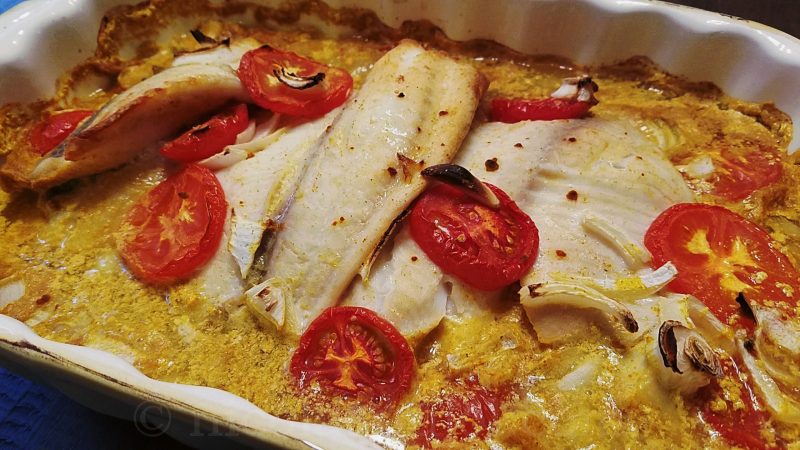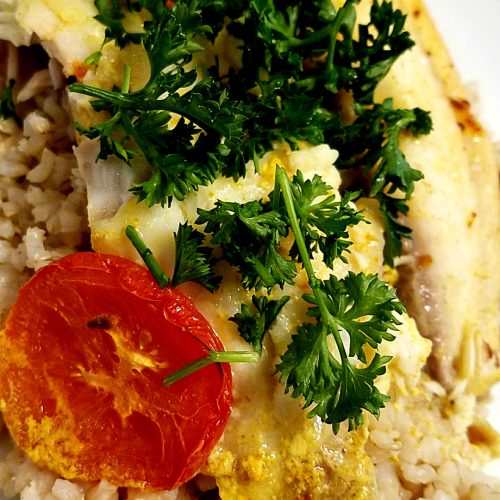 Oven baked tilapia fish in coconut milk
This oven baked tilapia in coconut milk recipe is prepared with turmeric, cayenne pepper, onions, tomatoes, cumin and avocado oil, and is easy to make.
Print
Pin
Leave a comment
Ingredients
3

lb

tilapia

3

tomatoes

1

small onion

2

cups

coconut milk

2

tbsp

avocado oil

0.5

tbsp

turmeric

0.5

tbsp

cayenne pepper

0.5

tbsp

cumin

salt to taste
Instructions
Preheat the oven to 375 F degrees.

In a large oven dish, place the fish, onion and tomatoes.

Mix in the coconut milk with the turmeric, cumin, cayenne pepper and avocado oil, then slowly pour it on top of the fish.

Bake at 375 F for 1 h 15 mins to fully cooked.

Top with cilantro and lemon, and serve with brown or white rice, or quinoa.
Nutrition
Calories:
423
kcal
|
Carbohydrates:
5
g
|
Protein:
47
g
|
Fat:
24
g
|
Saturated Fat:
16
g
|
Cholesterol:
113
mg
|
Sodium:
131
mg
|
Potassium:
1028
mg
|
Fiber:
1
g
|
Sugar:
1
g
|
Vitamin A:
695
IU
|
Vitamin C:
9.7
mg
|
Calcium:
47
mg
|
Iron:
4.5
mg