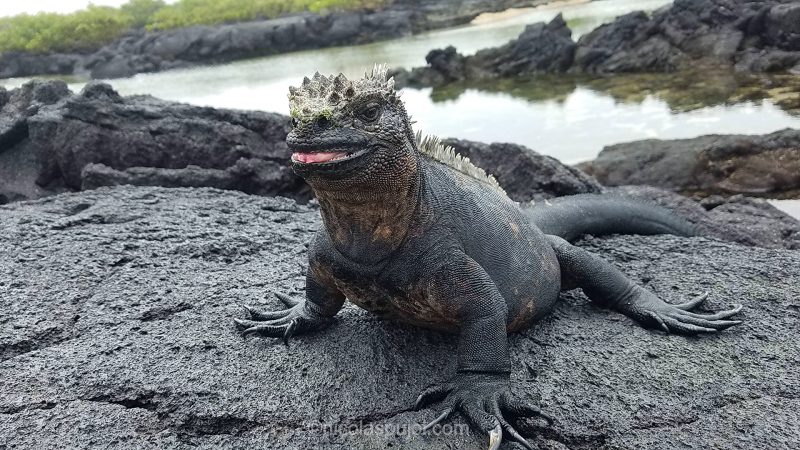 We are finishing a family trip to the Galapagos Islands, off the coat of Ecuador. It has been almost 10 days of walking, hiking, boating, swimming, and biking around the main islands: Isabela, Santa Cruz, Daphne, Bartolome and San Cristobal. I knew of the role that the location played in Darwin's studies, to explain the evolution model for species. But some questions remained: why are these islands special? There are many other ones around the planet, some being much more remote from continental ground. So as we met locals and guides, I kept asking this same question: tell me why the Galapagos are unique. It took a few days to get a clearer mental map, and this post summarizes what guides told us.
1. Unlike some other islands, Galapagos were never part of Pangea
A few hundred million years ago, continents were not in the location they are now. When the earth was young and life emerged, it did so on a single continent, named Pangea. As a result of being unseparated by waters, species on land could move freely from one end to the other, with the limitation of temperature differences between poles and centrally located areas – just like now. Even as the continents then separated and diverged, the base species were more or less evenly distributed from this point on. Small or large islands which were part of Pangea carried these species with them. In the case of the Galapagos, they were born from volcanic activity, and were never part of Pangea.
2. Islands which emerged from tectonic shifts contained soil and pre-existing life
Now, some islands were born from tectonic movements in oceanic locations, which raised ground above sea levels and created them. This phenomenon occurred very slowly, at the speed of shifting, a few centimeters each year. This means two things: soil from the ocean became ground soil, in a format that is already fertile to life. In addition, there was no heating, so no destruction of the marine life in the water, which could slowly make its way to the ground. This was my "A-ha" moment in understanding why the Galapagos islands are unique and unlike any other ones. This takes us to the third point.
3. Ground from lava is like an evolutionary reset button
When lava erupts, it is a complete mess. It is especially messy as it does so from the ocean. Imagine putting hot metal into a bucket of water: it will steam and splash everywhere. Lava stayed hot as it emerged, emitting ash and pretty killing every form of life on the newly formed ground. The process could be compared to disinfecting an area with pure alcohol. It puts a complete reset on life, which needs to find a way to come back as lava rocks cool down. But it doesn't stop here.
For plants and animals to thrive, they need soil, that is, nutrients. Lava rock is solid and not nutritionally diverse. When the earth formed, billions of years ago, it was not initially made of the soil we know today and take for granted. Ground on earth was lava rocks, and it took a very, very slow process for life to emerge: small organisms, which fed from sea and land erosion, then died. As they died, they became nutrients for new life, which died, and so on. Soil is the cumulative melting pot of life having eroded rocks and having mixed into sediments.
4. Dry climate slows down evolution
Today, the Galapagos islands receive very little rain. Despite their proximity to the ocean, clouds mostly fly over the land and because elevation is not high enough, they never hit the ground to create conditions for frequent rain. It does rain on occasion, but not much, and mostly in the South part of each island. If you're also wondering why most of the population is located in southern areas, these spots receive the most amount of, still, minimal rainfall.
When visiting islands like Bartolome, you see how dry they are, like a desert. In some spots, only special forms of cactus is able to grow. This means that there is very little erosion from rain, and very little soil creation from plants being able to feed from rocks, erode them, and turn into soil. Not only does an island emerging from lava creates a reset from a life presence standpoint, dryness makes the sequence very, very slow. One can imagine the earth a few billion years ago when life began to develop, as some of the landscapes in the Galapagos islands.
5. How life got to the Galapagos: colonization and dispersal
Now, of course there is plenty of life in the Galapagos, which got imported through several methods. In one of the places we stayed at, the living room library had the book Galapagos, a natural history, by Michael H. Jackson. In it, the author notes the different ways life got to the islands. First by air, by transport of small seeds and living organisms. Next, birds played a role, coming from mainland or other islands, carrying in their feet and feathers the same small organisms and seeds. Marine life could swim and make its way to the shores of each of the islands. Jackson notes that colonization occurred mostly by accident. Animals and plants did not set a goal to get there, they just arrived to the islands by being transported to them by winds, ocean currents and other forces of nature.
Recently, humans added to the process, importing plants like berry bushes, or animals like goats, which are disturbing the ecosystem, in some cases completely taking over, to the point that environmentalists had to go on goat hunts to remove them before they would alter life as it has existed for thousands of years. It remains to be seen how long species in the Galapagos can remain as they are. For now, we continue to watch them and disturb them as minimally as possible. Thanks to their presence to this day, we can travel back in time.