In this post we talk about something we tested for three months and that is very exciting. We know that's a TV is becoming more and more digital, with services like Netflix and Hulu. YouTube has also made video available to everyone in terms of producing and distributing it. A few weeks ago, YouTube launched a new offering called YouTube TV.
Like many consumers we have not been fans of packages offered by cable companies that cost a lot of money for programs that we don't watch for the most part. At the same time ,what's available with an HDTV antenna over the air is limited and has no DVR. So we tried YouTube TV for 3 months and this is our review.
Trial
Trying out to the service was a breeze. If you have a Gmail accounts or any kind of Google service, you already have a profile that you can use to turn on YouTube TV. Google offers a 15 day trial that allows you and a total of 6 family members to try the service. This means all of the family gets their own accounts and can customize their own YouTube TV app experience. We liked the programs enough to extend the trial into a paid subscription. So we've been watching YouTube TV for 3 months now.
Mobile app
Controlling the TV with a mobile app is something novel. In general, the TV is controlled with a remote and that remote is a standalone device with physical buttons. YouTube TV streams via a Chromecast device, therefore the phone can become the remote. The app is generally functional and provides an overview of live channels as you scroll up and down. It crashed many times on my Galaxy S7 running the latest Android operating system available on that device. But overall, it's promising.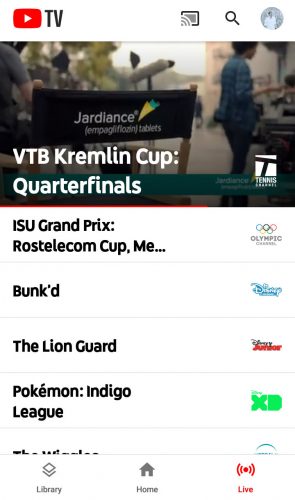 What YouTube TV replaced
Before we signed up for the service we were watching some programs on Hulu Plus. For about $10 per month this provided some DVR capabilities and the programs had zero commercials. We could watch whatever we wanted and never be bothered with ads, for an affordable price.
Of course Hulu Plus does not cover the full programming options, so we also got fubo TV which kids wanted to watch soccer games. We like Formula One and that was available as well on this service. Our thinking was that we would be able to replace both services with YouTube TV. It has two soccer channels and Formula One is also available. The mainstream channels also allow us to watch what's available on Hulu Plus, and the DVR is unlimited for 9 months on YouTube TV. This sounds great.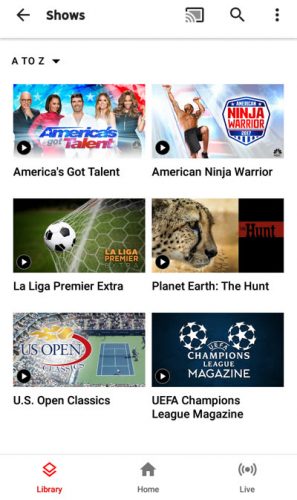 Image quality
One thing that Google did really well is providing top notch streaming quality. This might stem from their technical know-how with YouTube that the accumulated over many years. We were very impressed with the quality of YouTube TV. Every channel provides great image quality, great sound and no lag as long as you have a decent internet connection.
Issues
YouTube TV is a new service so we don't expect it to be perfect. The mobile app, as I mentioned before, could be more responsive and more stable.
There should be a way to fast forward and go backwards with more flexibility than the two buttons available today, which only go 15 seconds forward and backward. The lag on these buttons is not a positive experience. If you want to go forward by 2 minutes you will have to press 8 times and have to wait in between each press that the video syncs back to that 15 second mark.
The other option is the full program scroll bar but this one is too sensitive and instead of moving by 2 minutes it may move by 5 or 10 minutes. Not cool, but we could live with this.
Pricing is expensive. For $35 you do get a number of channels but relative to Hulu Plus which was our main use case, it is much much more expensive. Like the cable companies, Google bundles many channels into a single offering. We only watch a small fraction of these channels and have to pay for all these other programs that we never watch. So from a cost and pricing standpoint it is not what Google traditionally does, and forced bundles do not seem efficient overall.
Finally, something made us cancel the service. The commercials on YouTube TV at the time of this writing are horrendous.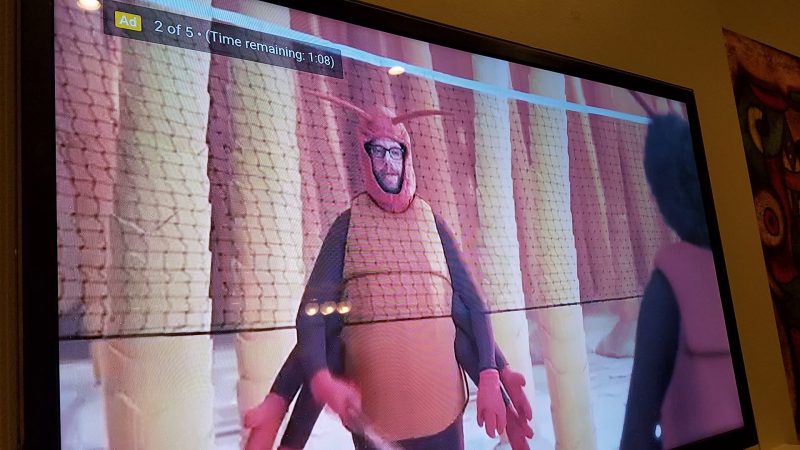 It's especially surprising as Google is an advertising company. One would think that they would have some experience in how consumers gets turned on and turned off by ads. Unfortunately that was not the case. Ads cannot be skipped as of now and they come in batches of 6 ads, each being 30 seconds long. On top of that, they are frequent, maybe every 10 minutes you get 6 * 30 seconds consecutively. There is no way to fast forward or skip or avoid.
My wife got frustrated once, twice, three times, and it became a dinner table discussion. We are at the table watching YouTube TV and the commercials show up and the kids are frustrated. The wife is frustrated. This goes on and on, and it becomes repeatedly the subject of discussion for dinner.
As this happened I contacted YouTube through the support channel. They explained to me that there was no way at the moment to do this easily, and that we would have to live with this. After explaining our situation for 3 weeks and having these dinner discussions, we just decided that the best way to help Google and the other subscribers probably feeling the same way as we do, was to cancel the service.
Interestingly, as we did the cancellation, Google sent us a survey and one of the pre-formatted answers was about the ad experience, which suggests that we are not the only ones being frustrated with ads.
I don't think the answer is to provide a "YouTube TV Red" for a lot more money because it would make YouTube TV unaffordable and grossly overpriced relative to, say, Hulu Plus. But if Google found a way to make only the channels that people want available for a lower price, then add the ability to skip the commercials, better fast forward, and perhaps for a small incremental fee provide an ad-free experience, this might be a winner. We may re-subscribe in the future if that option becomes available, because other than the ads and the above issues, we enjoyed the service.