This recipe will count as perhaps the easiest of all, or one of the easiest. But not so fast: you need to put a little bit of science in the middle of this extreme simplicity. For the writing of my book Robustness, I went to meet Robert Marchand, the centenarian athlete. Before I met Robert, he gave a TV interview with French host Michel Drucker, and Marchand noted that he eats "very little, or nothing for dinner". His argument: "you don't sleep well when you eat late in the day".
Since then, studies on 16 hour mini-fasts gave support to essentially eating during an 8-hour window and not eating for 16. In practice, you can essentially start at 8 am and have your last meal at 4pm, skipping dinner. Or you can do like Marchand, which is eating later than this, just not a lot.
A balanced, low-calorie snack or meal
As I am doing a fasting-mimicking diet this week, days 2 to 5 require an 800 calorie total food intake per day. So far, I roughly distribute the total between 200 calories for breakfast, 400 for lunch, and 200 for dinner. This way, I can still eat 3 meals a day, while doing the program. The past couple of days, I wanted something simple for dinner, which also met another goal of getting the calories from 50% complex carbohydrates and 50% healthy fats. Longo recommends nuts as one of the fat sources, so I opted for this, together with an apple. Apples don't have a ton of vitamin C, which might keep you awake at night, for example if you had grapefruit, lemon or kiwi for your last meal. Same goes for kale: it is packed with vitamin C.
Now, the one thing that requires your attention in the event that you care about calories, is to weigh them on a kitchen scale so that you know the energy amount. 100 calories of nuts is approximately 0.5 ounce, and when I look at them in the tiny ramequin, it is really not much quantity or volume. This means you could easily double or triple the 100 calorie part from nuts without measuring on the scale.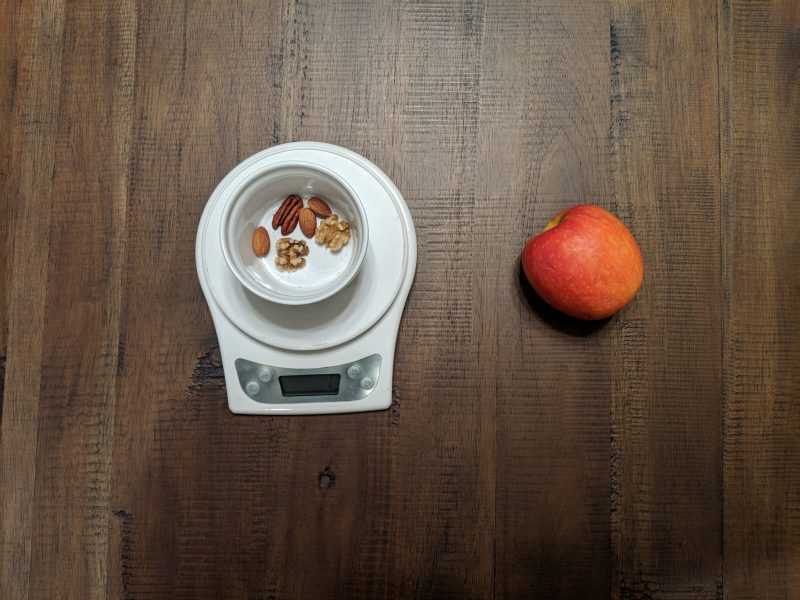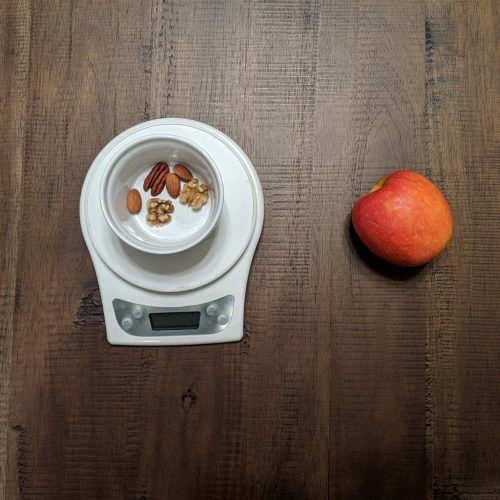 Apple and mixed nuts
An apple and mixed nuts can provide a balance of wholesome carbohydrates and plant-based fats which can be consumed as a snack or a very light dinner.
Print
Pin
Leave a comment
Ingredients
0.25

oz

mixed nuts

(for example walnuts, almonds, pecans, pine nuts)

1

apple

preferably organic, since we are eating the skin
Instructions
Rinse the apple and cut slices around the trunk, keeping the skin on.

Weigh the mixed nuts for your energy goals and enjoy together.
Notes
The base quantities use 0.25 ounce of nuts, which represents about 100 calories from the apple and 40 calories from nuts. To make carbs and fats roughly 50/50, you can use 0.5 ounce of nuts, for a total of about 200 calories.
Nutrition
Calories:
140
kcal
|
Carbohydrates:
26
g
|
Protein:
1
g
|
Fat:
4
g
|
Sodium:
1
mg
|
Potassium:
194
mg
|
Fiber:
4
g
|
Sugar:
19
g
|
Vitamin A:
100
IU
|
Vitamin C:
8.4
mg
|
Calcium:
11
mg
|
Iron:
0.4
mg