As I met centenarians and very fit elders for the writing of Robustness, I also read books on health and longevity, such as the Okinawa program, The China Study, Blue Zones, and others, and noticed the hundreds of thousands of people who were part of these studies, cumulatively, tended to live their whole life with periods of caloric restrictions. Also, they tended not to consume a lot of animal products. A few were 100% vegan, like Ellsworth Wareham, who being a surgeon knew exactly how to eat vegan without falling into the traps of nutritional deficiencies. Most centenarians were part-time vegans, still eating some animal products in small amounts, which took care of the problem.
So it was exciting to finally see a book which bridged the empirical observations from long-lived populations, with lab experiments in cell organisms, in mice, monkeys, and finally in humans through controlled clinical trials. Finally someone documented inputs and outputs: this was Valter Longo's Longevity Diet, in which he explains the very simple FMD, fast mimicking diet. (TEDx video)
Up to now, I experimented with what elders practiced for decades, like Robert Marchand, now 107 years old as I write these lines, and who still lives independently in his home in France. Robert eats almost no dinner, without knowing that what he does roughly equates to the 16/8 intermittent fast. You eat for 8 hours, and fast for 16. The simple rule of thumb for this method is skipping dinner.
After reading Longo's book, I am giving a try to the FMD program with the intent to follow it as closely as possible. Longo is right that we have to follow a conscious measuring process to attain his recommended daily calories and carbs to fats ratio. Hence, he provides Prolon premade meals as an option, where the calculations are done for you. Compare the thoughtfulness of FMD to the "juicing programs" with little structure or guidance: you could be eating pretty much any amount of calories and nutrients. Juices could be full of simple carbohydrates, lacking dietary fiber, essential nutrients, possibly creating deficiencies for periods longer than 5 days. With the FMD, Longo's instructions are clear and the program is short.
This article collects my FMD notes and lessons learned.
Preparation week & starting weight, height, BMI
The 7 days prior to starting the program, I ate a Western diet, including complex carbohydrates from vegetables, fruits, rice, some animal proteins including salmon, meat, and some dairy.
Starting weight: 160 lb, which for a height of 6'2, gives a BMI of just under 21. I am doing this caloric restriction exercise to stay fit, as preventive maintenance, and to refresh a bit after the Christmas and New Year holidays. Is it possible not to indulge in excess during December? With so many friends and family meals, I am not sure.
I am not aiming to lose weight. To balance the chance of unwanted risk of weight loss, I plan on doing the bare minimum physical exercise. I will do very short episodes of strength training as I need more muscle mass in the upper body, regardless of fasting. it is a separate, complementary goal. If weight loss is one of your goals then you don't have to worry about losing weight.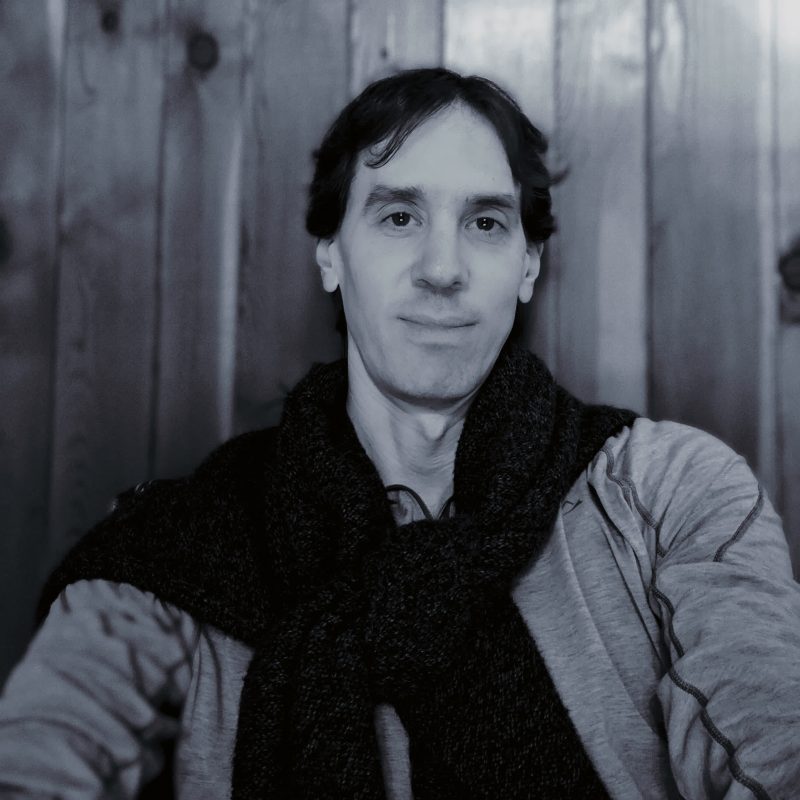 What you'll need for a fasting-mimicking diet
Read Longo's book. He did a great job documenting his scientific basis and logic for the FMD, as well as connect to his personal story, like his centenarian friend Salvatore Caruso, who reached the age of 110.
Ingredients for your meal, or the Prolon package at the same website as the book.
A kitchen scale to weigh and measure calories.
Day 1 on FMD
Feeling at start of day: being in a non-restricted diet at this point, and especially after the Christmas and New Year celebrations, it felt that day 1 should be about eating little and focusing on plant-based ingredients. So the following came naturally.
Breakfast
Consumed around 10 am at our Italian friends Rossana and Richard's house, where we spent the holidays.
| | |
| --- | --- |
| Grapefruit juice | 52 calories |
| Banana | 105 calories |
| Espresso coffee | 3 calories |
| Total | 160 calories |
Lunch
We drove from British Columbia to Seattle and had a late lunch on arrival at our place, around 3 pm. I cooked the seared black beans, broccoli and onion as a dish for 2 meals, and ate a bit more than half this first time, so I am estimating a total of 700 calories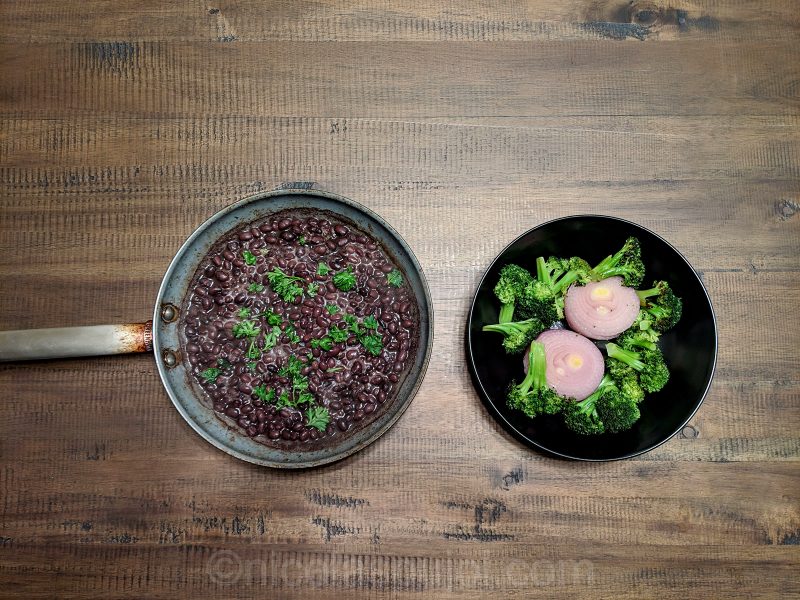 Dinner
Just a few nuts, as prescribed. This allowed to reach the goal for the day's total amount of calories.
| | |
| --- | --- |
| 1 ounce of mixed nuts (almonds, walnuts, pecans) | 172 calories |
| Herbal tea | 0 calorie |
| Total | 172 calories |
Day 1 total: 1140 calories
Thoughts on day 1 of the fasting mimicking diet:
Day 1 seemed easy. I felt the body needed a break from eating a lot.
It takes some research to understand the caloric content of foods and some dosing to get the totals to match the daily energy intake goal.
I did not take Omega-3 supplementation today because I didn't have it at home. This is a miss, but I had salmon the day before, so I think it is OK, all things considered.
I am also doing the fast while drinking coffee. It is black coffee, no sugar, milk or cream added, but I feel I need it for this exercise.
Day 2 on FMD
Breakfast
Lunch
Dinner
Day 2 total: 860 calories
Thoughts on day 2 of the fasting mimicking diet:
The caloric restriction is becoming more noticeable, although not nearly as much as when doing a 24-hour or 48-hour water and coffee fast. I tried these before, and being able to eat small meals in the FMD helps a lot.
It takes some conscious planning to get it right, as you research ingredient quantities, weigh them on a scale and add up your totals. You need to buy a kitchen scale to measure weights and energy of foods if you don't have one already.
43 calories eating nuts is not a lot of nuts.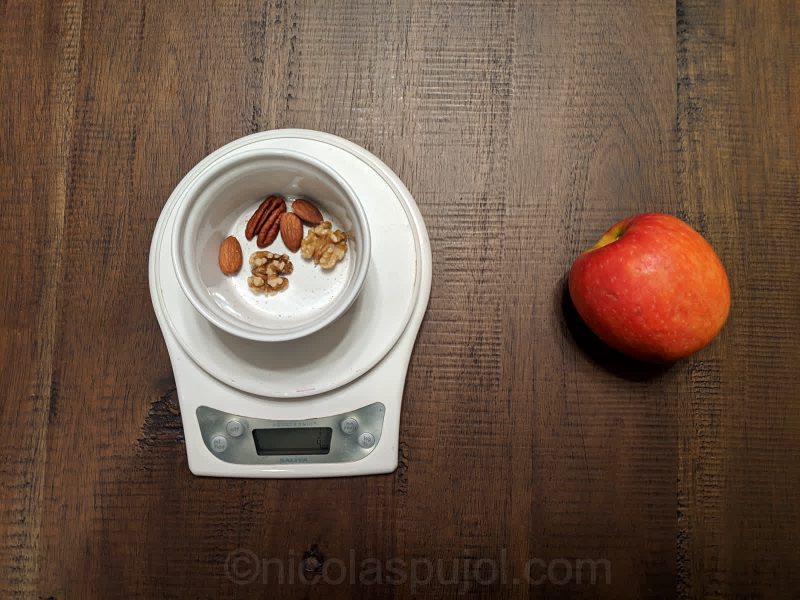 Day 3 on FMD
Breakfast
Lunch
Dinner
Day 3 total: 662 calories.
This is under the goal of 800 calories, but I think the calculator for the lunch meal is under-reporting. I could be wrong. At any rate, it felt in line with other days.
Thoughts on day 3 of the fasting mimicking diet:
I woke up this morning with the same feeling as when doing a water fasting, after 24 hours: slightly dry mouth, even if I stayed normally hydrated. The feeling is quite mild and I felt otherwise perfectly fine, but definitely it felt like the body was in detox mode. Urine color was also slightly darker than normal.
I did a few weight repetitions for the arms, some push-ups and crunches to stimulate muscle fibers. I didn't break any record as the FMD weakens you a bit during the process, in terms of maximum power output, and especially in terms of endurance. So until day 6, zero road cycling and zero running. Just some weights, strength exercises and physical conditioning.
Chewing is turning out to be important: the more thoroughly you chew, the more energy you absorb. Chewing thoroughly also slows down how fast you eat, and helps get rid of hunger as the leptin hormone starts kicking in after some time. There is more to cover on the topic of chewing, speed of eating and digestion quality. For now, just a thought.
Day 4 on FMD
Breakfast
Lunch
| | |
| --- | --- |
| Black beans and brown rice | 400 calories |
| Black coffee | 5 calories |
| Total | 405 calories |
Dinner
Day 4 total: 824 calories
Thoughts on day 4 of the fasting mimicking diet:
In a way, 5 days of eating less is not that much time. But to do it meal after meal, consecutively, requires commitment. Day 4 felt fine. My body was adapted to the lower caloric intake and smaller meals. I missed physical exercise the most, as I go out for a bike ride or a run several times a week. Since I am aiming not to lose weight, I need to be a little more patient.
Day 5 on FMD
Breakfast
| | |
| --- | --- |
| Mango, kiwi and strawberry fruit salad with pine nuts | 120 calories |
| Black coffee (2) | 10 calories |
| Total | 130 calories |
Lunch
| | |
| --- | --- |
| Black beans and brown rice | 400 calories |
| Black coffee | 5 calories |
| Total | 405 calories |
Dinner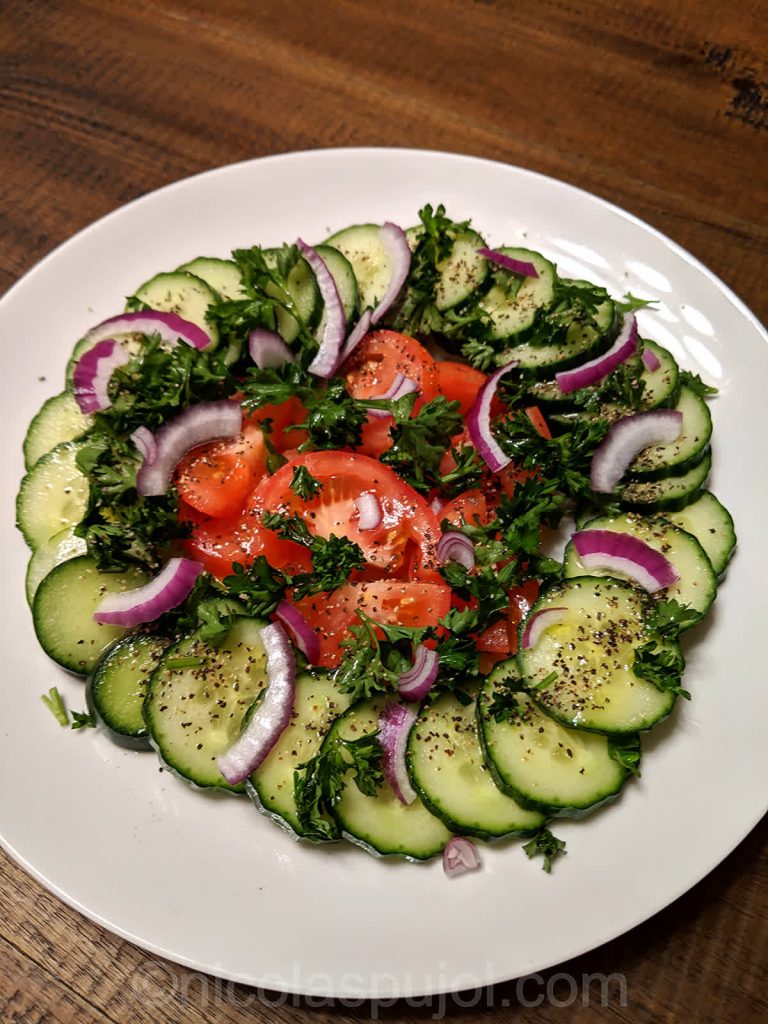 Day 5 total: 720 calories
Thoughts on day 5 of the fasting mimicking diet:
The time period of eating less is over, after 5 short days. I am not sure I was able to eliminate all the excess foods and drinks from the holidays, but it feels this week helped bring the system back to equilibrium. The program includes one more day, focused on transitioning back to normal.
Day 6: transition day
Since after day 5, detailed calorie measurements are no longer necessary there is no table and no numbers for this day. Longo suggests that the refeeding period which starts at this point focuses on whole foods, plant-based ingredients, keeping animal products to a minimum. I enjoyed a generous bowl of oatmeal with soy milk and fruits for breakfast, and egg-free pasta dishes with vegetables for the main meals.
With these carbs I could get back on the bike and did an easy ride in this winter weather. It felt great to feel the cold, fresh air, coming through the lungs, the face, staring at birds around Lake Washington.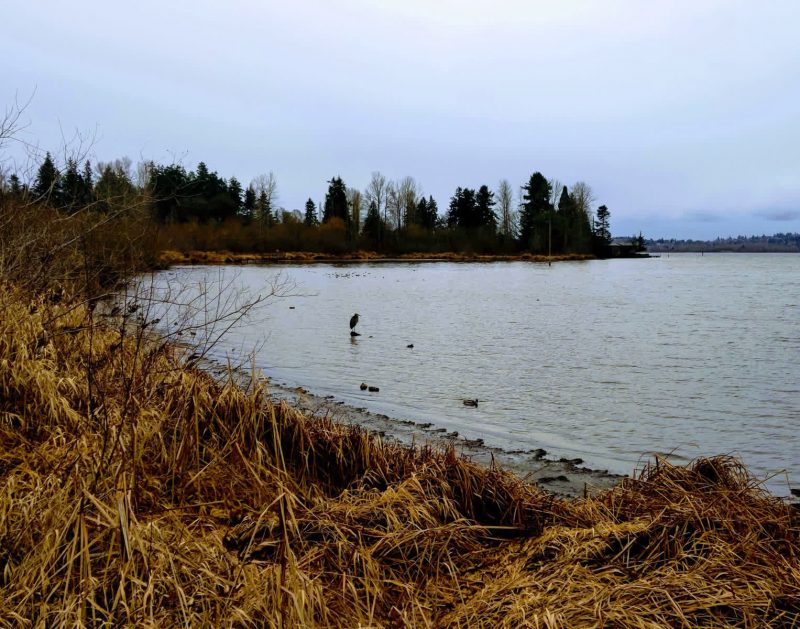 Last thoughts
From a social standpoint, this week was convenient to do a fasting mimicking diet. No restaurant, no lunch or or dinner at a friend's place. This gave the freedom to manage the ingredients and put everything I ate on a kitchen scale. It would not have been possible, eating outside.
As I mentioned earlier I also avoided strenuous physical exercise. I did not feel weak carrying on normal tasks, but clearly I was not eating enough to sustain my usual full throttle two-hour bike rides or runs.
I am glad I did it, but would limit myself to once or twice a year for a FMD cycle (Dr Longo mentions up to 3 times per year in his book). On a more regular basis, a balanced approach with a light dinner each day, or sometimes skipping a dinner, looks more sustainable in the long run. Robert Marchand, my 107-year old friend, still does this at his age.