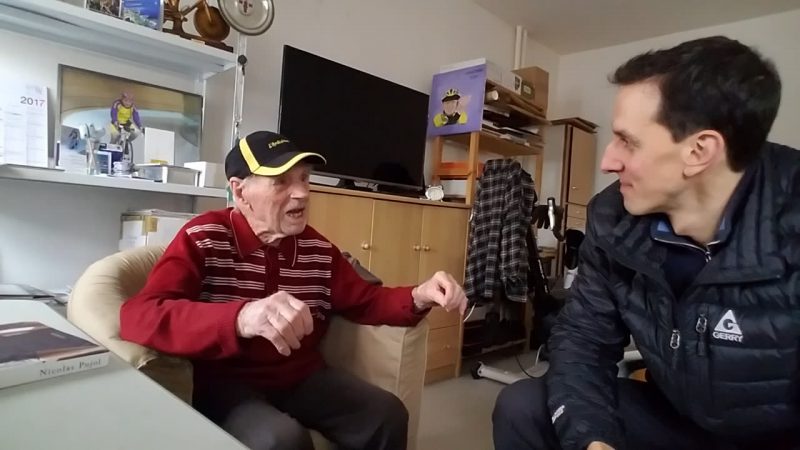 Robert Marchand survived 2 world wars, dictatorships, avoided cancer, heart disease, Alzheimer, depression, rode half a billion miles on a bike, and still drinks wine at the age 106. An exemplar of Robustness, he is still in perfect health. We sat down during his birthday week for a discussion about fitness and life.
I first met Robert Marchand after he turned 100. I tell the story of our first discussions in Robustness as well as what I learned from him. Robert was born lucky in a way, unlucky in other ways. He is blessed with good genes. But he also has a remarkable sense of self-discipline and willpower. When he turned the age of 100, Robert did 3 incredible achievements. First, he decided to pioneer the record of the 100-kilometer distance on a bike for a category that the UCI created especially for him. Before him, no centenarian ever attempted to ride a bike for this long, because most people never reach that age with the capability of such an effort. The vast majority of centenarians in France and around the world are women sitting in an armchair and spending most of their day not moving. Robert is a phenomenon.
In addition to the record of the 100 km distance, he also pioneered the same year the record of the hour in a velodrome. His third achievement was to write a book. He titled it "I turned 100, so what?" In this essay, he recounts his childhood and his life, none of which were easy. In fact, if you read his biography in Robustness, you may be shocked how hard a life he had, living through two world wars, economic crises, travels around the planet and being widowed before he turned 40.
When I heard about Robert, I was expecting to see someone speak move and react like a person his age. However, when I watched his first interview after the record just getting off the bike, I could barely believe that this man was this old. He had quick reactions, spoke like someone 20 years to 30 years younger. When he got out of the TV stage, he did it in a heartbeat with the balance of someone without any problem. in that context, it is no surprise that I met Centenarian Robert Marchand in perfect health again a few weeks ago as he turned 106. He was not only alive but once again 100% himself and in perfect health. Of course, age brings a few issues. He has a hard time hearing and does not wear hearing aids. His blood pressure goes up and down. But on the whole, he is 100% mentally capable, gets full nights of sleep, lives in his home, does his own cleaning and cooking, as he explains in the video. He moves effortlessly, going from sitting to standing in a heartbeat.
As much as Robert is in the process of retiring from sports competitions, due to the difficulty of keeping balance on the bike, he still exercises each day and shares his wisdom on how he became and remained fit all life long. I asked him to consider coming back from retirement once he reaches 110. He could still run a 100-meter dash, walk a mile, or who knows, do it again on the bike.