As much as Westerners have a hard time eating some of the most amazing ingredients of Japanese foods like natto, sushi has conquered the planet. What do people think about first in Japanese cuisine? It would be an interesting survey to run, and I bet sushi would be close to the top of the list.
These golden beets nigiri sushi make a perfect vegan recipe without fish, using brown rice, golden beets, soy sauce and wasabi.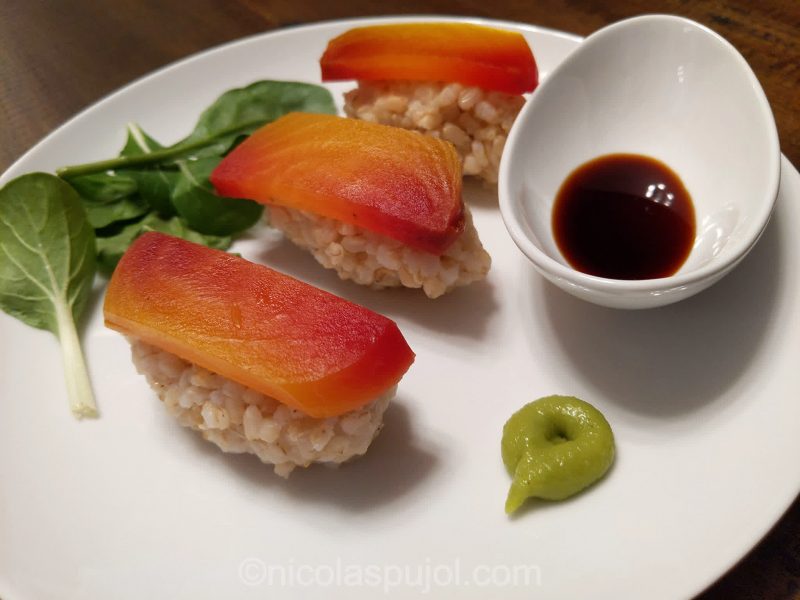 The inspiration for this dish came by chance. Don't so many things in life happen by chance? In order to store baked beets in the fridge, I combined red and golden beets together in a single container. When I opened the container the following day, the red pigments had colored the golden beets.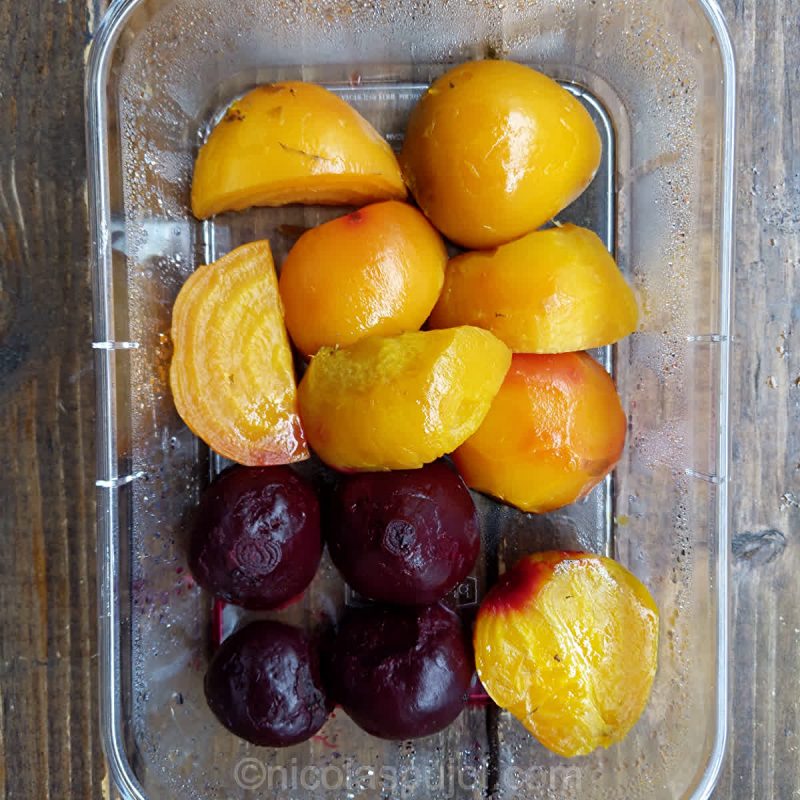 It did not catch my attention until I only had one half golden beet left, and also cold, cooked brown rice.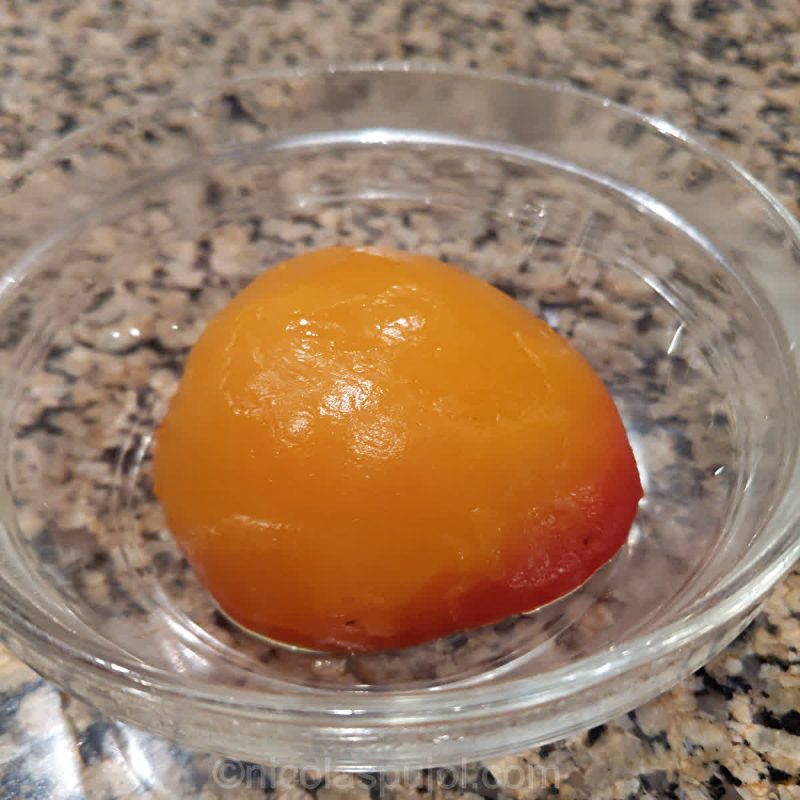 Hey, why not try to make a vegan sushi with the rice? It is not sushi rice, but it's cold and slightly sticky, plus the golden beet would do well with its colors and texture as a fish replacement.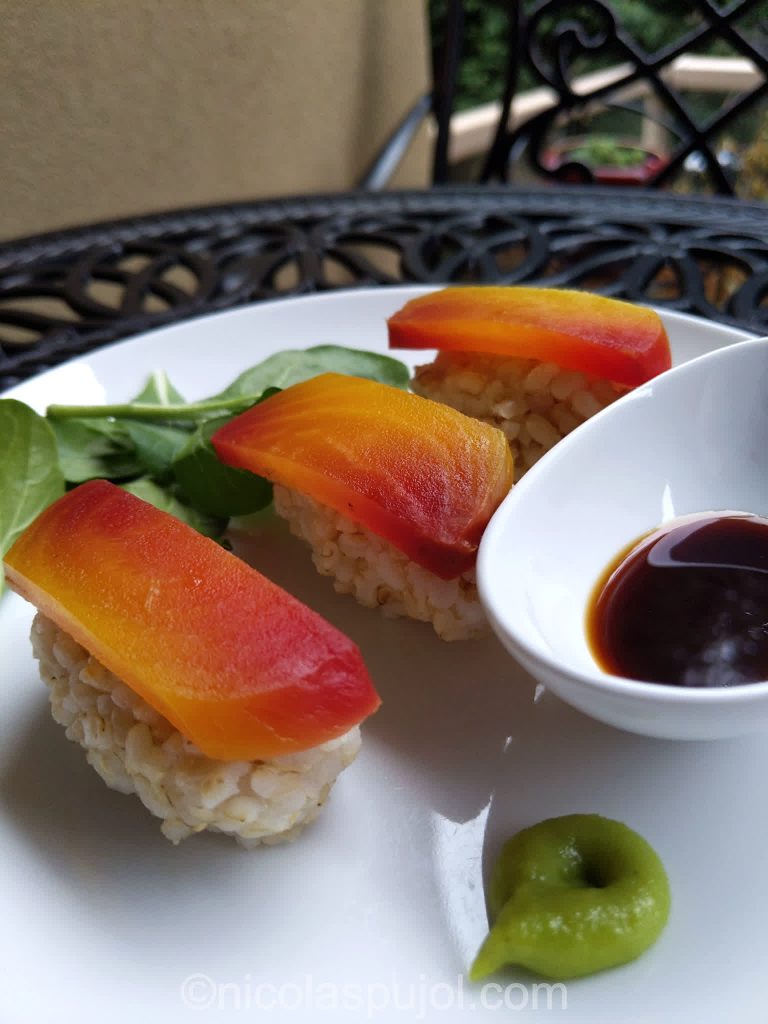 So here we went. The rest was just simple assembly and decoration with some green leaves on the side. We had soy sauce and wasabi, which helped put together the final dish.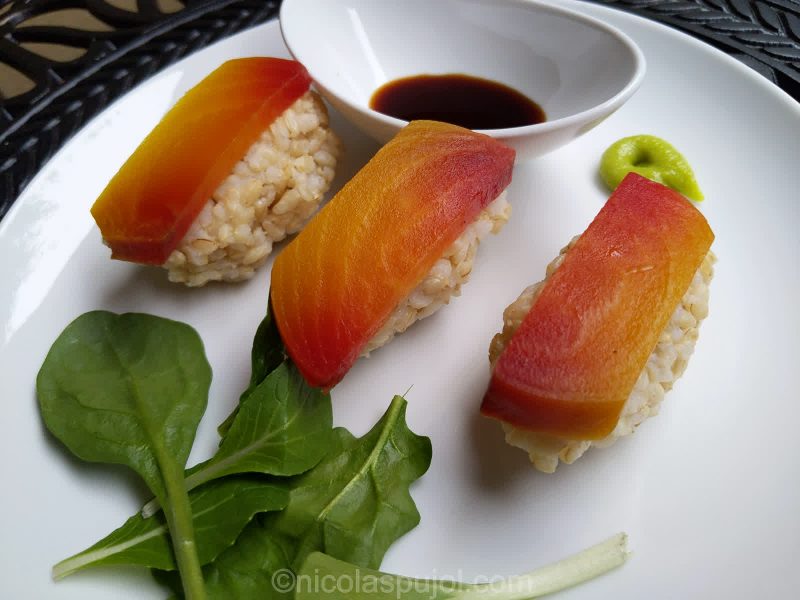 I was surprised that the beet worked so well as a fish substitute. Granted, it is not as fatty as some of the fish, and obviously does not contain the same nutrients. But other than that, once you add the soy sauce and wasabi, the flavors in your mouth are quite comparable.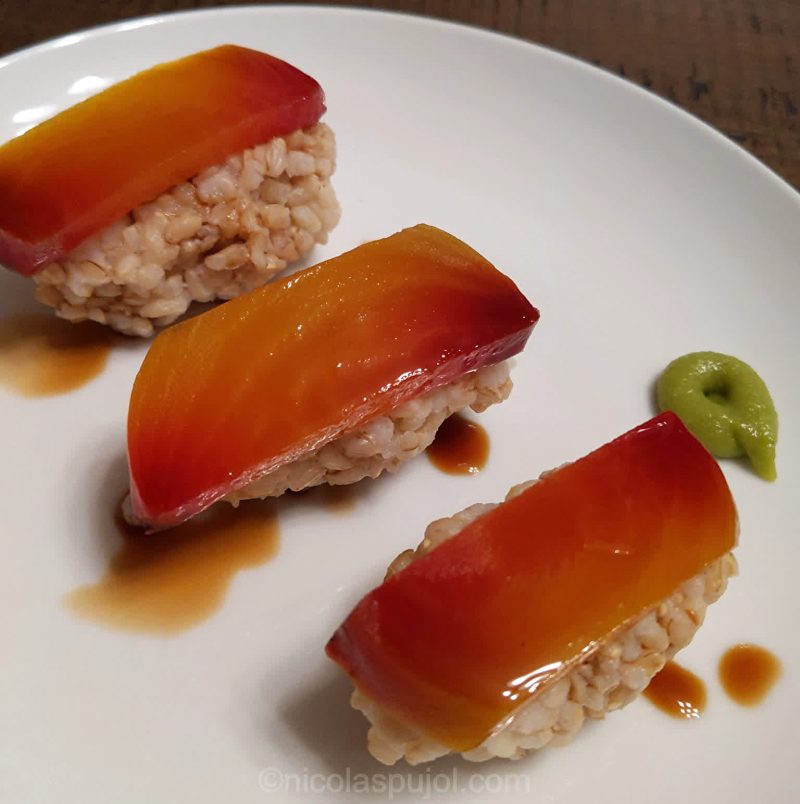 For this recipe I used brown rice instead of white sushi rice. I also omitted the vinegar in the rice, and only added a tiny amount of avocado oil. So for the future, I might try to use white rice, vinegar, and red beets. Wouldn't this match the color of tuna so closely?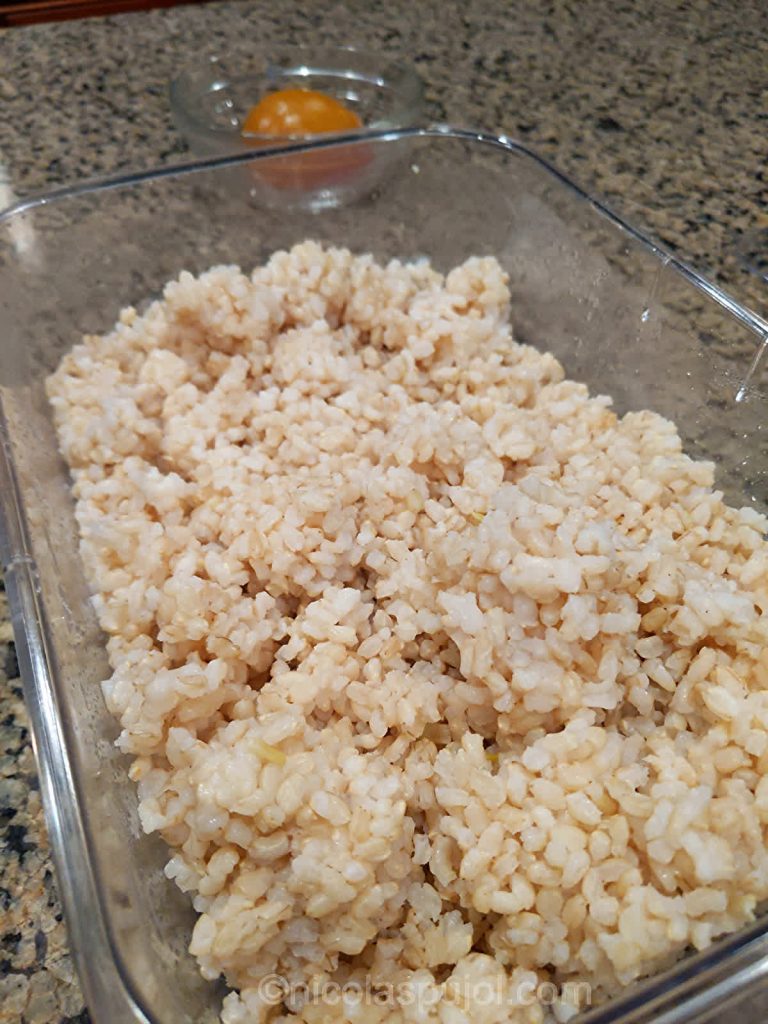 Plant-based aficionados will perhaps find that flavors work even better. At any rate, once you have a batch of brown rice, the key factor is for it to get cold enough and sticky enough to hold its shape as a nigiri base. You may need to press it hard a few times for grains to stick, and while cooking the rice, a tiny bit of oil may help the consolidation. Cold oil gets firm.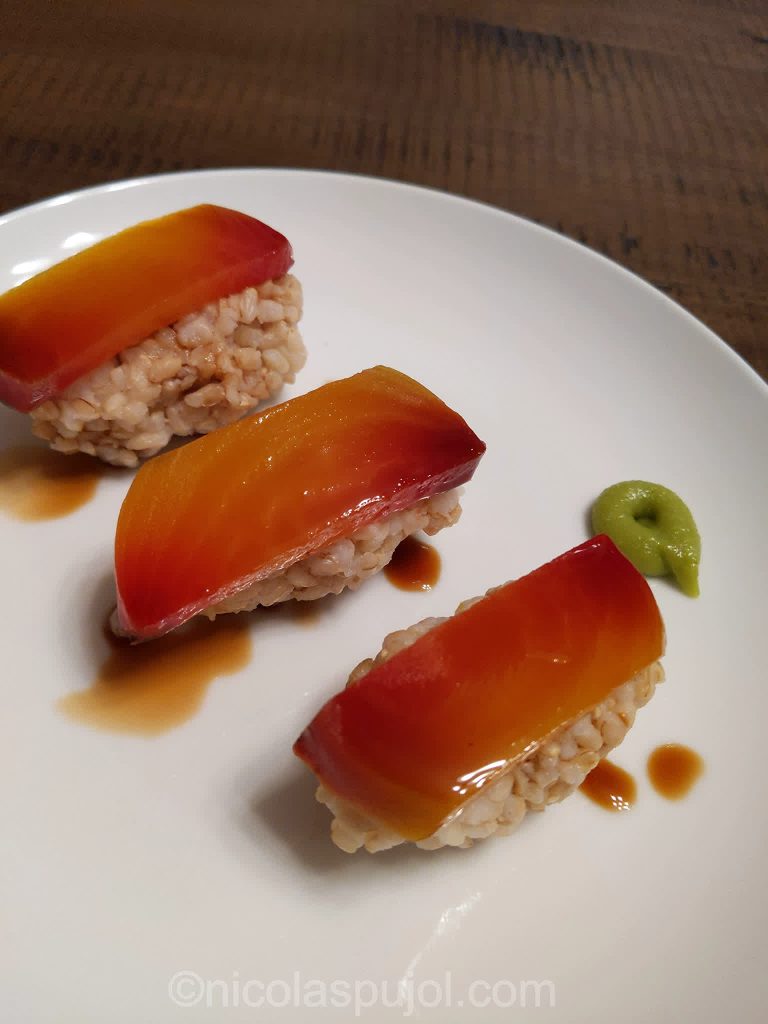 With soy sauce and wasabi, your beets will look and taste like sushi. And rhyme too.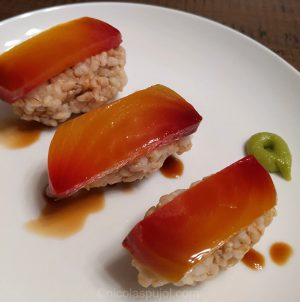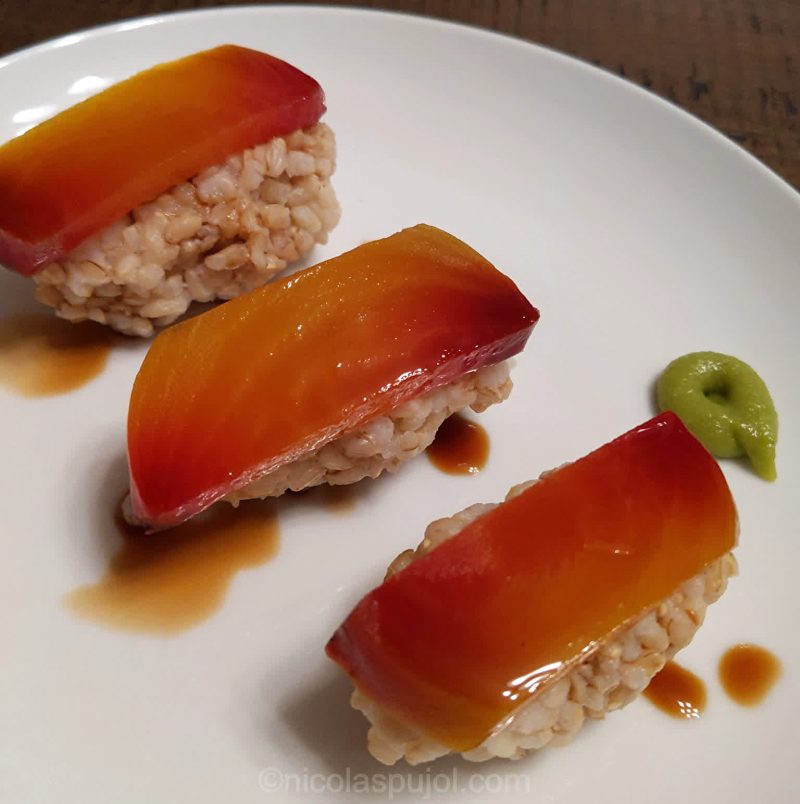 Golden beets nirigi sushi
These golden beets nigiri sushi make a perfect vegan recipe without fish, using brown rice, golden beets, soy sauce and wasabi.
Print
Pin
Leave a comment
Ingredients
3

oz

golden beets

(estimate 0.5 oz per beet slice, 3 sushis per person)

6

oz

cooked brown rice

(or use sticky sushi rice for a stickier variety)

soy sauce

to taste

wasabi

to taste

greens

(for decoration; baby kale, lettuce, parsley)
Instructions
Prepare the brown rice in advance. For a stickier version, use sushi rice or add a tiny amount of oil or butter to the rice before cooking to help brown rice get stickier once cold. Then let it cool down in the fridge for at least one hour.

Prepare also the beets in advance. You can use golden beets for a yellow to orange color, or cook and store them with red beets, letting the colors blend more as we did for this recipe.

Estimating one ounce of rice, make a nigiri rice ball by pressing firmly the rice grains together several times then setting them on a plate. Put 3 nigiri balls per plate per person or adjust to preference.

Slice the golden beet to match the size of sushi and place the beets bits on top.

Add soy sauce and wasabi to taste, as well as greens on the side for decoration. Tasty and fresh greens can of course be eaten and enjoyed with the vegan nigiri sushi.
Nutrition
Calories:
113
kcal
|
Carbohydrates:
24
g
|
Protein:
2
g
|
Sodium:
34
mg
|
Potassium:
205
mg
|
Fiber:
2
g
|
Sugar:
2
g
|
Vitamin C:
2.1
mg
|
Calcium:
15
mg
|
Iron:
0.8
mg