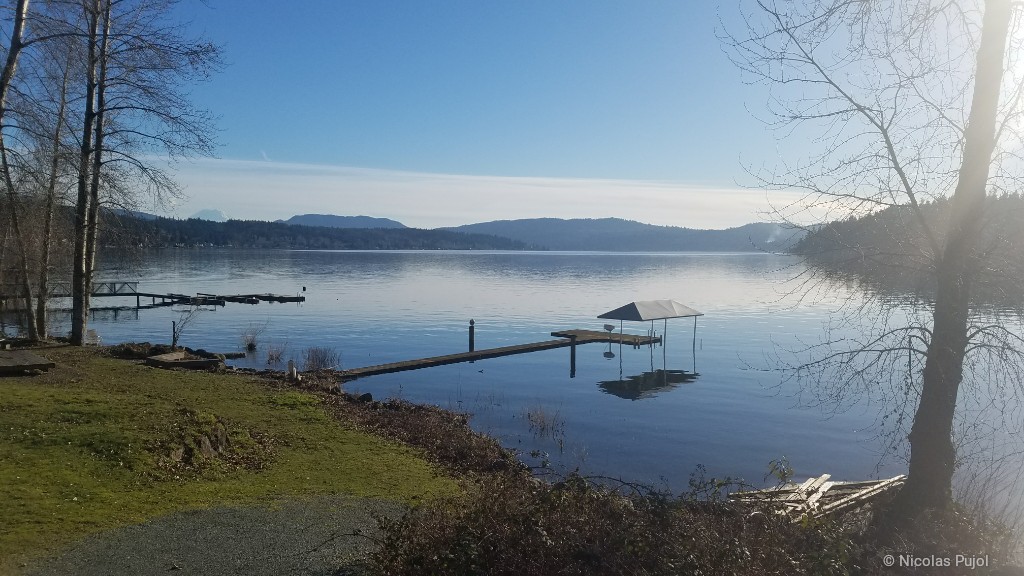 There are many ways to clear our mind, to start the day with mental clarity and finishing it feeling we made good use of time. If we consider meditation as a way to put things in perspective, and to relax the mind, can sports be a conducive medium?
Staying alert while inviting calm and creative ideas
As a start to this discussion, I want to make it clear that doing sports requires attention, so obviously you don't want to reduce that attention level below what's needed at each moment of your workout.
This said, I find myself running on trails for several miles, and during these times my mind wanders. I am still alert to cyclists coming across on the trail, to vehicles when approaching intersections, and to potholes, to avoid putting feet in the wrong spots. Because these patterns of attention have become habits, my mind shifts to other topics without inviting it to do so. It just happens. Sometimes, on long runs, ideas come up about work, about technology, which did not come up while I was actively thinking about them sitting at my desk. Why?
When people meditate, they are invited into a calm environment, away from the usual stressors around them. They are invited to relax the overactive part of the mind that makes us feel tense, repeating the same ideas, and preventing us from asking ourselves: what is happening to me right now? When they ask themselves this question, they realize they are breathing, inhaling, exhaling. They feel which muscles are tense, even immobile. They visualize landscapes that make them happy, like a lake, a sunny sky, the feeling from the wind on their face. Aren't these visualisations, often performed as indoor meditation, some of what we see and feel naturally while running or walking in nature?
5 things I do to meditate through sport
We're all unique in what puts us in the right "zone" to feel like we are experiencing a meditative state. I find that these 5 elements not only help. I find that if one is missing, it becomes much harder to attain that meditative state.
Find a sport which is safe and I know very well
In my case, the basics for meditation is that I feel a sense of security. Specifically, I avoid any activity which I haven't done many, many times. Back to the example of running on a trail, I have been running since I could walk. The trail I pick is not in the middle of nowhere, so I know where I am going and the general conditions. This allows me to have some calibration and not too many things to actively think about.
On the other hand, I am absolutely terrible at water skiing, because I only did this 2 or 3 times in my life, and every time, 100% of my focus still resulted in falling left, right and backwards. If you took me water skiing tomorrow, there is no way I can meditate during that session. It doesn't matter that it's a beautiful sunny day. I don't have the basic skills at this time, and this comes first.
Keep electronics to a minimum
As time goes, wearables are becoming part of our life. They can measure our heart rate, other biometrics, notify us of emails or what happens on social media. Do you need this while exercising? There is value in being able to call for assistance if you have a problem, so a phone in a back pocket can make sense. It can track things for you, that you can then watch after the workout. But it can also be a source of tension, stress, and distraction if we keep staring at it.
Choose an exercise length of over 30 minutes
High intensity workouts can be popular if you are short for time.
However, getting in a meditative zone takes time. You need to warm up: this alone takes a good 10 to 15 minutes. Then you need to be able to practice what you are doing with automation. Your mind has to somewhat let part of the brain go on autopilot. It's harder to do this with short, high intensity training sessions, where you tend to change movements and "think" about what you are doing.
I often felt refreshing to bike to work, for example. Once in endurance zone, minutes add up and there can be some variations. But the point of letting go is to avoid things are too short, too intense or too sudden in pace change.
Be close to nature
We come from nature. Few things can relax more than leaving a building, a room, a chair, to find yourself closer to trees, to water, to a sunny trail, or even rain or snow. You can still get benefit by going to the gym if that's your preference. In my case, I feel better in nature, especially because my "day job" is mostly indoors, and being out brings things into balance.
Stop when I feel like it
Unless I'm racing or training with specific purpose and timings, there is always a minute to stop. Watch a landscape, drink a sip of water, regain some breath, chill.
Do you also feel doing sports in these conditions invite similar vibes to meditation?