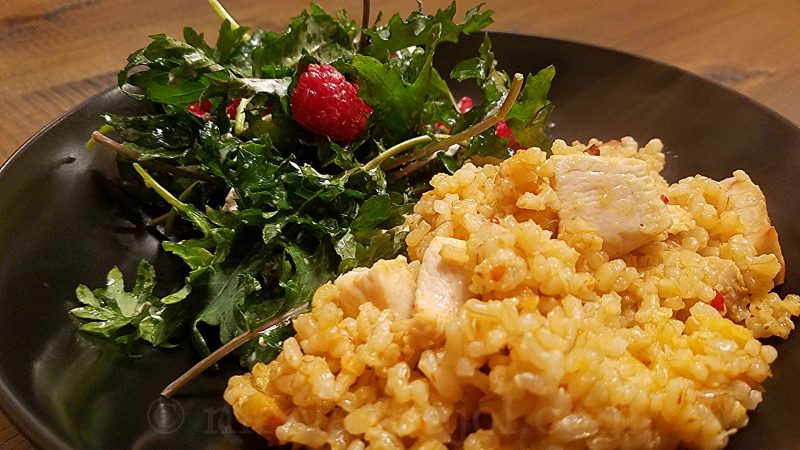 This Cambodian style chicken rice sauteed with fresh ginger is a dish that my girlfriend Naomi used to make. I met Naomi in Tokyo during my year in Japan. I was in a way socialized with the company I was working for at the time, with great coworkers, and also went to study for this year abroad with a few classmates from EM LYON, who were very good friends.
Living and eating in Asia
Still, I felt that having a girlfriend during this year would be fun and help become better at speaking Japanese. I became much better indeed, except that young foreign men (called gaijin) learning Japanese from their girlfriend soon discover that the Japanese language uses different words and expressions whether you are male or female. So, I learned female Japanese language from Naomi, which I had to somehow un-learn and adapt to the male version, which my guy coworkers taught me then. Thank you guys, doomo.
Since I was new to Japan and to the Japanese language I could not tell that Naomi was not native from the country. She was nice, and that's what mattered the most. She was born from a Cambodian father and Chinese mother, and was now living in Tokyo on her own. It's a long story that goes beyond her recipe for this dish. The idea is to provide some background of where I first experienced it.
She cooked this dish often in her apartment in the suburbs of Tokyo. She had a tiny kitchen, as most apartments do in Japan, with a single burner for the stove and a rice cooker. It was delicious, I remember it as her signature dish. When I came back from Japan to finish my business school curriculum in Lyon I made it for my parents. They found the tastes of fish sauce and ginger very interesting and new, something not common to use in French cuisine.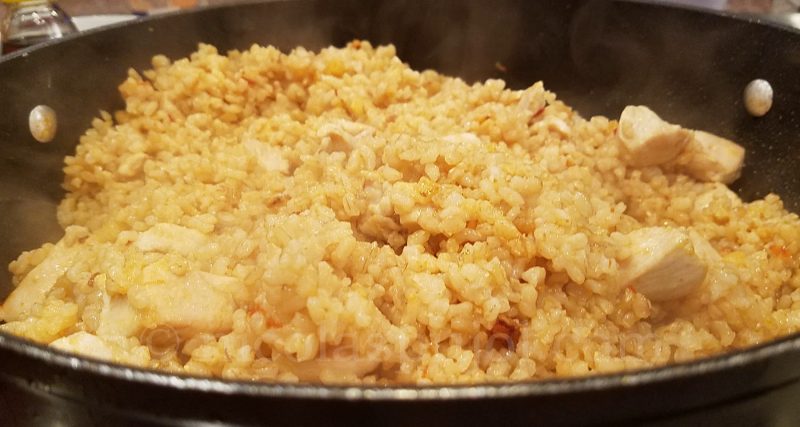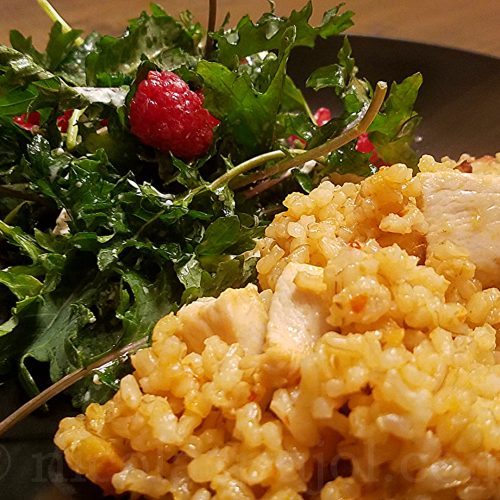 Cambodian style chicken rice
Cambodian style chicken rice sauteed with fresh ginger, fish sauce, spicy sauce and avocado oil. Ginger and fish sauce provide typical flavors of Asia.
Print
Pin
Leave a comment
Ingredients
4

cups

cooked brown rice

prepared in advance

2

lb

chicken breast

4

oz

fresh ginger

2

tbsp

fish sauce

1

tbsp

avocado oil

1

tbsp

garlic chili sauce

optional
Instructions
Cut the raw chicken breasts into bite-size square shapes.

Peel the ginger to remove the skin and chop it into small bits. To make the ginger taste milder or to make it more kid-friendly, grate it instead.

In a large frying pan, sautee the chicken and ginger in avocado oil. Stir frequently to allow browning on each side. The chicken must be fully cooked before moving to the next step.

Add the fish sauce (and optionally the garlic chili sauce) and stir immediately to distribute the flavors evenly.

Add in the cooked brown rice. If the latter is cold from prior cooking, reheat it in the microwave before adding. Stir gently and thoroughly.
Nutrition
Calories:
538
kcal
|
Carbohydrates:
52
g
|
Protein:
53
g
|
Fat:
11
g
|
Saturated Fat:
2
g
|
Cholesterol:
145
mg
|
Sodium:
1184
mg
|
Potassium:
1136
mg
|
Fiber:
4
g
|
Sugar:
1
g
|
Vitamin A:
70
IU
|
Vitamin C:
4.1
mg
|
Calcium:
39
mg
|
Iron:
2.1
mg