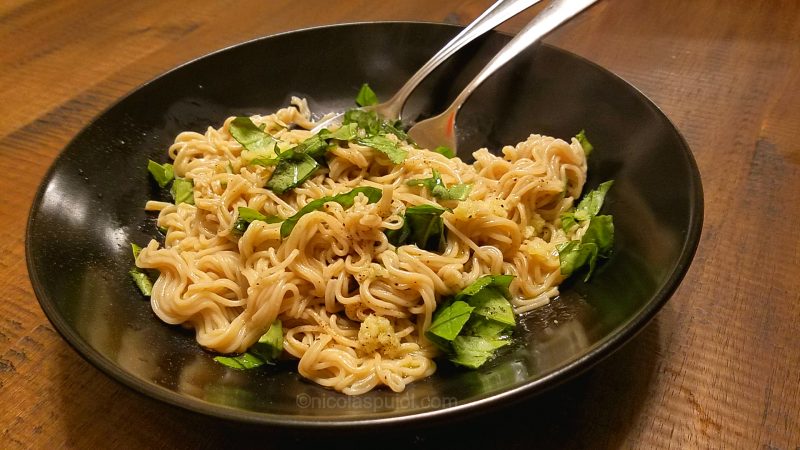 Delicious food can be extraordinarily simple, when it meets your taste and nutritional needs. In Europe, whether it's Italy or France, it's very common to eat pasta with an easy seasoning of olive oil and garlic. This recipe makes a small variation, in which we replace gluten and animal products contained in regular pasta, with a gluten-free and vegan alternative. For this particular recipe, I used brown rice noodle pastas, which are quick to cook and similar to eating spaghetti.
Gluten intolerance is on the rise worldwide. People spend decades with that intolerance at a low level, and because it does not get to be life threatening, they live with low energy levels, skin rashes, difficult digestion, or other symptoms.
Likewise, veganism is not only coming up as a viable lifestyle – I see it as directionally vegan, as explained in my upcoming book Fitness from the Heart. It is also coming up as a way to avoid allergens like dairy products.
So this recipe meets both requirements: these pastas made with brown rice are gluten-free and vegan, and still contain wholesome ingredients, such as olive oil, garlic, and a few leaves of basil.
You can use regular pastas, of course, if you don't mind the gluten and eggs they contain.
These gluten-free vegan pastas turned out perfect for a meal, light to digest yet very filling. I added fresh lemon juice on the second attempt, as well as a few leaves of kale, and it made it even better.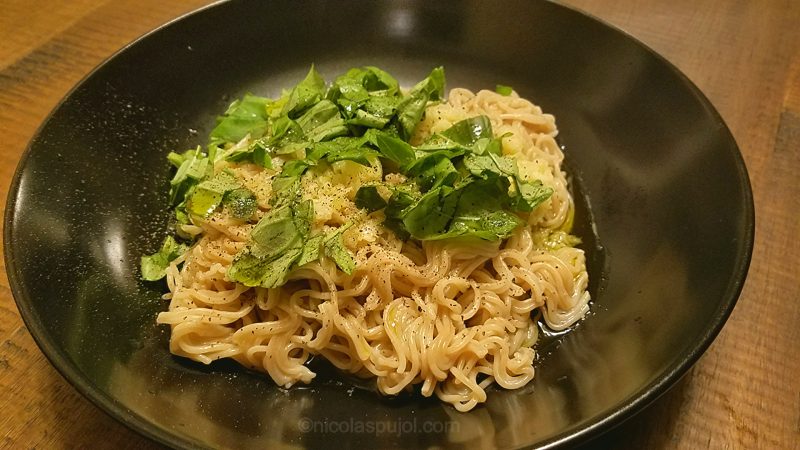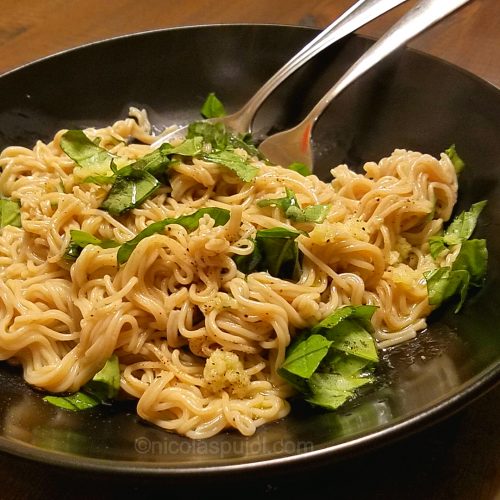 Gluten-free vegan pasta noodles in garlic and olive oil sauce
These gluten-free vegan pastas provide a tasty, nutritious and delicious dish made with brown rice, garlic, olive oil, basil and lemon juice.
Print
Pin
Leave a comment
Ingredients
70

g

brown rice noodle pasta

You can use any type you like.

10

garlic cloves

crushed

1

lemon

juice

5

basil leaves

5

tbsp

olive oil

salt

optional
Instructions
Boil the noodles until fully cooked, then drain while reserving 3 tbsp of the broth they cooked in.

In the pan you used for the noodles, add 3 tbsp olive oil and the crushed garlic. Cook at medium heat for no more than 2 minutes while stirring gently with a wooden spatula.

Add the noodles back into the pan, mix with the garlic and oil.

Serve on a large plate or bowl, add the basil leaves, lemon juice and the remaining 2 tbsp olive oil.