Since we are in winter season, I am taking advantage of having fresh nagaimo and experimenting with it.
These nagaimo chips in air fryer are prepared oil-free and seasoned with herbes de Provence, ground black pepper, and optionally hot or dipping sauce.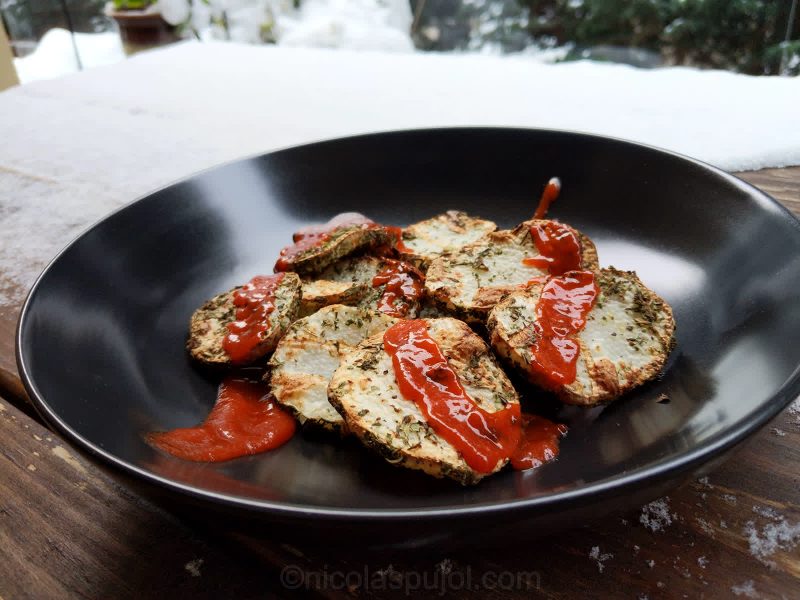 This Japanese mountain potato is quite unique within the potato family. Particularly, it is very slimy. From the outside, with the skin on, you would not think so. When I bought them at the store, they looked quite elongated, relative to their peers. Is it a small baseball bat? A cactus branch? No, it is a nagaimo.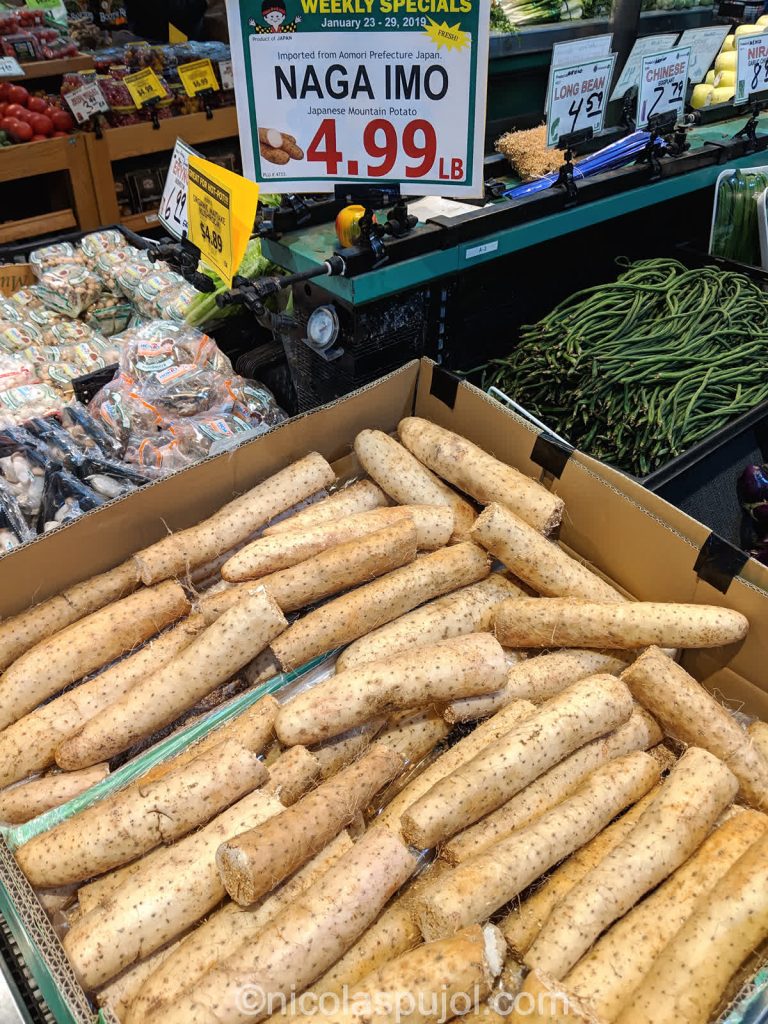 The sliminess comes into effect when peeling it. With skin removed, no we have an almost endlessly leaking potato. I attempted to rinse it, wondering if it would remove the slippery feel. It did almost nothing. But, something does remove it: cooking it!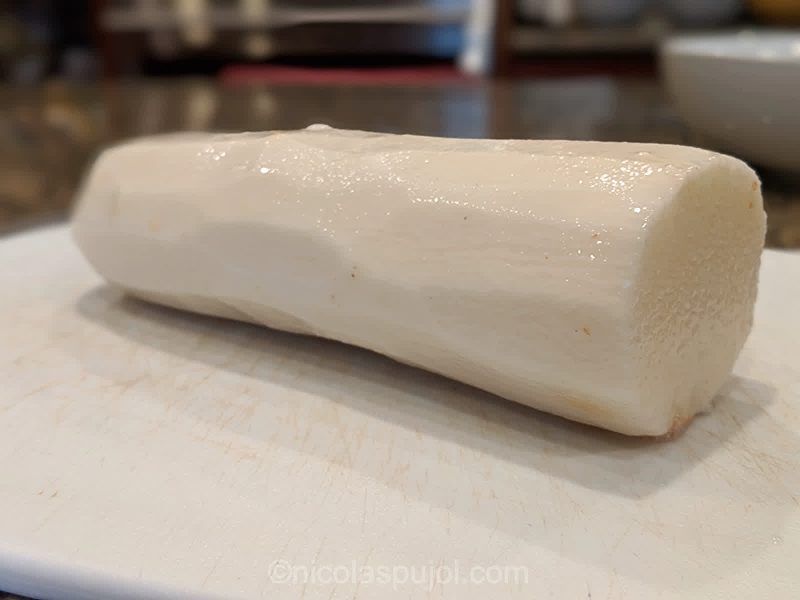 I recently boiled a nagaimo potato for a salad, and doing so turned it almost into a normal potato. It was no longer slimy. The same goes for these chips. I did a thick cut, which resulted in a dry outside and moist, tender inside once they were fried. But just like it did for boiling,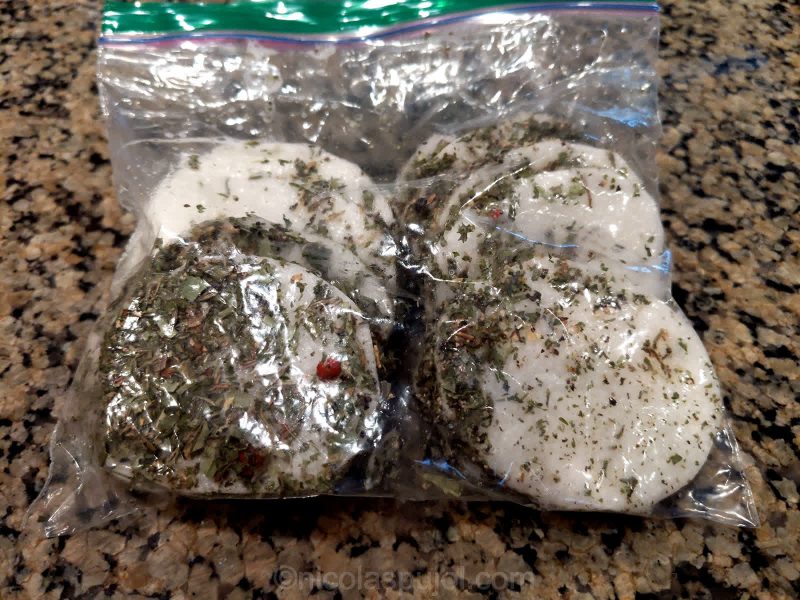 The main difficulty for this recipe is to be able to distribute the herbs evenly on the bits of nagaimo, and not put too much in one particular location. Too much herb produces excess flavor, and not enough leaves you with the opposite experience. I used a sealable plastic bag which you can then close and gently shake.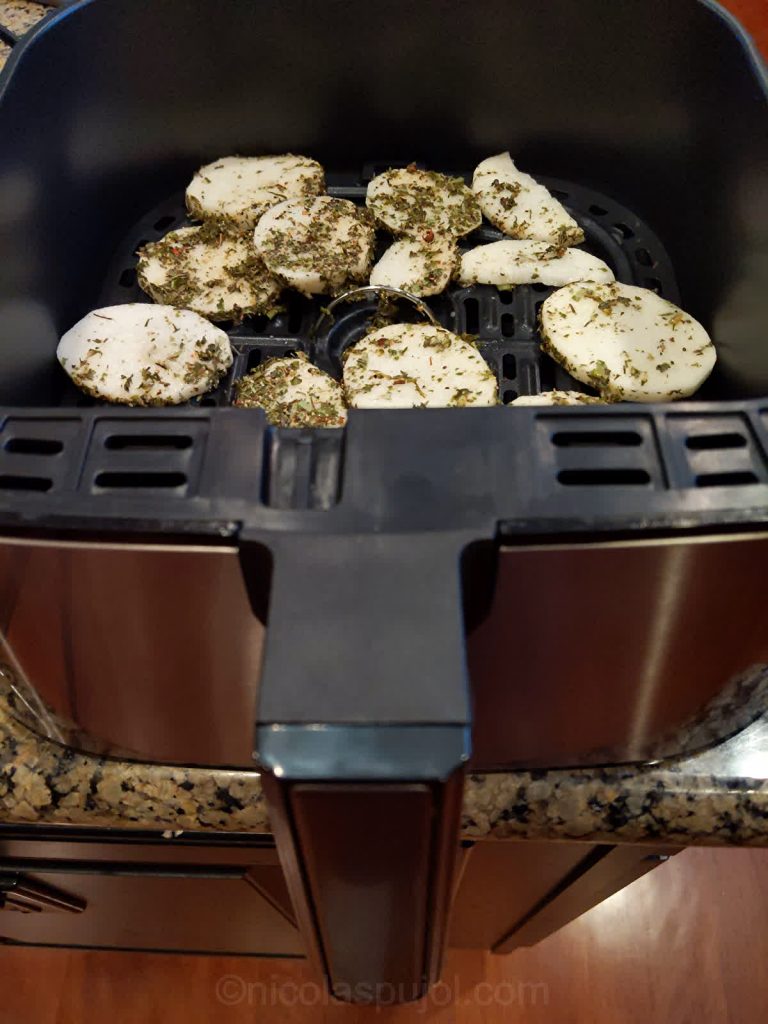 In this case, watch out not to break the delicate potatoes. You can alternatively lay the potatoes flat on the air fryer and evenly spread the herbs on one side, then turning them upside down half way through the baking process.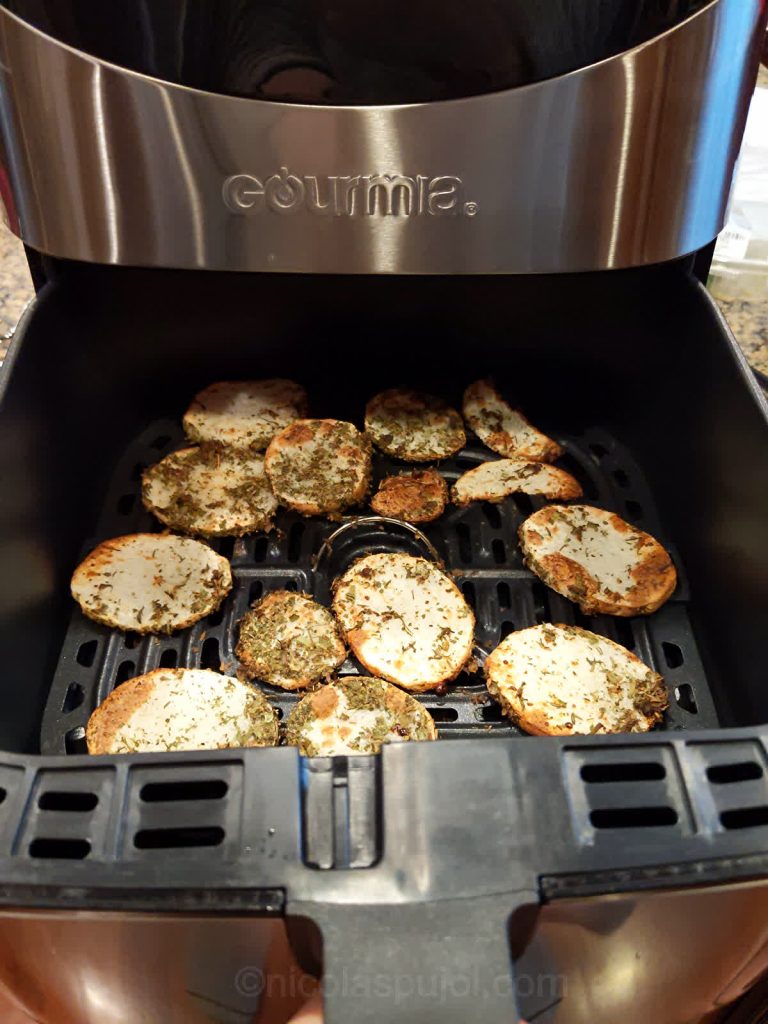 Enjoy these out of the fryer with your favorite dipping sauce or by themselves. In this recipe I did not use oil and took advantage of the minimal oil usage which the air fryer allows. You can, if you need to, add a very small amount of oil to your taste.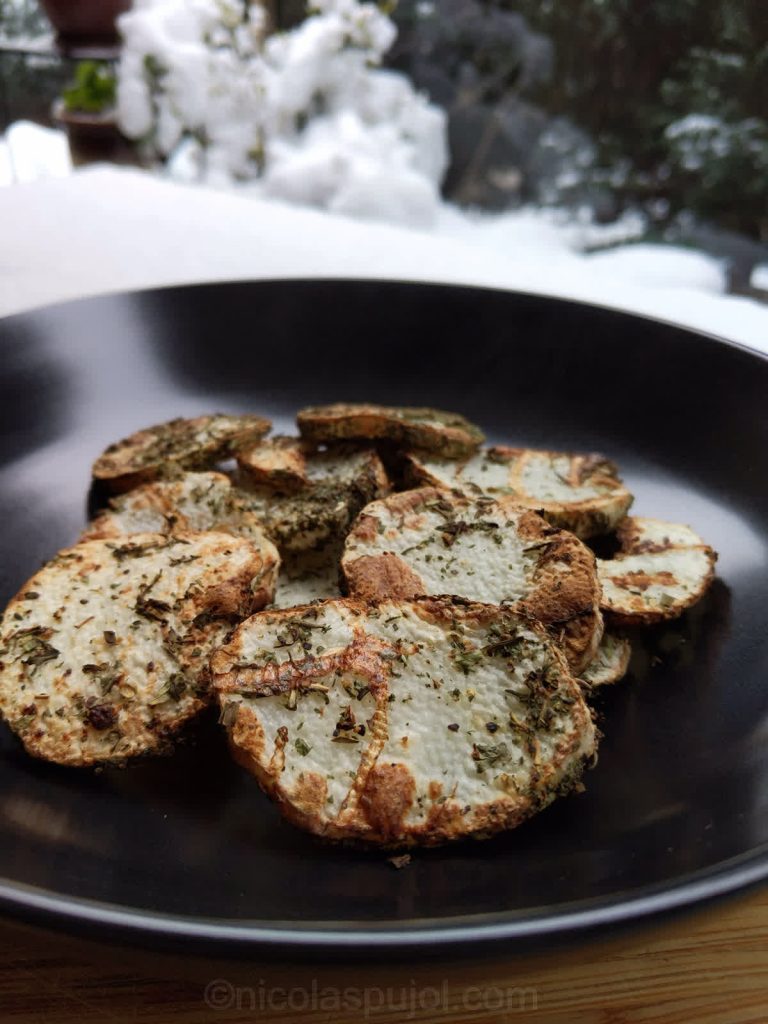 In today's preparation, instead of using a sauce, I simply poured sriracha on top. Because the chips are already spicy from the herbs and the ground pepper, be gentle with the amount of hot sauce you are adding. It is better not to pour enough, and add a little more, than pouring too much and end up with an overwhelming flavor. This way, you'll get just the spice level you like.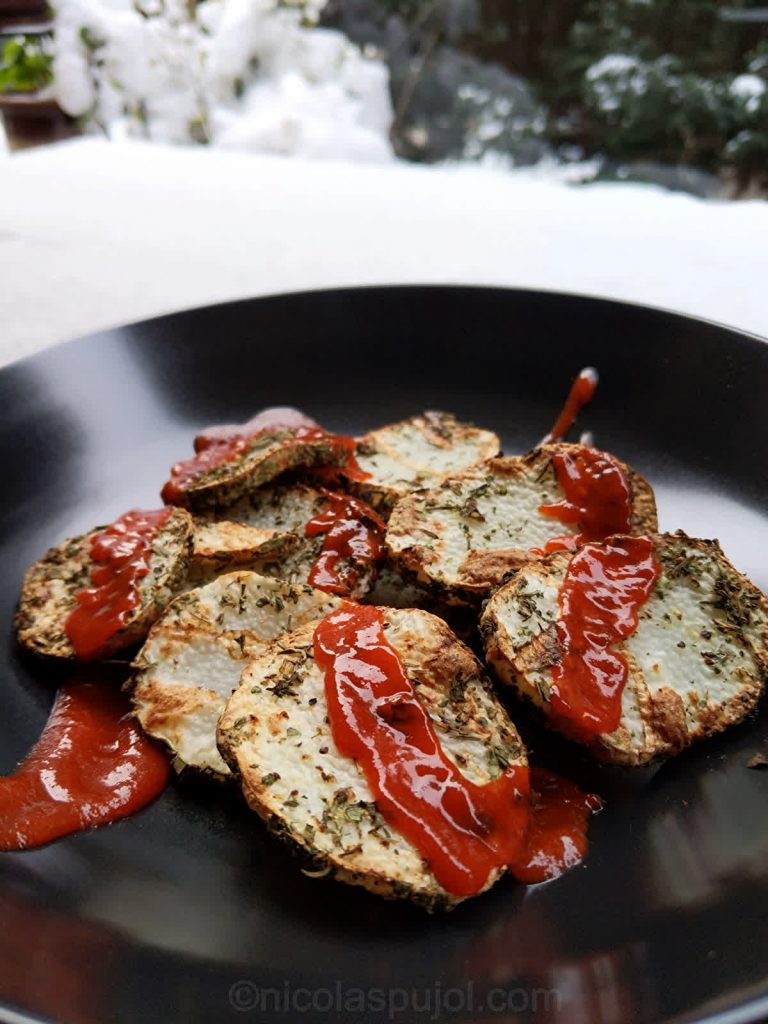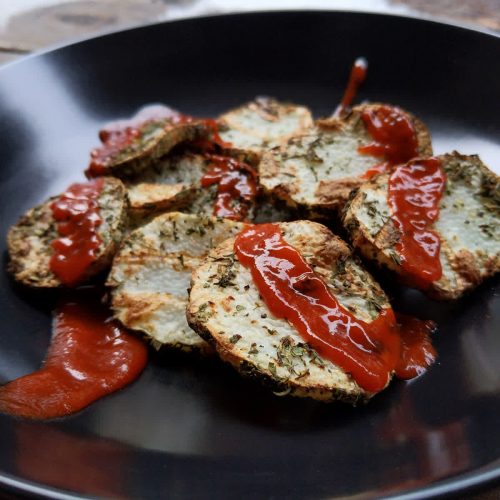 Nagaimo chips in air fryer
These nagaimo chips in air fryer are prepared oil-free and seasoned with herbes de Provence, ground black pepper, and optionally hot or dipping sauce.

Print
Pin
Leave a comment
Ingredients
8

oz

nagaimo Japanese mountain potato

1

tbsp

herbes de Provence

1

tsp

ground pepper

hot sauce

to taste
Instructions
Peel the nagaimo to remove the outer skin, then rinse and make slices of about 0.5 inch thickness.

Place the raw slices in a sealed plastic bag with the pepper and herbs and gently move the herbs around. Another method is to lay them flat on the air fryer surface and sprinkle the herbs evenly using half the quantities. When you turn the chips around, sprinkle the other half on the opposite side.

Bake for 15 minutes on 375 F, then open the air fryer's drawer and shake the fries to turn on the other side, or do it by hand if you kept the herbs aside for the opposite side.

Bake for another 5 to 7 minutes until slightly crispy. They should feel dry on the outside and still slightly moist and tender on the inside.

Serve immediately with dipping sauce or adding on top your favorite hot sauce (e.g. Sriracha on the photos for this recipe).
Nutrition
Calories:
36
kcal
|
Carbohydrates:
8
g
|
Protein:
1
g
|
Sodium:
6
mg
|
Potassium:
234
mg
|
Fiber:
1
g
|
Vitamin A:
40
IU
|
Vitamin C:
6.9
mg
|
Calcium:
36
mg
|
Iron:
3.1
mg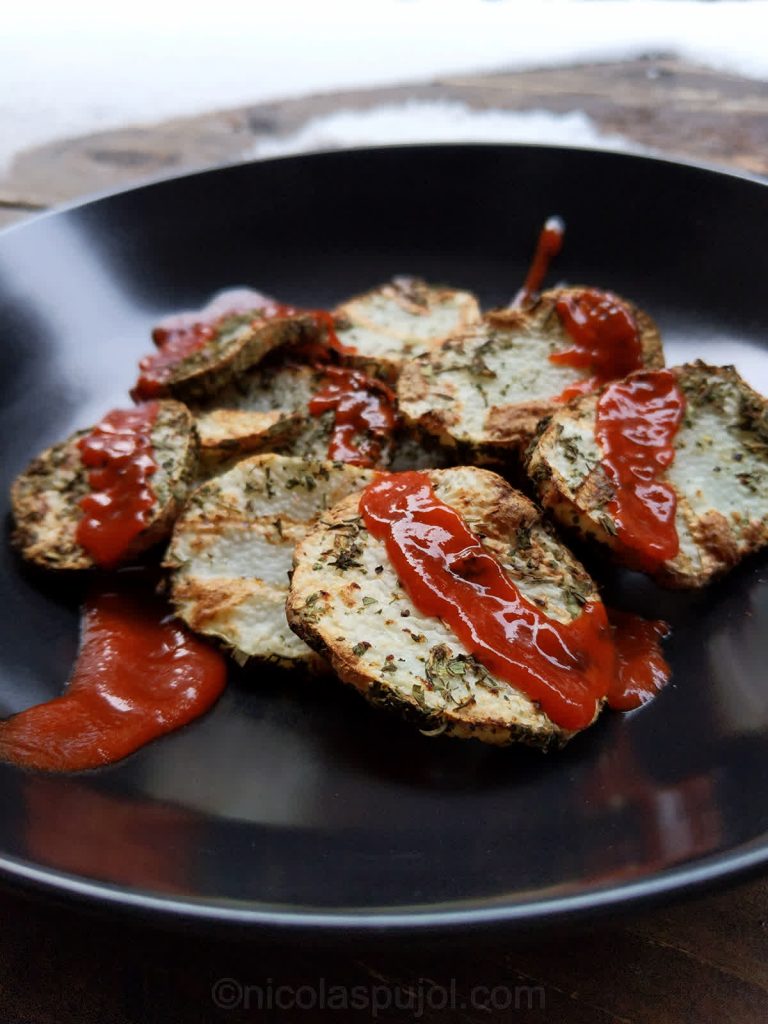 Bonus photo: since it was snowy this week, here is a photo of the nagaimo chips together with the raw nagaimo appetizer, served on a snowy table. Since Japanese mountains are known for their annual snowfall amounts, it felt like a good match!