Cooking without oil requires a change in mindset. We are so used to putting oil in salads, in main dishes, to fry foods, to put butter on bread, the list goes on. I made the first version of these baked sweet potato fries in the oven, using oil. Yet, as we experience these same dishes without oil, it feels like we can live without it in many cases. These oil-free sweet potato fries baked in air fryer make a quick appetizer dish, coated with flavors of ground pepper and herbes de Provence.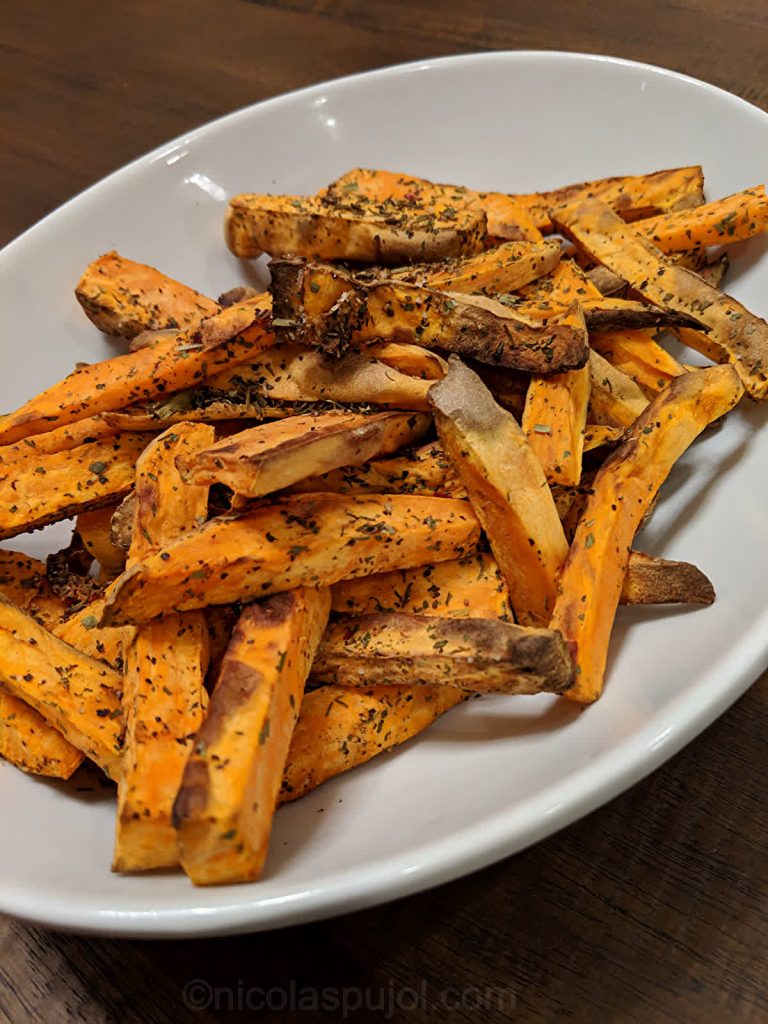 Air fryer vs. pan frying vs. oven baking
Air fryers are somewhat new in the group of kitchen appliances. The idea is to use hot air going through your ingredients to bake in an accelerated time, and while using less oil than frying the same foods. Save time, consume less oil than pan frying. What's not to like? We thought, let's buy one, as they are not that expensive and take a manageable amount of space.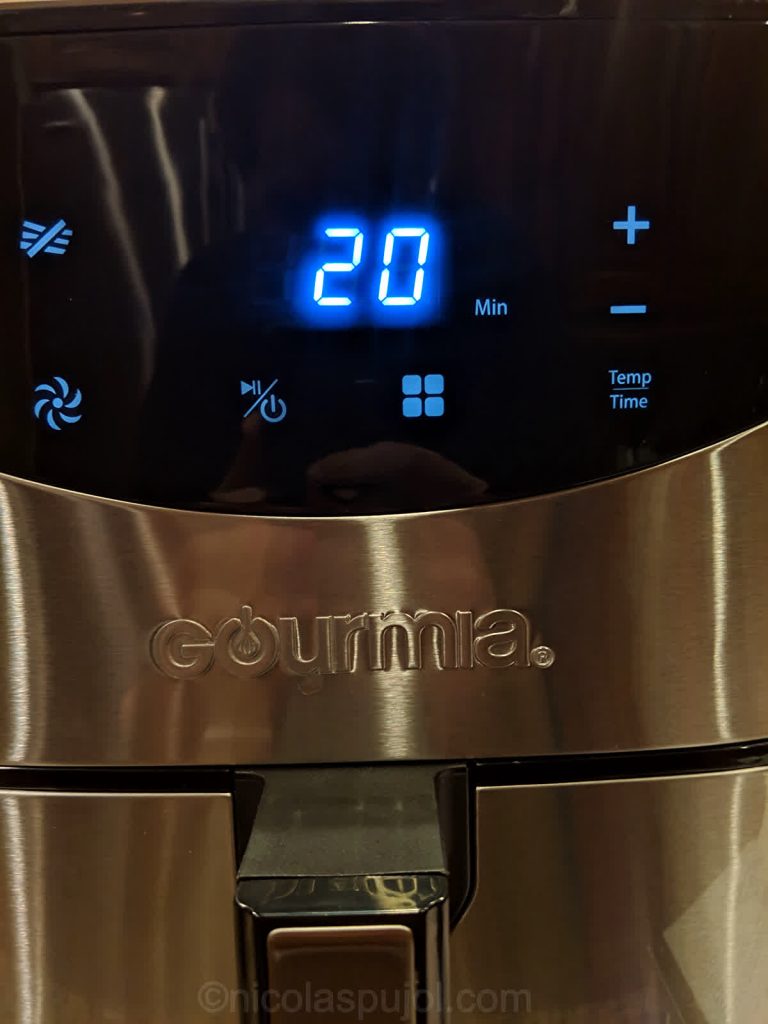 Now, if you don't have an air fryer, you can use a standard convection oven to obtain very similar results. Some consumers who get an air fryer arrive at the same conclusion: "my convection oven does the same thing". They are right, and sometimes the oven does an even better job. The amount of oil you would use in an oven is also identical to an air fryer, as the savings in oil amount in comparison to deep frying in a pan. What you gain with an air fryer is warm up time and "turning time". An oven takes maybe 10 minutes, while this device heats up instantly. Half way through your fries baking in the oven, you have to flip them to the other side. In an air fryer, you pull the container and just shake the contents in 10 seconds. That's really it.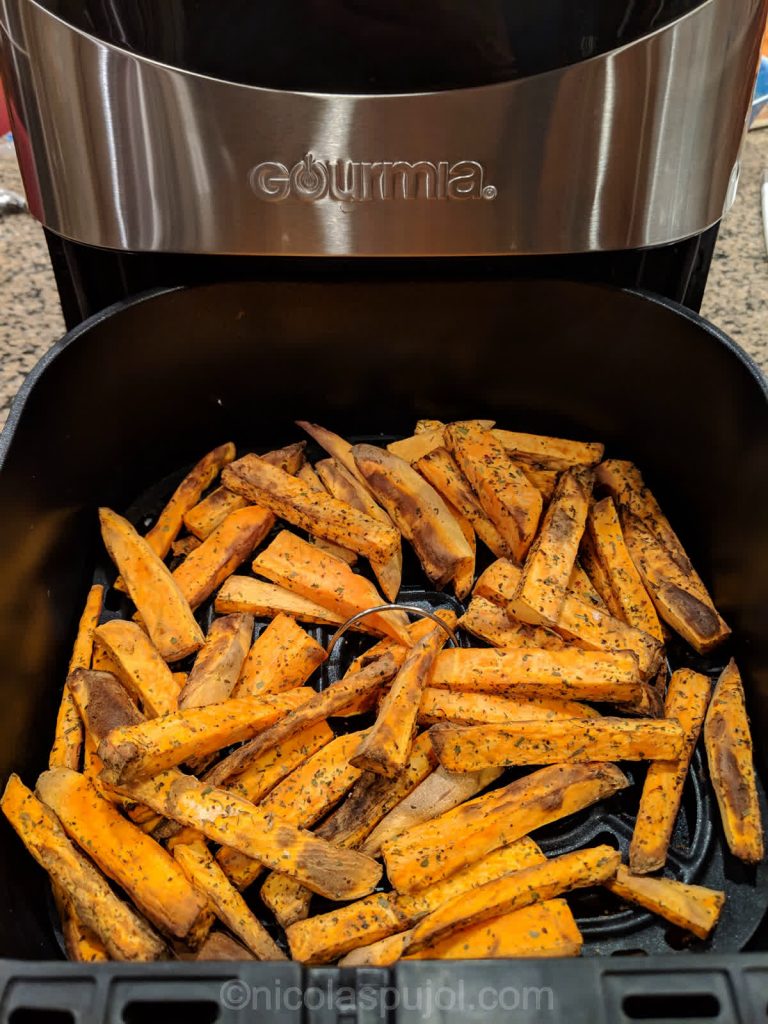 Making sweet potato fries without oil (and without salt)
If this appetizer had been just for me and for people whose taste buds are acquainted to low sodium or no sodium, I would not have used salt at all. But I made this for kids and wife, and they still like to have a bit of salt in it. Up to you to put some or not.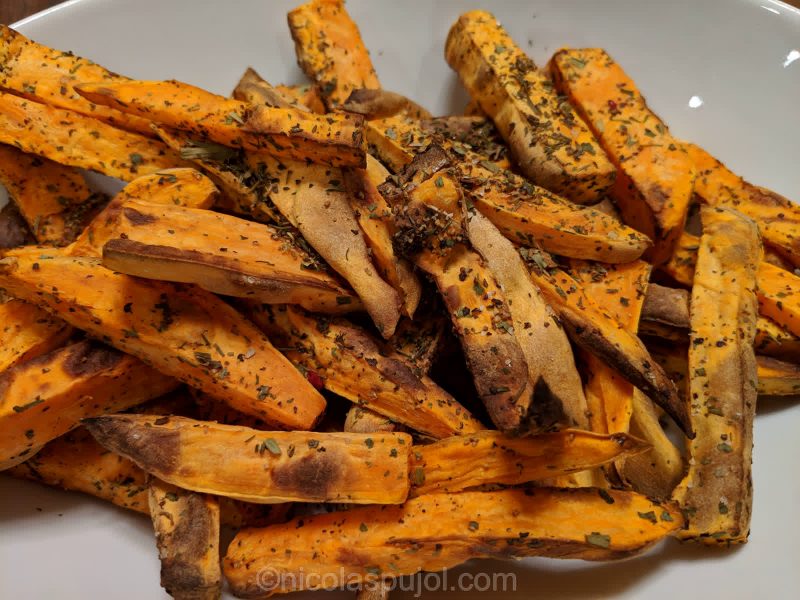 I just finished cutting the fries from the sweet potato, so the edges were still moist. Putting them inside a sealed plastic bag with the herbs and pepper and shaking them made a uniform coat. All I had to do then was putting them in the air fryer and shaking them half way through the baking process. They turned out quite nice, not burned. They were dry on the outside and tender on the inside.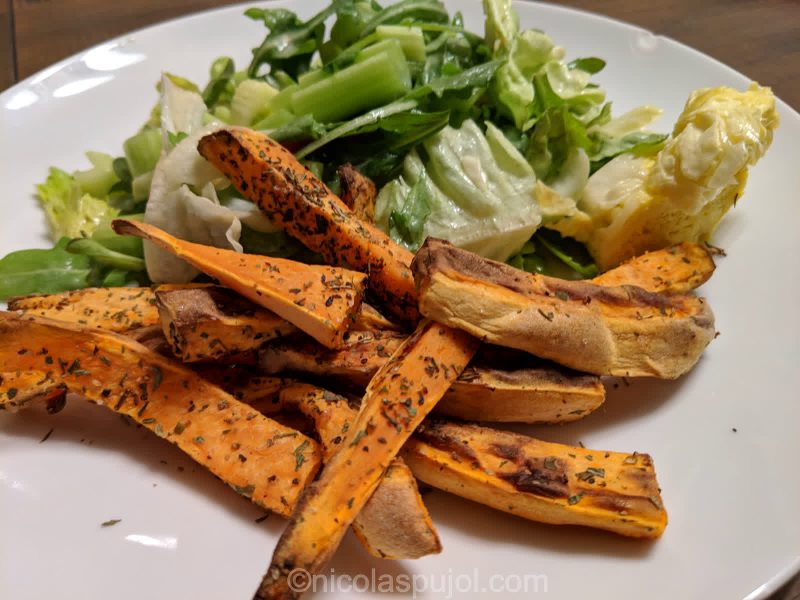 Whether you use the air fryer or a traditional oven, I hope you like them! Let me know how they turned out for you.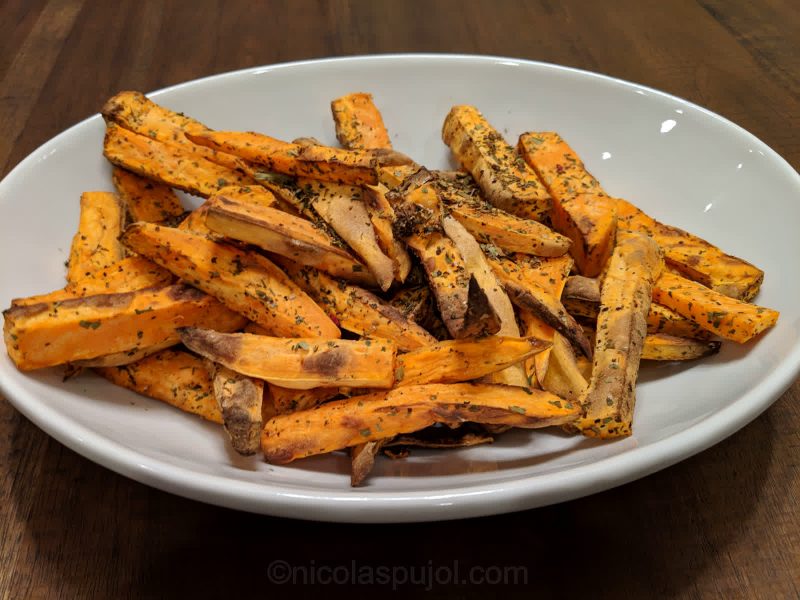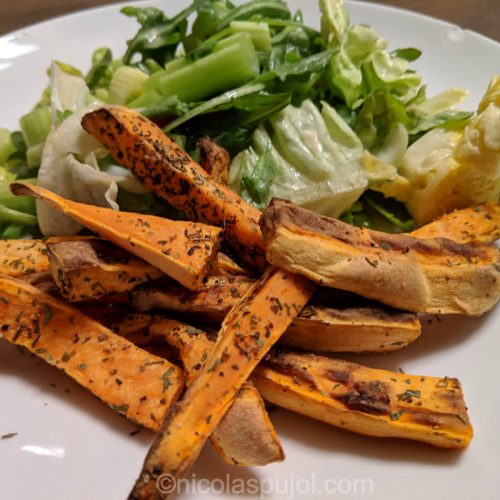 Oil-free sweet potato fries baked in air fryer
These oil-free sweet potato fries baked in air fryer make a quick appetizer dish, coated with flavors of ground pepper and herbes de Provence.
Print
Pin
Leave a comment
Ingredients
3

tbsp

herbes de Provence

(use a mix of dried thyme, oregano, rosemary, and parsley as replacement)

1

tbsp

ground pepper

2

lb

sweet potatoes

(weight after peeling)
Instructions
Peel the sweet potato, rinse it and cut the fries in slices.

In a sealable plastic bag, add the fries with the herbs and pepper. Close bag and shake them until a uniform coat develops around the fries.

Place the contents in the air fryer container and set it to your device's indicated time and temperature. On our unit, it took 20 minutes at 400 F degrees.

Halfway through the baking process, open the container and carefully shake it to turn the fries on a different side, then place it back in to finish baking.
Nutrition
Calories:
207
kcal
|
Carbohydrates:
48
g
|
Protein:
3
g
|
Sodium:
126
mg
|
Potassium:
808
mg
|
Fiber:
8
g
|
Sugar:
9
g
|
Vitamin A:
32290
IU
|
Vitamin C:
6.9
mg
|
Calcium:
131
mg
|
Iron:
5.2
mg