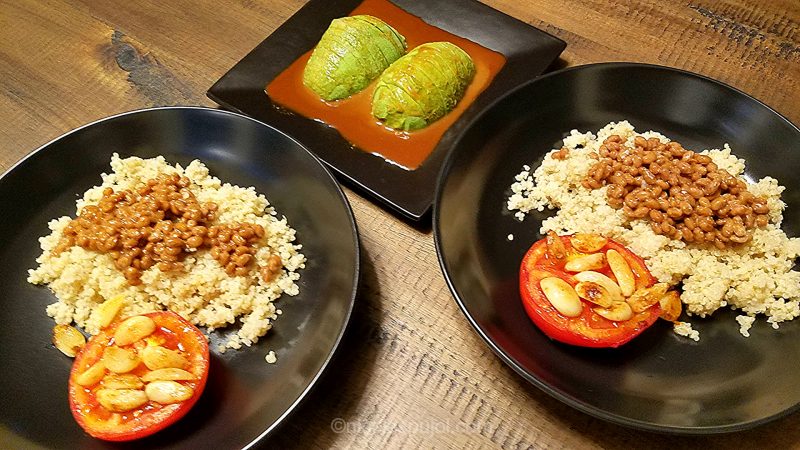 If you've been reading other recipes on this blog, you noticed that I am a big fan of combining flavors of French cuisine with those from Japanese cuisine. Having lived in both countries, it feels natural to do so. For some time of your life, you eat ingredients in a certain combination and preparation. Then, you transition to new ingredients from another country, new sauces, new tastes. But in the world we live in, cultures blend. They come together, ingredients marry, flavors do. Sometimes people too…
A base of quinoa for this recipe
Back to this recipe 🙂 In addition to combining European and Asian ingredients, quinoa provides a new take on carbohydrates. Europeans love their pastas. Asian foods use rice in so many ways. Quinoa is also a grain, but from Latin America. It is one of the few vegan foods which contains a fuller spectrum of amino acids, i.e. proteins, and is becoming very popular around the world. The flavor of quinoa tends to be neutral, and like couscous grains, it is only waiting for a nice pairing, some sauce or more liquid ingredient to complement it. Quinoa is also gluten-free and part of the Paleo diet. It takes slightly longer than pastas to make, about 20 minutes, the same as white rice. It is much faster to cook than brown rice. So this is the base of our dish.
A few recipe ideas with quinoa:
Vegan quinoasotto
Tilapia fish in coconut milk baked in the oven
Oatmeal berry banana breakfast
Tomates à la Provençale
The French part of the dish is the one of the simplest and most popular French recipes: the Provence-style seared tomato, in French tomates à la Provençale. Tomatoes are wonderful as they tend to be juicy, even more so when they are cooked like this. Cutting through your tomato will release the flavors of garlic and the herbs from Provence into the quinoa, which will absorb them. They make a great combination.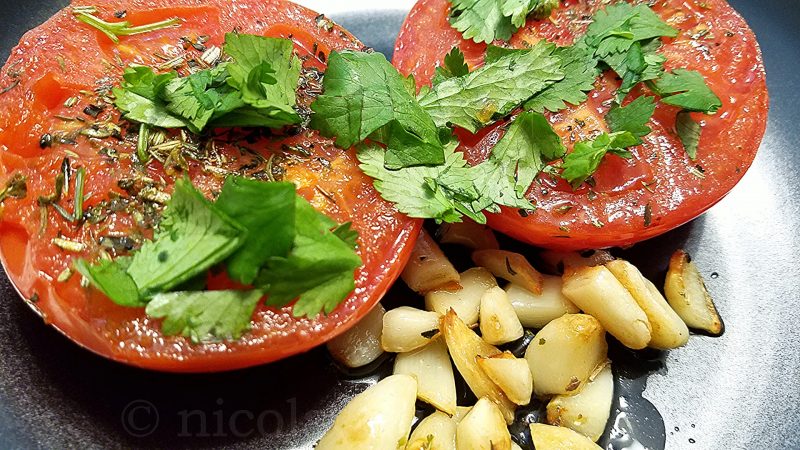 Making natto taste delicious
This gets this recipe into Japanese territory. There are two parts to making natto taste delicious.
The first part consists of acquiring the taste for it. No matter what we do, all tastes are acquired, which means they can be acquired early in childhood, making us think we naturally like something, because our earliest memories are that we like it. We can also acquire tastes later in life, at any point. To do so, consider the nutritional value and fundamental benefit of a given food to your well being. If something is good for us, we can learn to like it progressively. Over time, I got to really like natto and I ate it the first time when I was aged twenty. Now, eating natto is like eating an apple. It feels wonderful, natural, and effortless.
The second part is to add flavors around natto that you like, and to make the dish look decently nice. There is no question that visual appeal, or lack thereof, makes an impact in our perception of how something tastes. Just look at foods that are nearly as nutritious and beneficial as natto, but look and feel better. How deceiving, but how popular they are. If you present your natto well, and add some nice flavors around it, I am confident you have a winner. We can truly make natto look and taste delicious.
Motoko's spicy wasabi soy sauce
Continuing on Japanese flavors, the spicy wasabi sauce adds spices and a little bit of salt to the dish for enhancing the overall taste. I like to put my friend Motoko's wasabi sauce on the quinoa, the natto and also the tomato.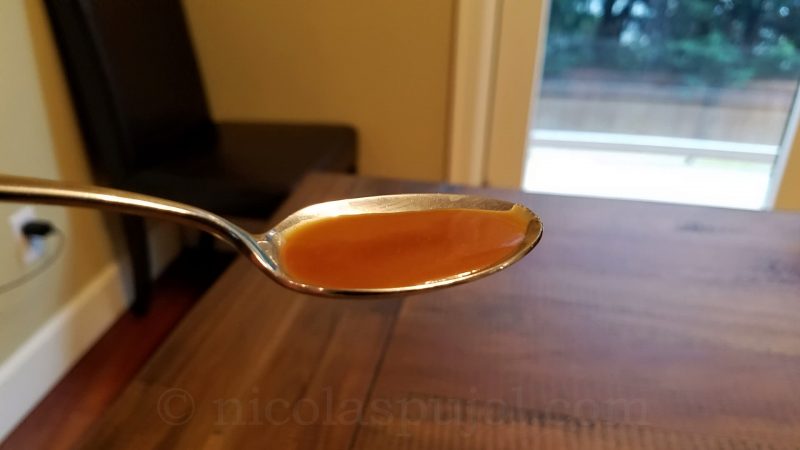 A vegan, paleo and gluten-free recipe
If you use soy sauce that is devoid of gluten, the rest of the ingredients make for a gluten-free recipe, using no animal product.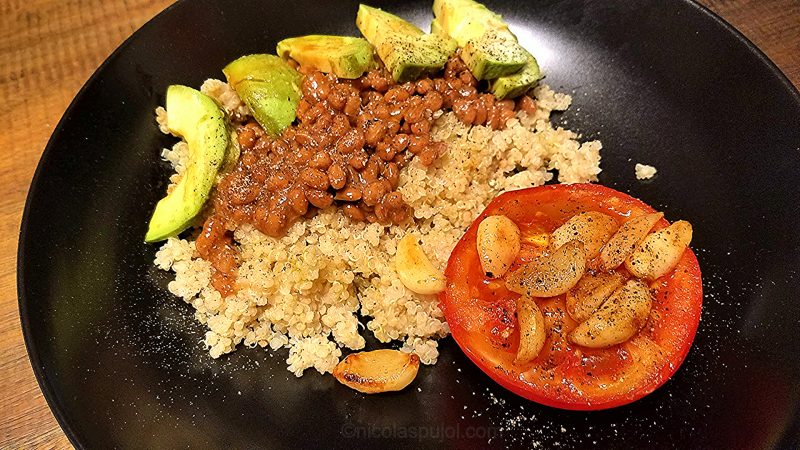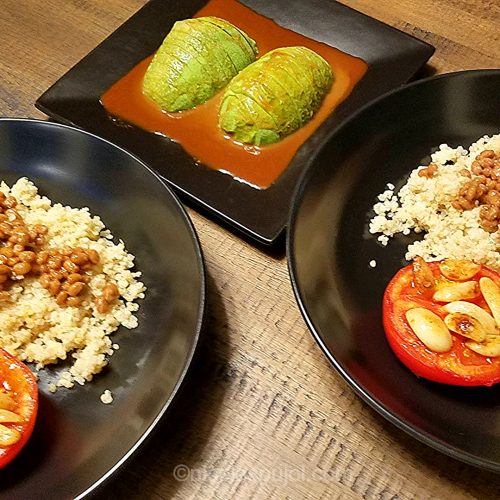 Natto quinoa in wasabi sauce
This recipe brings a delicious combination of world cuisines using French-style seared tomatoes on a base of quinoa, natto and spicy Asian flavors.
Print
Pin
Leave a comment
Instructions
In the meatime, prepare the wasabi sauce.

Make the Japanese avocado by cutting an avocado in two. Peel the skin, then put the halves on a plate, slice them and add Motoko's wasabi sauce on top.

In a separate pan, sear the tomatoes.

Once all the components of the dish are ready, place the quinoa on a plate, add the natto, avocado slices, the tomato with garlic on the side, and top the dish to your liking of wasabi soy sauce.
Notes
Use gluten-free soy sauce for a gluten-free recipe.